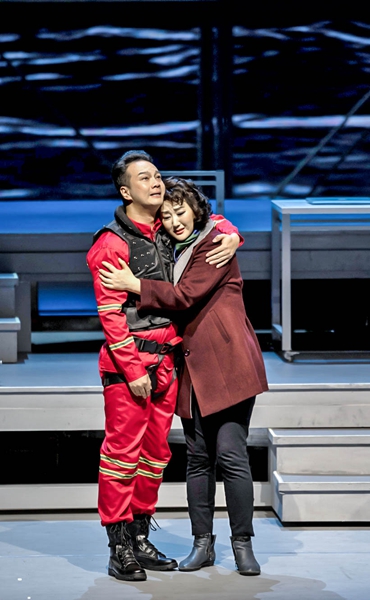 An anti-epidemic drama called 24 Hours by the Tianjin Northern Performing Group premiered in Tianjin early this month and inspired local residents to further combat the ongoing COVID-19 pandemic.
The drama records the swift action taken by the city to deal with fever cases onboard the Costa Serena, an international cruise ship carrying 4,000 people, which returned to Tianjin on Jan 25, after traveling to Fukuoka and Sasebo, Japan.
Director Zhong Hai says that since April, the performers have polished and enriched the story by interviewing the members of staff who were there.
"This drama has been created to honor the anti-epidemic achievements by the people of the whole country, who were united by their arduous efforts," he says.
The stage vividly recreates the approaching cruise ship, and the story includes the temperature screenings of all the travelers and the transportation of medical samples of 17 fever cases via helicopter. The results are all negative, after nucleic acid tests that were implemented within 24 hours.
The cruise liner was reported to have 148 passengers from Hubei province, China's hardest-hit area.
After the checks, passengers from Hubei were sent to a centralized quarantine facility, and others were allowed to leave.
After 14 days of quarantine, with free medical assistance, accommodation, food service and stringent health checks, the Hubei passengers were cleared.
"The rescue and emergency response efforts on Costa Serena are in sharp contrast with some other cruise liners, including the Diamond Princess and Grand Princess," says Zheng Weihang, vice-president and executive general secretary of the China Cruise and Yacht Industry Association.