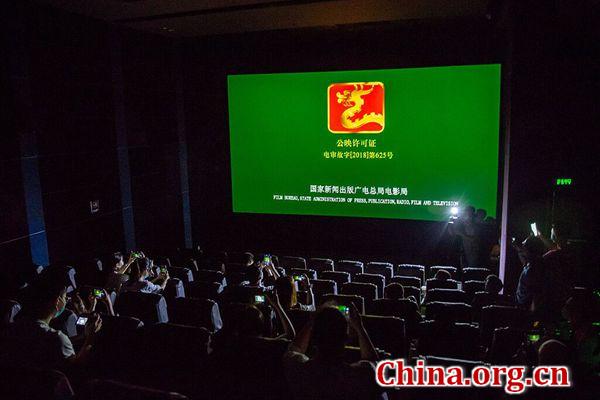 Total box office takings in China on Monday — the first day cinemas reopened after closing due to the coronavirus — hit 3.49 million yuan (US$501,100), with a total of 156,500 admissions, according to box office tracker and big data platform Lighthouse.

"A First Farewell," an 86-minute debut feature by young director Wang Lina, topped the box office chart, raking in 1.51 million yuan. The arthouse movie tells a healing story about three Uygur children in China's Xinjiang Uygur Autonomous Region.
Another new release to hit the screens was "Bright Torch," a documentary exploring Chinese cultural heritage, which took a slightly disappointing 35,800 yuan.
Data from the Alibaba-developed Lighthouse shows that older movies performed well. "Sheep Without a Shepherd" by Sam Quah, which first hit theaters before they closed their doors on Jan. 23, snatched second place at the box office with a new gross of 597,600 yuan on Monday.
The other films making up the top 5 performers were Disney and Pixar's "Coco," and China's two all-time top-grossing movies "Wolf Warrior 2" and "Ne Zha."
Only around 835 cinemas in China — approximately 11.6% of the country's total — reopened on Monday, putting on more than 12,200 showings nationwide. However, many theaters were sold out due to the limited number of seats available.
Some venues in China celebrated the reopening with special midnight showings — cinema executives counting down along with audience members as they witnessed the screens officially light up again.
There are currently around 30 movies, mostly re-releases of older films, scheduled to "warm up" the Chinese film market, the second largest in the world. China's movie theaters have experienced a 179-day shutdown due to the COVID-19 pandemic.
More films are on the way, including fan-favorites Stephen Chow's "The Mermaid" and "A Chinese Odyssey" franchise, Will Smith's "The Pursuit of Happyness," Jackie Chan's "CZ12," and Chen Sicheng's "Beijing Love Story."
Cinemas in Beijing's low-risk areas for COVID-19 can resume operations on Friday, with effective epidemic prevention measures in place, a local official said on Tuesday. As China's capital and one of the country's most important local film markets, all the 262 cinemas in Beijing were closed from late January due to the epidemic. Meanwhile, it was recently announced that the long-delayed Beijing International Film Festival is slated to be held in late August.
In terms of Hollywood productions, a 3D version of "Harry Potter and the Sorcerer's Stone" will be released, as will several "Avengers" movies, "Big Hero 6," "Zootopia," the "Lord of the Rings" trilogy, "Interstellar," "Inception" and "Titanic." However, with many of these movies having a running-time in excess of the two-hour limit set by China's film authorities, those films with a length of more than 120 minutes are not likely to hit movie theaters soon.
Relatively new films set to hit the Chinese market include several Oscar-winning or -nominated movies, such as "1917," "Little Women," "Jojo Rabbit" and "Marriage Story," as well as more commercial offerings like "Sonic the Hedgehog," "Bad Boys for Life," "Bloodshot" and "Dolittle."
Fu Ruoqing, chairman of Huaxia Film Distribution and vice chairman of China Film Co., Ltd., announced that China Film Co. and Huaxia Film will release or re-release 30 to 50 films from their archives in the near future to help cinemas impacted by the coronavirus outbreak resume operations. During a TV show on Monday, Fu also revealed that an extended version of China's most successful sci-fi epic "The Wandering Earth" will be re-released with additional new scenes.
Also on Monday, tickets for the Shanghai International Film Festival were sold out within almost one hour, indicating the eagerness of fans to watch movies on the big screen again.
China shut down all of its cinemas nationwide on Jan. 23 for fear of clusters of infections in confined venues due to the COVID-19 outbreak. Since then, China's film industry has struggled, with thousands of movie companies and cinemas going bankrupt and permanently closing their doors.
The China Film Administration has now allowed movie theaters in low-risk areas to resume operations starting from July 20, but with guidelines stipulating that the public can only buy tickets from online platforms and they must sit separately in the theater, while both staff and audience members should wear masks throughout. At most, 30% of the seats in each theater can be sold for every screening and films must not exceed a maximum runtime of two hours.