Universal Music Publishing Group (UMPG) China and Riot Games China announced on Monday that they had partnered to host an esports-themed songwriting camp.
The camp included 14 UMPG songwriters, including Golden Melody Awards (GMAs) Best Band winner Matzka, GMAs Best New Artist nominee Gong and music reality show "Chuang 2020" contender Chiyo.
Through the collaboration, six songs will be produced for promotional use for the upcoming 2020 League of Legends World Championship, the most widely viewed and followed esports tournament in the world.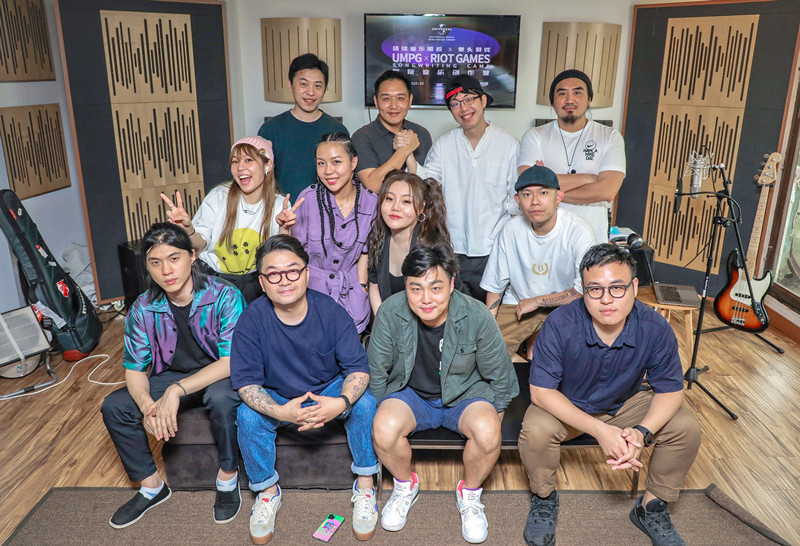 Joe Fang, managing director of UMPG China, said, "Music and gaming are activities of no boundaries. When matched well, the possibilities are endless. I am honored to be partnering with Riot Games on this initiative to create songs to win the hearts and minds of the Chinese esports community and celebrate this world-renowned event. It showcases a valued mechanism of producing quality music for institutional users."
The Shanghai government and Riot Games recently announced that the 2020 League of Legends (LoL) World Championship would take place entirely in Shanghai this year. It will start on Sept. 25 with the final game on Oct. 31 in Pudong Football Stadium.
Leo Lin, head of Riot Games China, said, "When music meets and mixes with gaming, it is simply exciting. I look forward to empowering and celebrating the 10th World Championship of the League of Legends with music of power and varied style through working with UMPG."
Andrew Jenkins, president of UMPG Australia and Asia Pacific, added that China is a "key creative priority" for UMPG and that they are providing the impetus to bring the diverse range of original local talents to a global audience. "We set up our Beijing office with this in mind, appointing a best-in-class local management team with a shared goal of focusing on developing the rich potential of Chinese songwriters and allowing them to shine," he said. "Putting songwriters first, allowing originality and artistry to shine and providing a natural platform for creative people to collaborate were the key goals for the Shanghai songwriting camp."
Thomas Tang, head of the IP & Creative Team of Riot Games China, said there was a special spark in Shanghai at this unique occasion thanks to the collision of gaming and music. He added that Riot Games is very happy to be going on this journey with world-leading music publisher UMPG to level up the "gaming and music" creation. "We hope Riot Games and UMPG continue this journey from here together to bring more beautiful music experiences to LoL players in China and around the world, as we always put player experiences first," Tang said.
The participating UMPG songwriters included Matzka, Gong, Chiyo, Moi Yang, Nia Yang, Tian Mi, Xiao Junfeng, Rtruenahmean, JZlee, Daniel Kim, Dru Chen, Laird Yu, Chris Lyon and Rabitt. Songwriters participated both in-studio and virtually, creating music spanning themes of esports spirit, carnivals, music festivals and more. The camp was held from July 24-27 in Shanghai's GUM Studio.
"We could not have achieved this without such a camp in which inspiration arises throughout from musicians of diversified backgrounds, areas of expertise and styles. And it transforms our way of making music from a linear approach to an industrialized one. This camp is a powerhouse of original music," songwriter Tian Mi added.