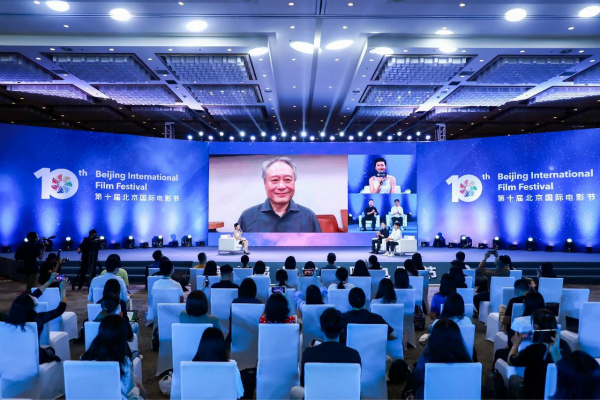 Renowned director And Lee shared his experiences in film creation at a master class held on Aug. 25 during the 10th Beijing International Film Festival, encouraging all filmmakers to overcome external difficulties and continue to seek new ways of expression and technologies.
Lee, though, could not be there in person due to the COVID-19 pandemic, instead appearing via video link.
The director looked back on his career and shared his insights and experiences. In a relaxed manner, he discussed conflicts between traditional and modern ethics, and Oriental and Western cultural clashes.
He explained how he had managed to find a harmonious but different path with his nuanced sense of propriety against real life from diversified cultures, various voices, and disagreements. In addition, his understanding of and reflections on traditional Chinese culture as well as the experience and feeling of Western values had all become condensed and embodied into the aesthetics of his works.
In contrast with those directors who become successful at a young age, Ang Lee was a stay-at-home dad for six years after graduation with master's degree from New York University. He finally landed his first success with "Pushing Hands," which raised him out of his financial struggles, enabling him to start his career as an independent screenwriter and director.
He then directed "The Wedding Banquet" and "Eat Drink Man Woman." These three early films are usually called his "Father Knows Best" trilogy. When it comes to the father roles in his works, Lee explained: "Fathers must play their role. It's not just about manliness. The role's far-reaching influence over grown-up son and the culture behind him are also very important. We often use father roles to express a society's cultural features and mentality."
With the directorial efforts of these three Chinese films behind him, he desired to direct a foreign language film, or, as he put: "In my experience, Oriental films are about aesthetic conception and blurry depiction of existence, deliberately or inadvertently. In short, they focus on aesthetic conception and structure. Western films, in contrast, are more about conquest and aggression. Maybe it's because of their nomadic origin."
He continued, "In a Westerner's world view, individual decisions can make difference in the world, which may be really engaging. But how can Oriental films blend in or change Western films? I think a new technology might be a good chance for us, audiences now expect freshness. There is a big chance for us if we are able to make the most of our habits and strengths, such as aesthetic conception, blurry structure and holistic respect for Heaven and Earth, and blend them and Western culture together."
Lee went on to direct "Sense and Sensibility," "The Ice Storm" and "Ride with the Devil," during which he continued to explore artistic creation, gradually getting rid of past experiences, and extending his thoughts about culture from the East to the West, and from individuals to the whole society. And he started to look for the new balancing point in filmmaking.
Lee had a dream about martial arts and was deeply fascinated by a world full of chivalrous swordsmen and beauties. However, martial arts films produced in Hong Kong and Taiwan back then seldom had any association with real feelings and culture. Instead, they were mainly sensory stimulations. Ang Lee, however, intended to produce a martial arts film brimming with humanity.
Hence "Crouching Tiger, Hidden Dragon" was born. It followed the routine narration of popular martial arts films, yet reading between the lines of the plot revealed critical thinking never previously found in the genre. During its adaptation, Lee emphasized: "I didn't want to translate the novel [written by Wang Dulu as a pentalogy between 1938 and 1942]."
On the contrary, "for most of my adapted works, I just read through the original works once. This was because I feared the original works might get into my head and hinder me from making good films. There is an unspoken rule in the film industry, that is, you may be faithful to the original novel and produce a bad film, or you may throw the original novel away and produce a good film."
But he also lost his equilibrium in filmmaking in the new century when he directed "Hulk" because the atypical Hollywood superhero was not accepted by the audience that rejected such artistic presentation. The film became a box office flop. However, he soon got back on track as he won the Academy Award for Best Director for "Brokeback Mountain."
He then directed "Taking Woodstock," which is not as famous as his other directorial works, yet the joyful musical comedy is very different in terms of style and tonality from his other works while still focusing on growth and family perspectives with which he is familiar.
At that point, he started transformation out of family ethics dramas. The characters in his works were not only perplexed about their own identity, but started to associate such confusion with complex social reality and the broad spread of the times.
His awakening enabled him to expand his observations from middle-class families to broader cultural and social groups. Regarding this point, Lee said: "As far as I'm concerned, adventure is safest comfort zone. I would feel agitated and think everything would go wrong if I stop adventuring. It's a strange mentality but I think filmmakers should be adventurous."
As Ang Lee changed his ideas about filmmaking, so did his approaches and focuses. His "Life of Pi" demonstrated this. And he's consistently insisted on continued exploration of filmmaking possibilities and commitment to pushing back the art frontier. "Life of Pi" enabled him to find great potential of 3D filming technology. The far-reaching aesthetic scenes created via 3D technology were just a tool for him to tap the market potential of the popular yet artistic film.
Speaking of "Life of Pi," he disclosed: "It was my first trial of digital cinematography, and my first 3D experience. I felt terrible in the middle of shooting because what I used to know, express and trust suddenly seemed void. I didn't know how to shoot a film anymore.
"So, I restarted my exploration and entered a brand-new world. I am still groping my way forward. I directed another two films in the past 10 years, and I have new plans for the future. I think I am still in the early stage of learning."
By the time "Billy Lynn's Long Halftime Walk" was premiered in 2016, Lee had extended the deep integration of technologies and film creation to the frontline of filmmaking all over the world. In addition to cameras set at 4K resolution in 3D, the film was shot in 120 fps rather than 24 fps, the conventional shooting and screening fps. A lot of close-ups were shot to maximize visual and audio impacts.
Despite the huge impact of the COVID-19 pandemic on the film industry, the film revolution might actually be advanced consequentially. Last but not least, Lee indicated at the master class that he's currently working on an English script after his last year's "Gemini Man," and conceiving another two films.
As for the impact of streaming services on cinema circuits, Lee said, "You have to accept the fact that the audience would rather watch movies at home than go to cinemas. Only by producing films that can't be watched at home without great effort, and creating new cinematography and stories can you attract the audience back to cinemas, which are of ritual and collective sense. I have confidence in cinemas."