The China theatrical release for the repeatedly delayed Disney live-action remake of "Mulan" has finally been set for Sept. 11.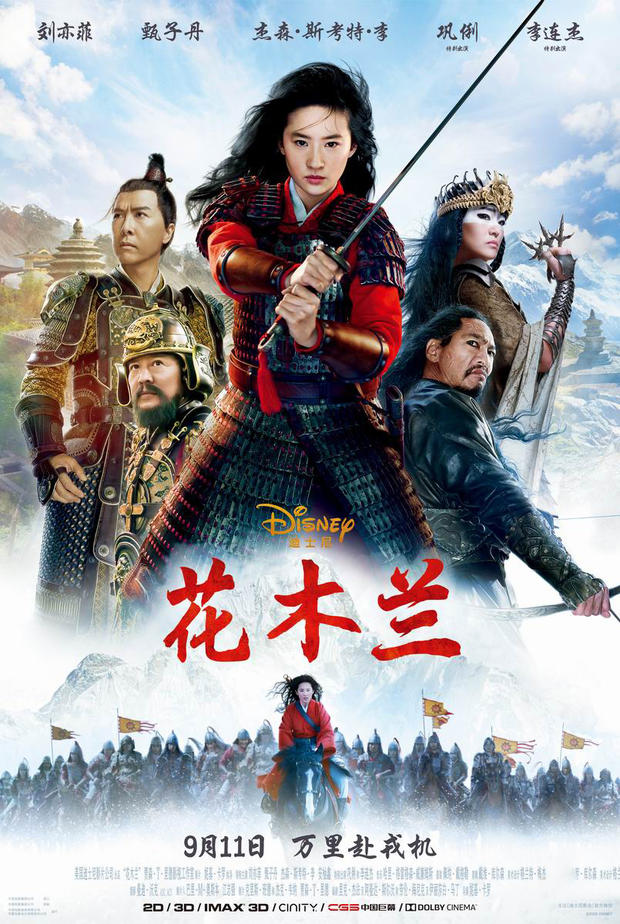 The film is an adaptation of Disney's 1998 animated classic of the same name. According to folk legend, Hua Mulan lived more than 1,400 years ago during a tumultuous era in Chinese history. She disguised herself as a man to serve in the army and fight for her country in place of her elderly father.
"Mulan," directed by Niki Caro, is one of a few large-scale releases from a major Hollywood studio that features an entirely Asian cast. The title role is played by Chinese actress Liu Yifei, and other Chinese stars, such as Gong Li, Donnie Yen and Jet Li also make appearances.
According to Walt Disney Studios, the Chinese version of "Mulan" will be dubbed with the true voices of Liu Yifei, Gong Li and Jet Li speaking Chinese.
Executive producer Bill Kong said "Mulan" is a timeless tale that still resonates with audiences despite being an ancient Chinese legend. Kong, the man behind "Crouching Tiger, Hidden Dragon," was hired to oversee the Chinese-set production, and the studio communicated with Chinese cultural consultants and its own China-based team to ensure that the details in "Mulan" were authentically Chinese.
Originally scheduled for release on March 27, "Mulan" reportedly cost $200 million to make. However, the unexpected COVID-19 pandemic disrupted Disney's plans.
In early August, after Chinese theaters had just reopened and the pandemic had worsened in the United States, Disney's CEO Bob Chapek decided to forgo a theatrical release of "Mulan" in the American market, disappointing many theater managers who hoped such blockbuster films could help them revive the cinema businesses.
American audiences will be able to pay $29.99 to watch the film on Disney Plus on Sept. 4, a streaming platform that currently has 60.5 million global subscribers, along with audiences in Japan, Canada, Australia and New Zealand. Disney's CEO said that "Mulan" is a lone experiment. It will test the entirely new early video-on-demand (VOD) model.