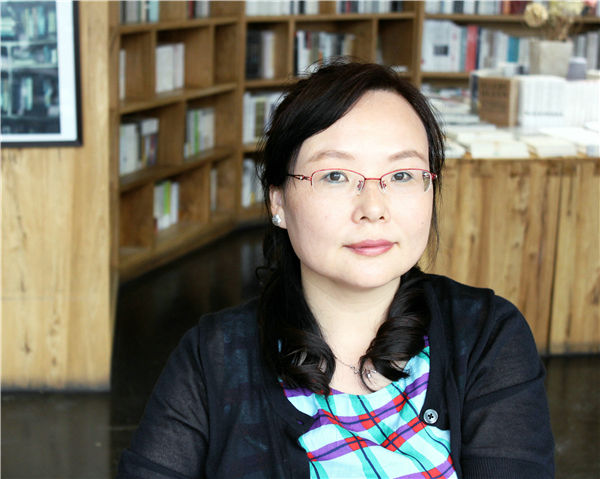 Ji Yaya, deputy editor-in-chief of the prestigious Chinese literary magazine, October, says this anthology's compilation is a very meaningful "literary action".
"Zhang Li is an intellectual, who finds her research interest in personal experience and the contexts of different times. She has continued turning her personal experiences and thoughts into energy through action, including this collection," she says.
Zhang writes: "For me, selecting stories for this anthology was like trying to construct a fictional female literary community, just like the space under the pagoda tree. Upon opening the book, in the same space and at the same time, we listen to one another's stories, and recognize and embrace ourselves, just like we see our sisters and ourselves in the mirror."
Zhang was inspired to compile such a book when she was a doctoral candidate working on her dissertation about the starting of Chinese female writing over 100 years ago.
"I wanted to map out the history of Chinese women's literature, including not only famous writers but also obscure ones," she says.
"I wanted to find out how Chinese women's literature developed over the last century. But it was a very difficult process."
She searched for female writers, one by one, among old literary magazines, such as New Youth in 1919 and Fiction Monthly in 1921, and gradually filled in the blanks on the map.
Sometimes, no woman had written about certain issues at all.
"I wondered whether literary critics in olden times had thought about compiling such an anthology," she says.
"Now, gender awareness is widespread in China. So, it's time we should construct such a women's literary tradition, starting from the fundamental work of compiling annual anthologies."
Zhang and her two doctoral candidates, Yan Dongfang and Hua Cheng, started searching for women writers and their works on various platforms, including the most prestigious literary magazine, Harvest, and websites like Douban, which are more welcoming to new writers.
Instead of just including the most famous voices, Zhang wanted to find refreshing writers, who could represent women's current lives most faithfully.
They collected 200 stories published in 2019. After rounds of debate and struggles, they chose 20 for the 500-page book.
Some of the writers were still graduate students.
"About half of the 20 writers in the book are not very famous. Most were born after 1985. They're very young and not yet known to the public. So, it's a rather risky selection," she explains.
"But we need to discover new female writers on the one hand. And on the other, we hope it can encourage those young writers, which is very important."
Zhang writes in the preface: "That I care about women and female gender identity, and emphasize anthologizing female fiction is not intended to exclude but rather to better unpack and understand the female world."
Women today navigate a particularly complicated and diverse society, Ji says.
There are many different voices and appeals, including those from pseudo-feminists, grassroots women, middle-class urban women and full-fledged feminists, who are often divided among themselves.
The anthology is like a jigsaw puzzle of different women's situations, Ji says.
"We wanted to create an inclusive book, a chorus of different voices, open and cutting-edge, poignant, gentle but tough, all faithfully talking about women's lives from different perspectives," Zhang says.