"Septet: The Story of Hong Kong", an anthology film made by seven of the most renowned Hong Kong filmmakers will open the 25th edition of the Busan International Film Festival.
The omnibus film by Sammo Hung, Ann Hui, Patrick Tam, Yuen Wo Ping, Johnnie To, Ringo Lam, and Hark Tsui, was previously an official selection of the Cannes Film Festival.
Produced by Johnnie To, "Septet" is a collection of Hong Kong stories, each directed by a different director through their unique artistic vision, illustrating different time periods of the city.
"Septet" was also the last directing work of the late Ringo Lam, who died on Dec. 29, 2018.
Actors and actresses involved include Simon Yam, Francis Ng, Yuen Wah, Timmy Hung, Cheung Tat Ming, Lam Suet, Lawrence Lau, Emotion Cheung, Jennifer Yu, Mimi Kung and Sire Ma.
The film spans the period from the 1950s to the present. Each director had to handle one decade. Production for "Septet" took place off and on over four years.
In his episode, Sammo Hung, producer, Kung fu actor and director, goes back to the 1950s and restrictive school of dance and martial arts. Ann Hui reflects on educational boom in the 1960s. Patrick Tam, the New Wave director, portrays the 1980s from the perspective of two teenagers facing the prospect of separation. Yuen Woo-ping, legendary choreographer and director of action movies created an intimate story about an older man and his little granddaughter.
However, the 1970s segment is lost, since the title of the film was changed from "Eight & a Half" to "Septet" due to John Woo's departure from the project. This was believed due to his health problems.
Johnnie To narrates a story showing the fate of three friends looking for opportunities to quickly enrich themselves in a dynamically developing city in the 2000s. Ringo Lam tells a story of the return to Hong Kong of an emigrant rediscovering his hometown in the 2010s. Tsui Hark has decided to look to the future in his episode, the story evolving in a psychiatric hospital with a therapeutic conversation between doctor and patient taking an unexpected turn in the 2020s.
In addition, filmmakers of "Septet" returned to their artistic roots and shot it entirely on 35mm film rather than digital cameras, as the project is originally intended as filmmakers' farewell to 35mm film, a summary of extraordinary history of Hong Kong cinema and as an inspiration to young Hong Kong filmmakers.
Executive producer Johnnie To said he and other directors especially wanted to thank organizers of the Busan film festival for choosing "Septet" as the opening film; though they would not be able to attend the premiere, he believed the first collaboration of the seven filmmakers and their visions proved capable of producing a creative work recognized by film industry around the world, as more and more film festivals in various countries and regions have invited "Septet" to be included in their selections.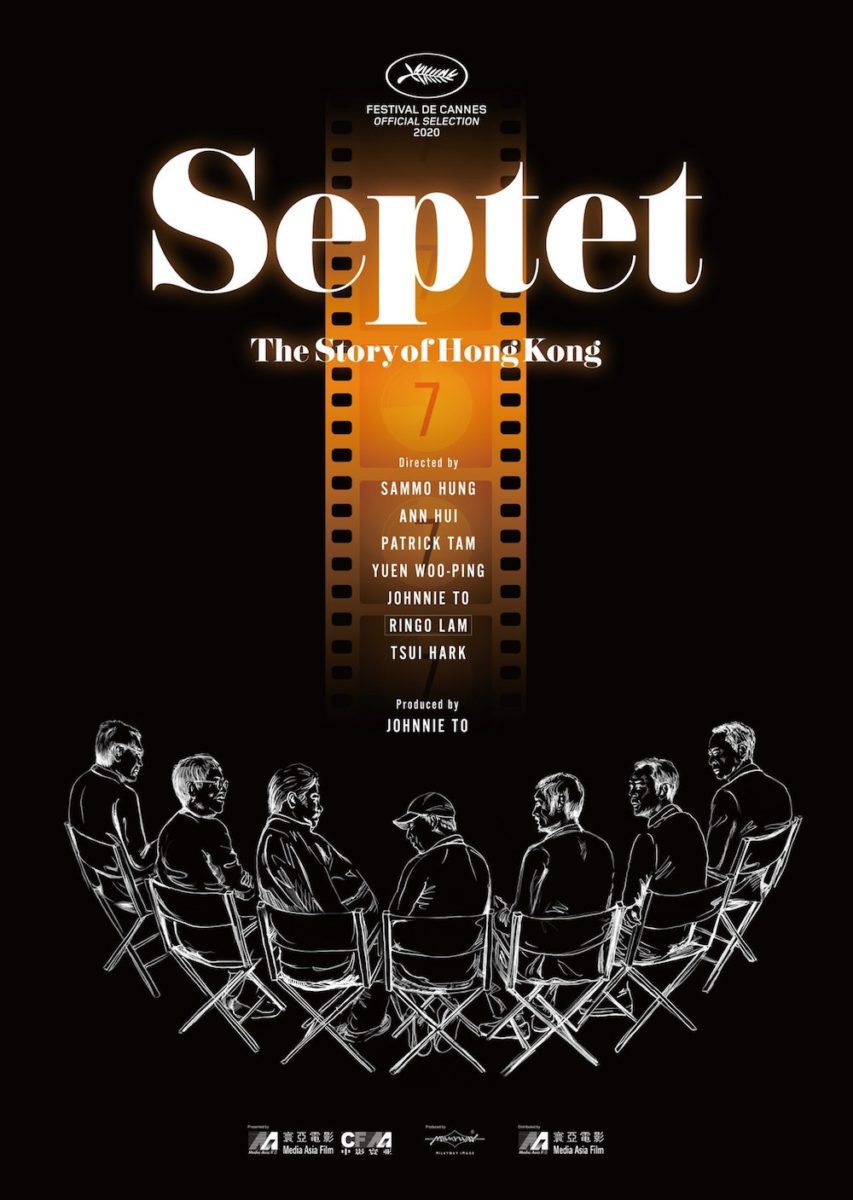 This year's Busan film festival will shrink by a third due to the COVID-19 pandemic and be running on newly announced dates of Oct. 21 - 30. The reduced format means that most events involving human contact have been canceled, which include the opening and closing ceremonies, red carpet, receptions, parties, and on-stage greetings.
The only theatrical screenings will take place on five screens within the Busan Cinema Center and all tickets must be booked in advance and online. Current COVID-19 restrictions limit capacity to 50 people per screening. The film selection has been reduced from more than 300 features and shorts in a normal year to 192 from 68 countries this time. Each film will screen only one time.
But the 25th edition could be canceled if the situation worsens and the South Korean government strengthens its social distancing, organizers said.