A new version of the cinema reopening guideline issued on Tuesday allows Chinese cinemas to further loosen limits and have their per-show attendance reach 75% capacity.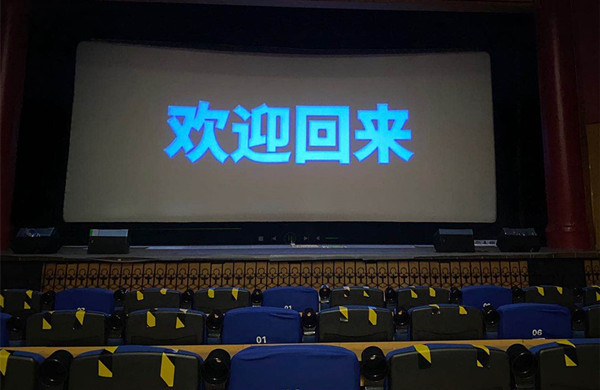 The guideline, issued by the Chinese Film Circulation and Projection Association, said, in principle, that at most 75% of the seats in a theater could be sold for each screening. This is a big leap in comparison to the beginning phase of reopening in late July when only 30% of seats were available for each show.
The third version of the guideline also omitted the requirement of selling "non-adjacent tickets in every other row."
The other requirements remained almost the same, including specific instructions like twice-a-day disinfection spraying of lobbies, screening rooms, restrooms, corridors and aisles, as well as wiping vending machines and public seats with disinfectant five times a day, and so on. Armrests, 3D glasses and other such frequently touched items should also be disinfected after each use, according to the guideline.
Advertisements and promotional materials about pandemic prevention and control should also be implemented on LED screen displays, pre-screening displays and billboards and flyers.
The guideline also stipulated that the public can only buy movie tickets from online platform through real name-registered online reservations, while both staff and audience members should wear masks at all times when inside a venue. Those who do not wear masks or who display a body temperature above 37.3 degrees Celsius should not be admitted.
No snacks and beverages are permitted inside the theaters, but the instructions omitted "to be sold," which means the cinemas can sell popcorn, snacks and drinks for takeaway after screenings. This means a lot to the cinemas, as snacks and beverages are a large part of their profit.
The latest version of the guideline has also loosened the limit on films with a running time of more than two hours. Now, a film, no matter how long it is, can be screened in its entirety without a forced interlude.
This raise in cinema capacity indicates the effectiveness of China's pandemic prevention and control work and robust cultural demands from the general public.
China's box office revenue has hit 5 billion yuan ($733 million) by Monday since theaters reopened on July 20 following months of closure due to COVID-19. The epic war drama "The Eight Hundred," formally released on Aug. 21, contributed more than half of the total, grossing over 2.6 billion yuan as of Monday.
The new guideline will benefit all of those films to debut during the coming National Day holiday, starting around Oct. 1, including potential mega blockbusters like China's women's volleyball epic "Leap," the action film "Vanguard" starring Jackie Chan, the animated feature "Legend of Deification" and the comedy anthology film "My People My Homeland" with an all-star cast and all-star directors headed by Zhang Yimou.
Experts have predicted that the only eight-day holiday film season this year will be the peak, explosive period for box office performances, as the once-heated Spring Festival season and May Day holiday season were lost due to the shutdown of cinemas to avoid the virus spreading.