Five-year-old Yang Zherui of Tongjiang in southwest China's Sichuan province helped discover a collection of five dinosaur footprints imprinted in a 20-square-meter rock near his home on Oct. 1.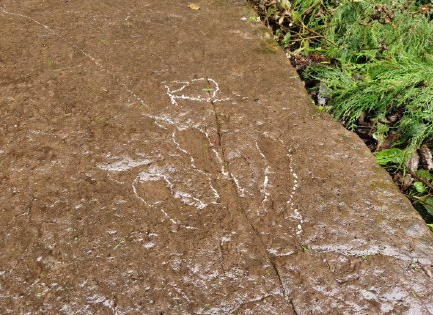 The 35-centimeter-long footprints are believed to have been left by dinosaurs 130 million years ago during the Early Cretaceous period, a group of paleontologists announced upon their arrival on Saturday. This discovery makes them the first dinosaur footprints ever found on the northern edge of the Sichuan Basin.
The discovery was made by Yang after he returned home for the National Day holiday and heard his grandpa mentioned that he had seen some "chicken tracks" in the rocks nearby. Due to his fondness for science, and his particular interest in dinosaurs, Yang recognized the footprints immediately.
This discovery also makes Yang the youngest person to have found such a specimen in China. It has been said that this reflects the significant progress made in the country's popularization of natural science and liberal education overall. It also demonstrates the huge potential of paleontology as an emerging discipline.
Experts from Beijing and Zigong observed the footprints and stride length, estimating that the dinosaur was four meters long. Xing Lida, associate professor at the China University of Geosciences, explained that based on the sharp claws the footprints were likely left by a small-to-medium-sized carnivorous dinosaur.
More footprints are expected to be found in the area nearby.