Starting in July, director Liu Jiang and his crew began busily filming a new TV series entitled "Glory and Dream" at the famous Hengdian World Studios in Zhejiang province, with star actors such as Gao Yuanyuan and Huang Xiaoming joining the cast.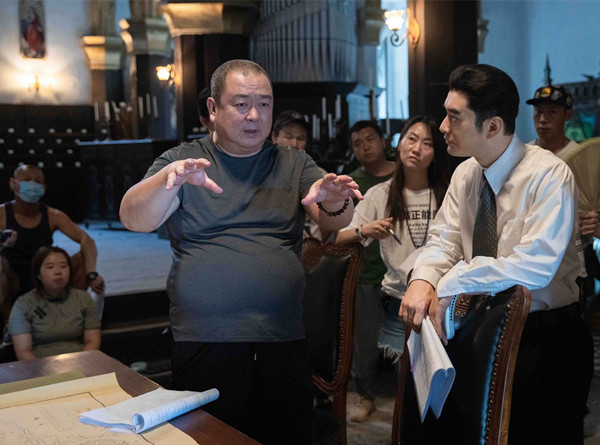 Spanning more than 400 roles based on historical figures and over 700 scenes to shoot, Liu and his team had their work cut out for them.
To tackle the monumental task ahead, Liu divided his crew into three groups to simultaneously shoot the different segments. "Everyone here is in high spirits and is working hard because this is a significant tribute for the Party," Liu told China.org.cn.
The ambitious TV series will hit China's households next year to celebrate the 100th anniversary of the founding of the Communist Party of China (CPC).
Though Liu's other film and TV productions were affected by the COVID-19 outbreak, regarding "Glory and Dream," this crisis had some benefits. "I have to be honest, I had another project to tend to before the epidemic. But then the COVID-19 forced us to focus on the TV series only, and so that allowed me and my colleagues to have more time to seriously and extensively revisit, explore, and research the history of the CPC, and make significant preparations."
Screenwriter Zhao Ningyu was in a similar situation. The professor of the Beijing Film Academy, who previously wrote scripts for China's successful revolutionary film "The Founding of An Army" and the TV series "Towards The River Glorious," is an expert on CPC history and China's military. Due to the epidemic, Zhao dropped another project and joined Liu's team, which helped to finish the screenplay in time.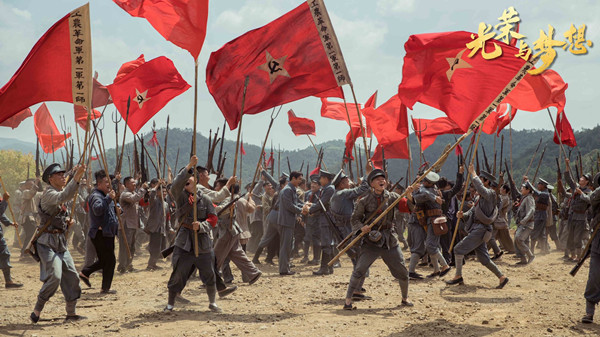 The director stressed that he still wants to make innovations in such productions about China's revolutionary history, and make them true to historical records. "We want to present new content, with a new approach and new aesthetic," he said, elaborating that they would portray some stories that have never been told before as well as retell others in a more detailed and delicate way.
"For example, the death of Mao Anying, son of Chairman Mao Zedong, during the War to Resist U.S. Aggression and Aid Korea. That content could have simply been portrayed as a news report, but this time we told the story via Peng Dehuai, commander of the Chinese People's Volunteers (CPV). From his perspective, you will get a very different understanding [of the event]. For another example, when we shot the scenes of the death of Mao Zedong's wife Yang Kaihui, we told the story from her perspective as a mother, which may resonate more with common people," he continued.
Thanks to the latest filming technologies and maturing special effects, the crew was able to create a never-before-seen visual spectacle. The use of updated technologies and modern aesthetics is also intended to help tell these stories to a new, younger audience. But Liu doesn't want to cater to young people, in his own words: "I want to influence young people."
This TV series captures the CPC odyssey and spans from the First National Congress of CPC in 1921 to China's 1953 triumph in the War to Resist U.S. Aggression and Aid Korea. It is packed with elements of war, romance, family, loyalty, betrayal, belief, and cruelty, but the director emphasized his goal is to make the revolutionary leaders and heroes more "human," rather than falling back on hackneyed stereotypes.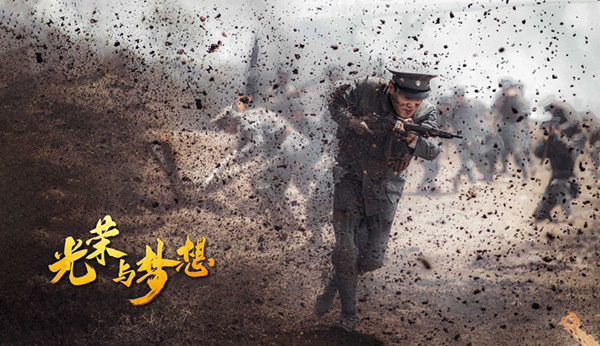 "With true humanity, the story and its roles can really enter people's hearts," Liu stated, adding, "Any great man should be a human first. They are ordinary people too, but they made an extraordinary choice in a critical moment, which made them great. Only by knowing this, can people understand their greatness and be inspired."
The team of "Glory and Dream" digs into the details, anecdotes, true events, and other aspects of every communist hero to render their images deeper, more credible, and three-dimensional. The director pointed out that their efforts to capture the details not only reflects their want to delve into the Party's history, but also a manifestation of their creative attitude towards realism. "Much of Party history is common knowledge. However, for our series creators, the real test was their depth of understanding of history, human nature, and life. This is what's important," Liu said.
According to him, two-thirds of the filming has been completed. The series will be screened to hundreds of millions of Chinese on July 1, 2021, CPC's centennial anniversary.