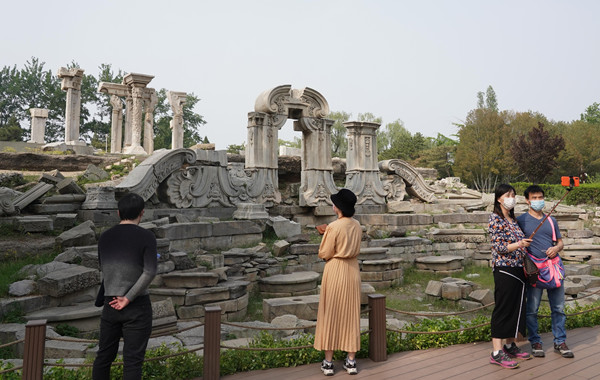 China's National Cultural Heritage Administration (NCHA) said that reconstructing the Old Summer Palace lacks archaeological and historical merit and requires further deliberations.
Responding to a proposal of a deputy to the National People's Congress (NPC) for "rebuilding the Old Summer Palace and strengthening patriotic education," the NCHA issued a public response on its website earlier this month.
The Old Summer Palace, also known in Chinese as Yuanmingyuan - meaning Garden of Perfect Brightness - was first constructed during the reign of Emperor Kangxi of the Qing Dynasty (1644-1911). The pinnacle of the Chinese imperial garden, full of cultural treasures, was looted and burnt down by Anglo-French allied forces in October 1860.
An NPC deputy's proposal again raised long-standing disputes on whether the imperial garden should be rebuilt.
NCHA said that the ruins of the former imperial garden complex are evidence and warning from a time when the nation was humiliated at the hands of foreign aggressors, and the reconstruction would damage the relics and undermine the history.
Much deliberation should be given to study the necessity and feasibility of the rebuilding, according to NCHA.
Together with the Beijing Municipal Government, the administration said that it will continue to promote the construction of the national archaeological park (Yuanmingyuan archaeological site) and enable it to serve as a site for history and patriotic education.
Strictly implementing the Construction Plan for Yuanmingyuan Ruins Park, the administration pledges to continue conducting archaeological research at the site and using digital technology to reconstruct it.