Exhibition venues were filled to capacity and artworks flew off the shelves at the recently concluded Shanghai International Art Trade Month.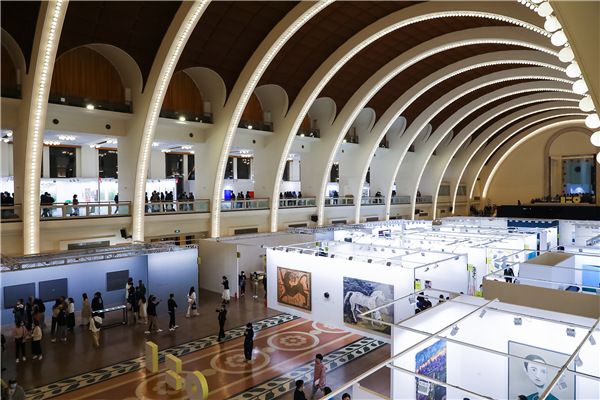 Boasting healthy sales and hordes of visitors attending its host of art fairs and exhibitions, the second Shanghai International Art Trade Month illustrated that consumers' appetite for art has hardly been dampened by the pandemic.
Founded by Shanghai's Xuhui district in 2019, the SIATM is aimed at developing Shanghai into a global center for art trade and cultural industries.
Though the SIATM has yet to announce the total trade volume during the event, preliminary signs have painted the event as a success.
For example, 3125C Galleria, which was holding a solo exhibition of US artist Kelly Beeman, had within the first two hours of its preview sold all but one oil painting and a watercolor piece.
Based in Los Angeles and Hong Kong, 3125C Galleria was attending the ART021 fair, which took place from Nov 12 to 15 at the Shanghai Exhibition Center. A total of 114 galleries and institutions from 18 countries took part in this fair.
Beeman's works were especially popular with young visitors who constantly gathered in front of the paintings to take pictures. Many could also be found discussing the prices of the artworks.
"We were overwhelmed by people's enthusiasm at ART021," says Conan Lou, a representative of the gallery.
However, the popularity of Keeman's works with collectors in Shanghai was not unexpected, Lou says.