The feature film Nomadland, by 38-year-old Chinese director Chloe Zhao, was a big winner at this year's Chicago Film Critics Association (CFCA) Awards. The film took the awards for Best Picture, Best Director, Best Actress (Frances McDormand), Best Adapted Screenplay and Best Cinematography (Joshua James Richards) on December 21. These and other awards are generating a buzz that is making Nomadland one of the most anticipated films of the 2021 Oscar season. The film will be screened in U.S. cinemas in February, 2021.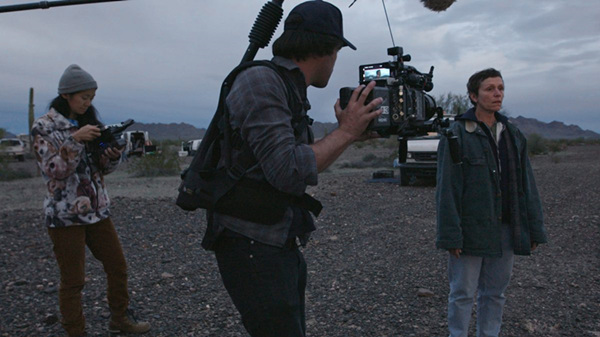 Based on Jessica Bruder's 2017 non-fiction book Nomadland: Surviving America in the Twenty-First Century, the film stars two-time Oscar winner Frances McDormand as an unemployed woman losing everything in the Great Recession. As the plot progresses, the protagonist embarks on a journey through the West in America, living as a van-dwelling modern-day nomad.
In addition to its five CFCA awards, Nomadland has carried off several other awards and nominations over recent months. The film won the Golden Lion Award, the Venice Film Festival's top honor in September, 2020, making Zhao the first Chinese female director to win the award. The film also gained the People's Choice Award at the 2020 Toronto International Film Festival in the same month, and won Best Picture, Best Director, and Best Cinematography from the Boston Society of Film Critics on December 13.
Born in Beijing, Zhao studied in London and the Los Angeles before settling in Ojai City, California. Her debut feature film, Songs My Brothers Taught Me came out in 2015. Making its debut at Sundance Film Festival, the film depicted the bond between a Lakota Sioux brother and his younger sister. Zhao's following work, The Rider focused on how a young cowboy searched for a new identity after suffering a severe injury. The film attracted the attention of Frances McDormand at the 2017 Toronto International Film Festival, bringing the two together on the production of Nomadland. Another recent film by Zhao, The Eternals, is also expected to hit cinemas in 2021.
In an interview with GQ magazine, Zhao said that the experience of living in China, Britain and the U.S. has provided her with a unique perspective from which to observe others' lives, and made her aware that people of different races are not that different from each other.
Although Zhao has not yet made a film in China, she has never given up the thought of producing works relating to her hometown. "I was born and raised in China. The standard Chinese is my mother tongue, and I definitely know America. I think that will be my strength, to try and bring the two worlds together," she told Deadline.com.