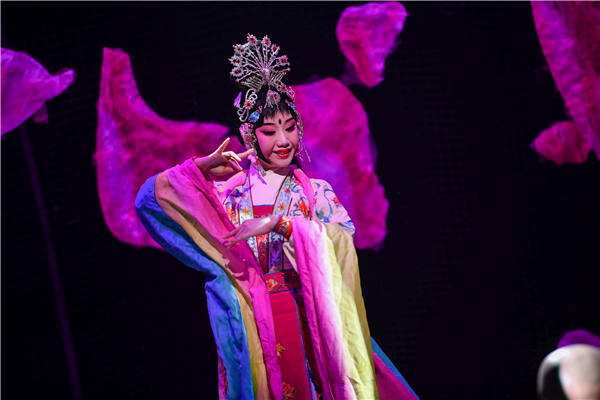 Wang Jing is among a dedicated group of theater performers determined to help the Pingju Opera art form thrive in the modern era.
Wearing heavy pink, black and white makeup, Wang Jing, a veteran Pingju Opera artist, dressed in a long, pink traditional Chinese robe, as she sings, resembles a beautiful fairy. Spinning around onstage among the pink flower petals cascading from the ceiling, she performs an excerpt from A Fairy Maiden Scatters Flowers, which is adapted from a classic Peking Opera piece once performed by master of the art form, Mei Lanfang (1894-1961).
Wang's performance was part of a 9-minute-long showcase led by Qiu Jirong, a crossover Peking Opera artist, who combined contemporary dance with six classic pieces from six traditional Chinese operas, including Kunqu Opera, Qinqiang Opera and Pingju Opera.
The performance received warm feedback from the audience, especially from young people, who watched it as part of a New Year countdown show on popular video site, Bilibili, on Dec 31, 2020. So far, the performance has been viewed over 1.5 million times on Bilibili.
Wang is working hard on further polishing the piece, which she hopes to present as an independent program this year.
"For people who are not familiar with Pingju Opera, they get their first glimpse of the art form through the performance. If they can experience more Pingju Opera shows in theaters, they will learn more about the beauty of the old art," says Wang, 39, who has been performing with China Pingju Opera Theater since 2002.
Pingju Opera originated in Tangshan, Hebei province, during the late Qing Dynasty (1644-1911), and is popular in northern China.
Cheng Zhaocai (1874-1929), who is considered as the father of Pingju Opera, was born in a village in Luanxian county, Tangshan. A Pingju Opera performer and a playwright, Cheng wrote over 100 plays, many of which have been passed down as classic Pingju pieces, such as Flowers as Matchmakers, Du Shiniang and Yang Sanjie Goes to Court.