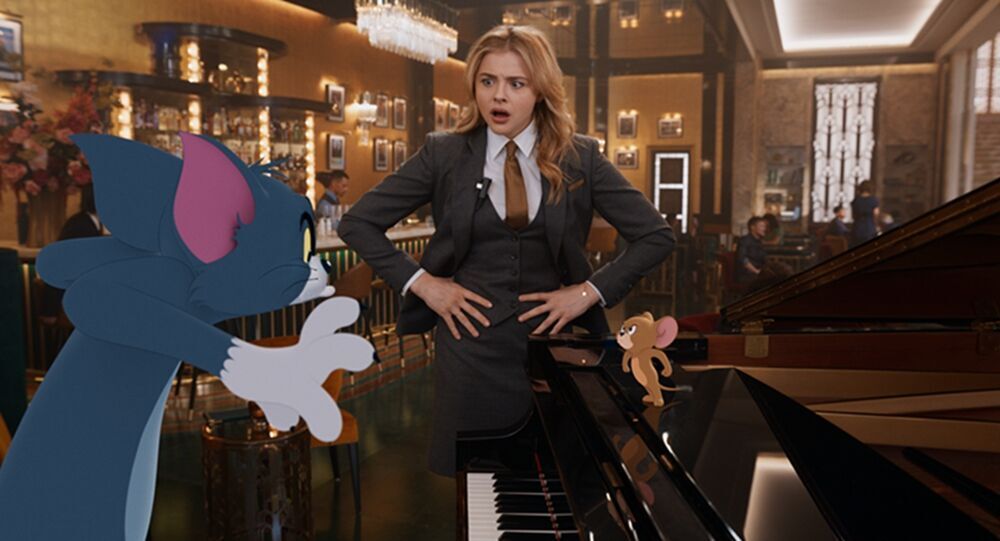 Warner Bros. Pictures' "Tom & Jerry," a live-action/animation hybrid by Tim Story, became the first Hollywood offering to hit Chinese movie theaters on Lantern Festival.
The movie is a reimagining of the classic cat-and-mouse cartoon, which sees Jerry moving into New York City's finest hotel on the eve of the wedding of the century, forcing the event's desperate planner to hire Tom to get rid of him. The ensuing battle threatens to destroy her career, the wedding and possibly the hotel itself.
An eye-popping blend of classic animation and live action, Tom and Jerry's new adventure takes iconic characters into unknown territory and forces them to eventually do the unthinkable: work together to save the day.
"Audiences will see Tom and Jerry in a way that I don't think anybody's ever seen before: a hybrid film with the classic animation that allows us to bring all the crazy stunts and gags people associate with the original cartoons into a live-action, real-world environment," noted producer Chris DeFaria.
The new movie is the first animated/live-action film in which the duo headline, but it isn't the first time they have played cat and mouse with human co-stars. Jerry appeared in a musical number with Gene Kelly in the feature film "Anchors Aweigh," and he and Tom later dove into the pool with Esther Williams in "Dangerous When Wet."
Director Tim Story was eager to take on the classic dueling duo for a modern movie audience. "When it comes to humor, Tom and Jerry -- with their slapstick, over-the-top physical comedy -- transcend time," he said. "What we've done with this film is to take this historical pair as you would normally see them in, say, a house, but put them on a much bigger canvas. Now, they're inside a huge hotel and in the presence of actual humans. Not necessarily talking with them, of course, but definitely interacting with them."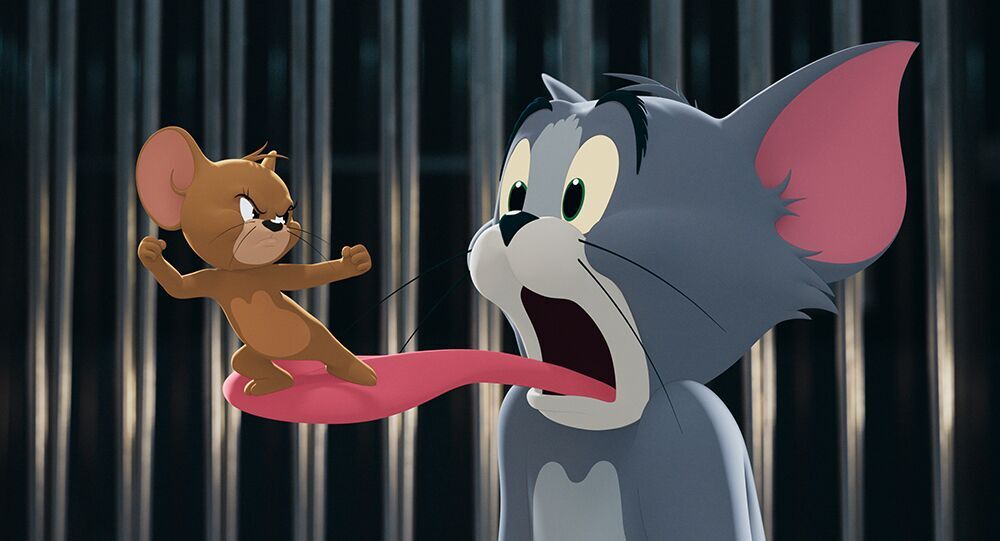 The duo are set to cause all kinds of mayhem in the film. "We stayed true to the original characters," Story assured, "so basically they are running around, beating each other up... all of the things you're used to seeing Tom and Jerry do. The action is all in keeping with these characters as we've always known them."
In the real world, Chloe Grace Moretz plays Kayla who, like both Tom and Jerry, is a bit of a con artist herself. The actress has been a fan of the frenemies as far back as she can remember.
"Since I was a little girl, probably before I could really comprehend cartoons, I started watching Tom and Jerry. There's just something hilarious about them. They're kind of like the Three Stooges: going head-to-head and pummeling each other, but at the end of the day they're probably best friends," she said.
Audiences first met Tom and Jerry on the big screen in the MGM cartoon "Puss Gets the Boot." It was an immediate hit and was nominated for an Academy Award for Best Short Subject: Cartoons. It launched a timeless series of conflict, comedy and camaraderie that continue to entertain fans everywhere.
Tom and Jerry fought their hilarious, never-ending battles through 114 cartoons in their original theatrical run and have been part of the culture ever since. The pair have featured in numerous TV series and movies, before making Warner Bros. their home in 2001. Tom and Jerry cartoons have received 13 Oscar nominations and took home seven wins.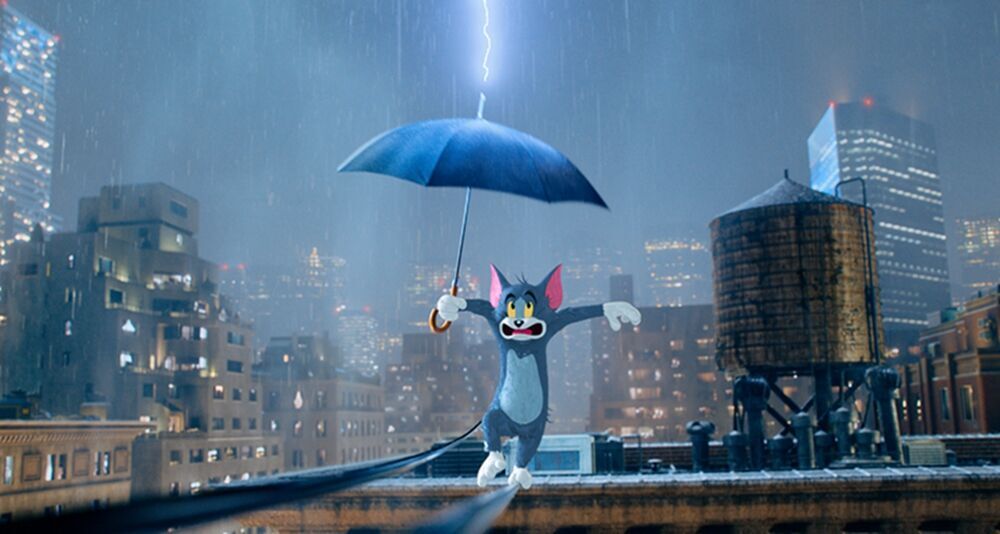 The new film was written by Kevin Costello, based on the characters created by William Hanna and Joseph Barbera. Costello who felt responsible to live up to the legends, said, "There's a reason these characters are still so popular, 81 years later, all over the world, and I wanted to be extremely careful to honor that. Tom and Jerry had to be themselves -- look like themselves, not talk like themselves and, obviously, engage in absurd, gleeful, over-the-top cartoon violence. I had so much fun going through the old shorts, trying to break everything down on a character level, and finding ways to recontextualize classic elements in a way that felt nostalgic but new."
Altogether, a huge number of drawings were created throughout the process, with approximately 15,000 in the pre-shoot phase, and 900 per week in the post-shoot phase over 26 weeks, amounting to an additional 25,000. Principal photography of the film wrapped in September 2019, just a few months before the COVID-19 pandemic.
To help the human stars of Tom and Jerry interact with their still-to-be-animated co-stars, puppeteers were hired to act out their performances. To capture the mix of family-friendly themes and the classic chaos of the characters, Story turned to composer Christopher Lennertz to create the score. He also worked with music supervisor Kier Lehman to put together an exciting mix of classic and modern songs, including artists such as T-Pain and Flo Rida.
"Tom and Jerry stand the test of time because we can all relate," Story summed up. "Anyone who's ever been in a family -- which is everyone -- immediately recognizes the relationship between the two of them as that love and hate of a sibling rivalry. But even though Tom and Jerry are at war with each other every day, when the chips are down, there's no one you'd rather have in your corner."
He continued, "That dynamic, played out with their incredible and timeless brand of physical comedy, is universal. That's why they are iconic characters and beloved by audiences around the world. We hope today's moviegoers, no matter their age, will feel the sense of nostalgia but also enjoy these guys in a new, cool, and contemporary way designed for today's generation."
Chinese audiences will also feel strong nostalgia, as the cartoon was introduced into China in 1989 to air on several local TV channels, and was officially imported and broadcast on China Central Television in August 1991. Generations of Chinese people grew up watching the show, and there's huge fanbase, Ah Fu, a film critic and animation historian, told China.org.cn.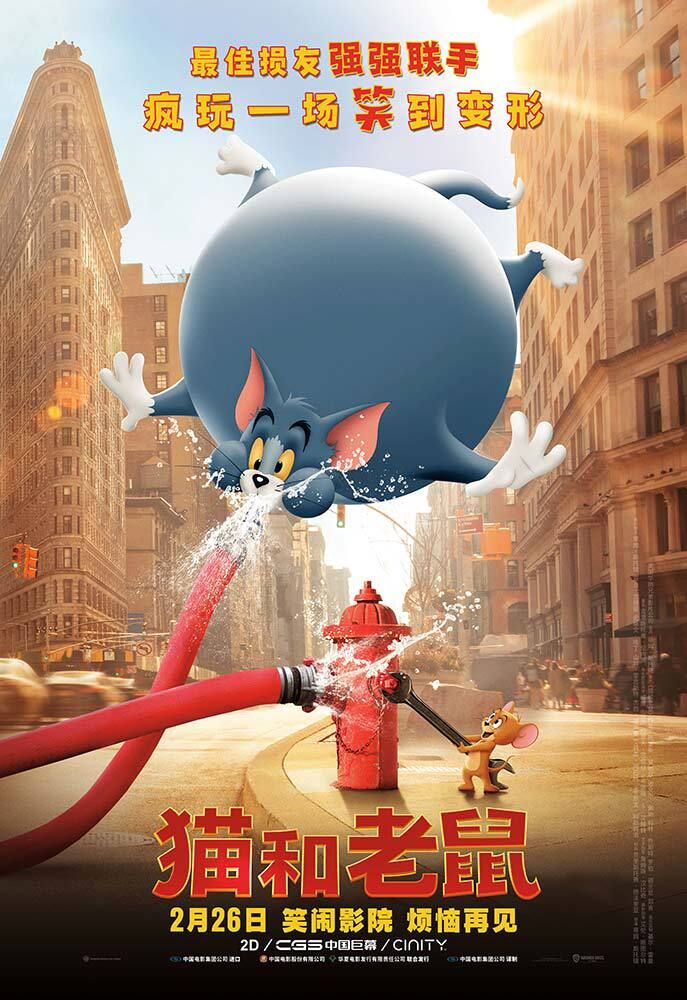 Actors Chloe Grace Moretz, Michael Pena, Colin Jost, Rob Delaney and Ken Jeong star in the film. It releases into Chinese theaters on Feb. 26, 2021. It will be available to HBO Max subscribers the same day as the North American theatrical release.