Chinese female director Chloe Zhao won best film and best director awards at the 78th Annual Golden Globe Awards on Sunday night, making history as a major Chinese breakthrough. The film will debut in China in April.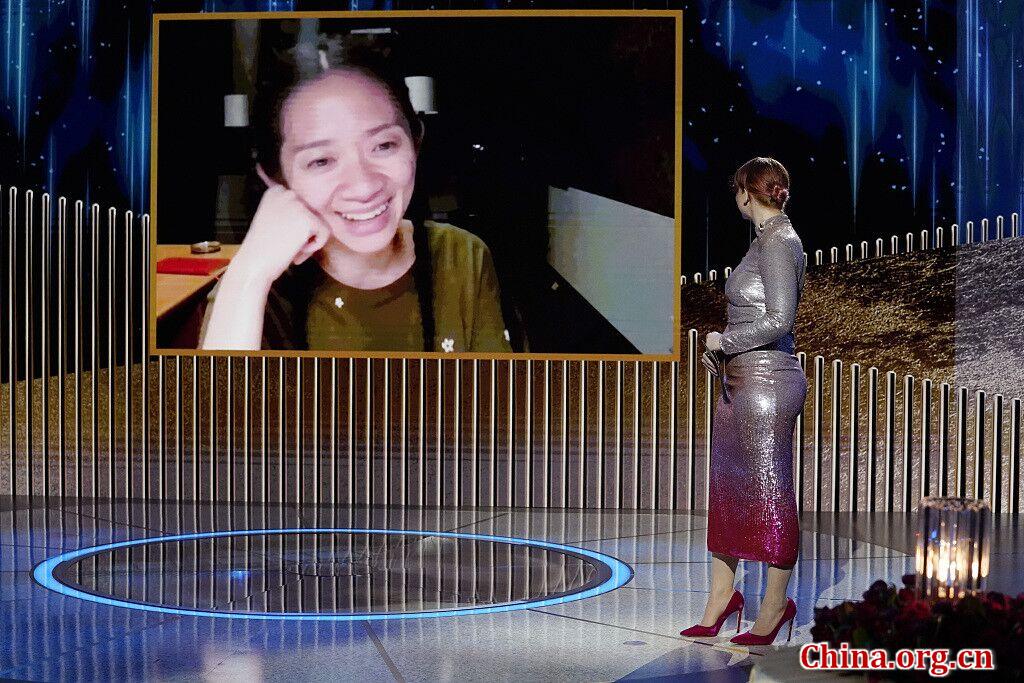 Zhao's feature film "Nomadland" won Best Motion Picture-Drama, becoming the first film directed by a woman to win the trophy in this category.
The critically-acclaimed low-budget road-trip drama beat out "The Father," "Mank," "Promising Young Woman" and "The Trial of the Chicago 7" for the top prize in the motion picture drama category.
The director, also known as Zhao Ting, further won the Golden Globe for best director of a motion picture for the film, becoming the first Chinese woman and woman of Asian descent to win this category.
"I especially want to thank the nomads who shared their stories with us," she said when accepting the award, then reading a message about compassion from one of the nomads, Bob Wells. Zhao quoted Wells as saying, "Compassion is a breakdown of all the barriers between us. A heart-to-heart bonding. Your pain is my pain. It's mingled and shared between us."
"Now this is why I fell in love with making movies and telling stories, because they give us a chance to laugh and cry together," she continued. "And they give us a chance to learn from each other and to have more compassion for each other."
Then in accepting the best picture award, Zhao called the film "a pilgrimage through grief and healing." She added, "For everyone who has gone through that at some point, this is for you. See you down the road."
Zhao also became only the second woman ever to win the director award. Barbra Streisand was the other for "Yentl" back in 1984.
Based on Jessica Bruder's 2017 non-fiction book "Nomadland: Surviving America in the Twenty-First Century," the film stars Frances McDormand as an out-of-work woman who packs her van and sets off from her small town to travel around the vast landscape of the American West, exploring a life outside of conventional society as a modern-day nomad.
Zhao, born in Beijing in 1982, is the second Chinese director to gain recognition at the Annual Golden Globe Awards after Ang Lee.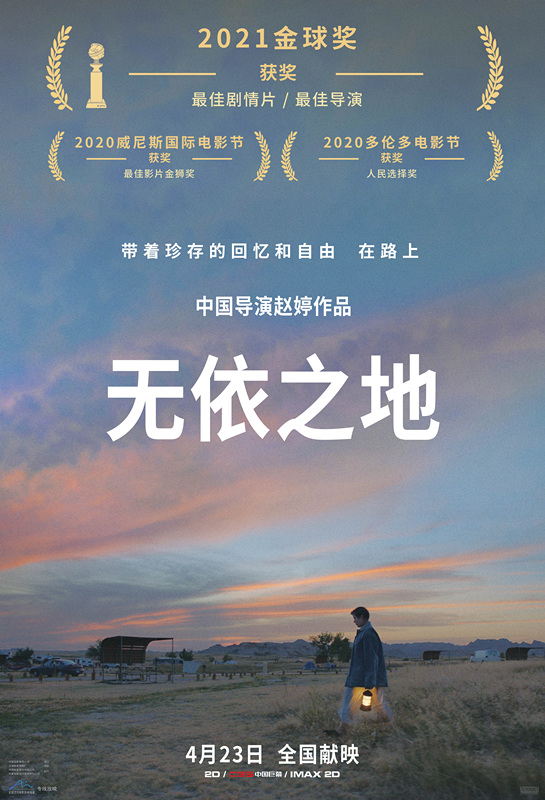 Disney's Searchlight Pictures announced after Zhao's win that "Nomadland" will be released in China on April 23.
In a special video released by The Walt Disney Studios on Sunday, Zhao greeted the Chinese audience and said, "This film brings together the enthusiasm and hard work of many people, even their own life stories, and I hope that through their stories, you will find your own life and become the author of your own life story."
"Nomadland" has collected more than 90 awards so far, including the Golden Lion at the Venice Film Festival and the People's Choice Award at the Toronto International Film Festival in 2020, and will be the strong contender for Oscar best picture, scheduled to be held on April 25.
As for Zhao, she also directed an upcoming Marvel superhero blockbuster "Eternals," which is set to hit theaters on Nov. 5, 2021. Her award wins would definitely help boost the confidence and anticipation for her next project.
Run by the Hollywood Foreign Press Association, the 78th Annual Golden Globe Awards honored the best in American television of 2020, as well as film in 2020 and early 2021.
As the first major show of this Hollywood awards season, the virtual ceremony, which was postponed for nearly two months amid the COVID-19 pandemic, took place live from both New York City and Los Angeles.
Here's the full Golden Globe Awards winners list:
Best Motion Picture – Drama
"Nomadland" (Searchlight Pictures)
Best Actress in a Motion Picture – Drama
Andra Day ("The United States vs. Billie Holiday")
Best Actor in a Motion Picture – Musical or Comedy
Sacha Baron Cohen ("Borat Subsequent Moviefilm")
Best Motion Picture – Musical or Comedy
"Borat Subsequent Moviefilm" (Amazon Studios)
Best Director – Motion Picture
Chloe Zhao, "Nomadland" (Searchlight Pictures)
Best Actor in a Motion Picture – Drama
Chadwick Boseman ("Ma Rainey's Black Bottom")
Best Television Limited Series or Motion Picture Made for Television
"The Queen's Gambit" (Netflix)
Best Performance by an Actress in a Limited Series or Motion Picture Made for Television
Anya Taylor-Joy ("The Queen's Gambit")
Best Performance by an Actress in a Supporting Role in a Series, Limited Series or Motion Picture Made for Television
Gillian Anderson ("The Crown")
Best Actress in a Supporting Role in Any Motion Picture
Jodie Foster ("The Mauritanian")
Best Television Series – Drama
"The Crown" (Netflix)
Best Motion Picture – Foreign Language
"Minari" (A24)
Best Performance by an Actor in a Television Series – Drama
Josh O'Connor ("The Crown")
Best Actress in a Motion Picture – Musical or Comedy
Rosamund Pike ("I Care a Lot")
Best Television Series – Musical or Comedy
"Schitt's Creek" (CBC)
Best Performance by an Actor in a Television Series – Musical or Comedy
Jason Sudeikis ("Ted Lasso")
Best Original Score – Motion Picture
"Soul" (Pixar) – Trent Reznor, Atticus Ross, Jon Batiste
Best Original Song – Motion Picture
"Io Si (Seen)" from "The Life Ahead" (Netflix)
Best Performance by an Actress in a Television Series – Drama
Emma Corrin ("The Crown")
Best Screenplay – Motion Picture
Aaron Sorkin – "The Trial of the Chicago 7" (Netflix)
Best Performance by an Actor in a Limited Series or Motion Picture Made for Television
Mark Ruffalo ("I Know This Much Is True")
Best Motion Picture – Animated
"Soul" (Walt Disney Pictures)
Best Performance by an Actress in a Television Series – Musical or Comedy
Catherine O'Hara ("Schitt's Creek")
Best Performance by an Actor in a Supporting Role in a Series, Limited Series or Motion Picture Made for Television
John Boyega ("Small Axe")
Best Actor in a Supporting Role in Any Motion Picture
Daniel Kaluuya ("Judas and the Black Messiah")