Director Rao Xiaozhi is preparing a heavyweight film on a Chinese diplomatic translator who shouldered a mission to organize a team to evacuate Chinese citizens on the eve of a war, as revealed at an event held on Monday by Huace Pictures to announce a slew of future blockbusters.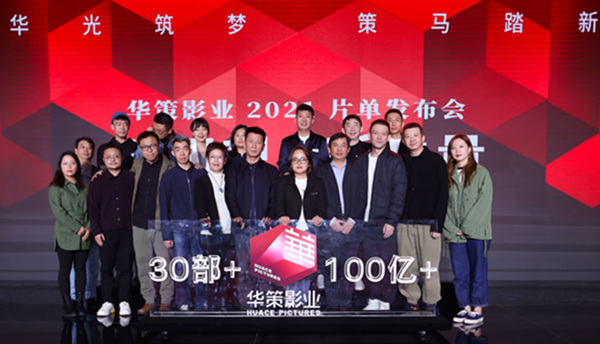 Rao, who previously directed the comedy hits "A Cool Fish" and "Endgame", said the film would be based on a real event, but he was tightlipped about the actual details, explaining these would be revealed at a later date yet to be specified.
"The Wandering Earth" director Frant Gwo will be executive producer of the film.
"It's a story about a nobody who can also be somebody when he has such professional skills and tries his best in an extreme environment," the director explained.
The film tentatively titled "Translator" is one of Huace Pictures' key projects. The company, also behind the Spring Festival blockbuster "A Writer's Odyssey" by Lu Yang, further announced with director Lu a plan to launch "A Writer's Odyssey Universe" which will spawn a series of films from the franchise.
"We will continue to tell more stories of 'A Writer's Odyssey' via films and other formats," Lu said. "A Writer's Odyssey" has grossed more than a billion yuan so far.
Zhao Yifang, president of Huace Pictures, said her company will invest in and market more than 30 films over the next three years, and hoped the total box office gross of all films produced and promoted by the company could reach 10 billion yuan.
Huace Pictures has produced plenty of successful titles, including critically claimed "The Assassin" by Hsiao-hsien Hou, commercial success "Our Times" by Dorothy Chen and art-house hit "Long Day's Journey Into Night" by Bi Gan.
Now, the company announced they would continue to produce and market many high-profile films. Besides titles mentioned above, other notable projects include "Back to the Past," a film adaptation based on a popular Louis Koo-starred time-travel TVB series, "G Storm" by David Lam, "Detective vs. Sleuths" by Wai Kai-fai, "Inner Beauty" by urban comedy director Tian Yusheng, "If I Will Leave You One Day" by new director Li Gen and "Xi Yue" by another new director Han Yi.
Huace Pictures also announced it will continue importing "Detective Conan: The Scarlet Bullet" into China, a latest installment from the popular Japanese animated theatrical series as it did with other Detective Conan installments in recent years.