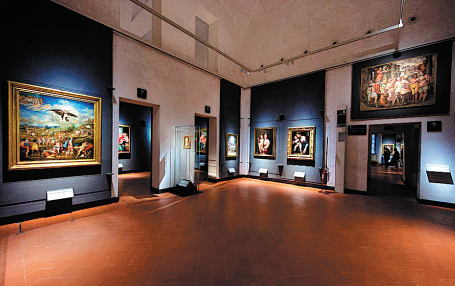 Florence's Uffizi Galleries, internationally recognized as home to one of the world's greatest art collections, is getting a lot bigger-geographically.
The Uffizi, Italy's most visited museum, has launched an initiative to "scatter" the riches of its collection around Florence and other parts of Tuscany.
Dubbed the Uffizi Diffusi (scattered Uffizi), the plan is to create new tourist destinations throughout the central Italian region both to allow easier social distancing in the palaces that house the storied Uffizi in central Florence and, over the long haul, to combat overtourism that has plagued Italy's most popular attractions, which include those in Florence, Rome and Venice.
Among the first exhibitions launched under the five-year initiative is one dedicated to the poet Dante Alighieri in Poppi, a hilltop village near the Tuscan city of Arezzo. The exhibition is part of a wider celebration marking the 700th anniversary of the death of Dante, who wrote parts of his epic poem Divine Comedy in Poppi.
Also on the agenda are an exhibition centered on Renaissance painter Andrea del Castagno in San Godenzo, the town in northern Tuscany where he was born; an exhibition on self-made soldiers in the Tuscan village of Anghiari; and a collection of works inspired by the early Renaissance master Giotto in Montespertoli.
There will also be an exhibition dedicated to France's Napoleon Bonaparte on the Tuscan island of Elba, where the military leader was exiled. This year marks the 200th anniversary of Napoleon's death.