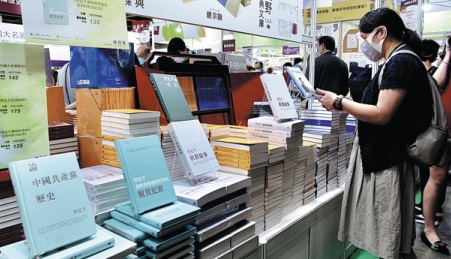 Books on President Xi Jinping and his efforts on poverty alleviation and the history of the Communist Party of China have attracted visitors' attention at the Hong Kong Book Fair, which runs from Wednesday to July 20.
At the city's largest annual literary event, which had been delayed for a year due to the pandemic, three new books focusing on Xi and his deeds and thoughts were displayed by major Hong Kong publishing houses, including Sino United Publishing and Chung Hwa Book Co.
The books, one about the history of the CPC and two focusing on poverty alleviation, have been published and distributed in the Hong Kong and Macao special administrative regions by Sino United Publishing.
Steven Mok, who is in his 50s, was one of those attracted by the books. Stopping at a booth, Mok picked up one of the volumes to get to know more about what the president has to say on these issues.
Mok said the publication and distribution of these books was a "good start" for the city to get a better perspective of the Party's leadership. The regular book fair visitor acknowledged that these topics were often overlooked in local cultural events and media coverage, which resulted in apathy or negative feedback among the public, especially young people.
He noted that it is necessary for the people of Hong Kong to learn more about the strategies of the central government and the Party, such as the Belt and Road Initiative and the Guangdong-Hong Kong-Macao Greater Bay Area, as these will play a decisive role in the future of Hong Kong.
David Or, an 85-year-old retired medical worker, said that through these books, people can become aware of the fundamental reason for China's success, that the CPC always prioritizes the people's well-being.
Edward Chan, a 46-year-old IT manager at a local company, said the book fair offers a great opportunity for Hong Kong people to learn about the mainland's development in the past few decades, which many, including him, were not very familiar with before.
Chan said it is necessary for more such books to be published in Hong Kong focusing on the development of the mainland, as this will help Hong Kong people gain a better understanding of its achievements.
After the book fair, the three books will be displayed and marketed at more than 150 bookstores in Hong Kong and on major digital reading platforms. They will also be promoted at a series of events in the coming months.