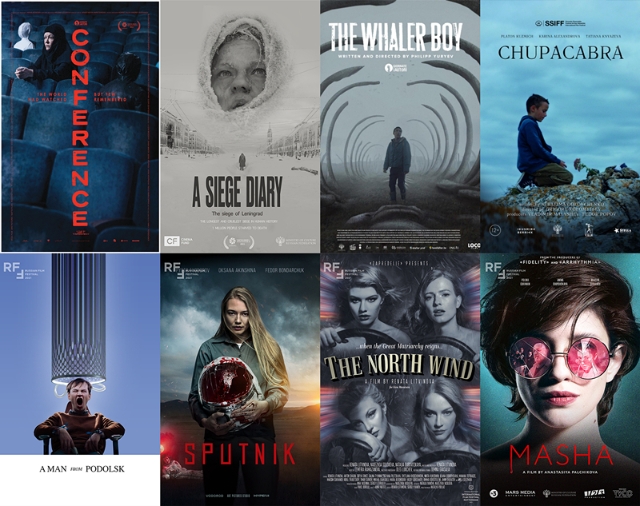 A selection of Russian films will be screened during the Beijing International Film Festival (BJIFF) under the section "Focus on Russia," acting as a cultural exchange between the two countries.
"Beijing Film Panorama," part of this year's film festival, running from Sept. 17 -30, will present five of the latest Russian films for movie fans. The selection includes Semion Serzin's "A Man From Podolsk," an absurdist fable about a "prophet" being dragged into the abyss by collective will; Renata Litvinova's "The North Wind," a dark fantasy film set in Eastern Europe; Anastasiya Palchikova's "Masha," an elegy of the times that views the glory of the past through the eyes of a girl named Marsha; Egor Abramenko's "Sputnik," a sci-fi thriller touted for its Hollywood-level production quality, which tells the story of a lone spaceship survivor who returns home with a dangerous creature concealed inside him; and documentary "Stanislavsky. Lust for Life" by Julia Bobkova, an in-depth investigation into the working process of Konstantin Stanislavski, the great 20th-century drama master.
This year's "Beijing Film Panorama" joins hands with Russian film agency ROSKINO, supported by the Ministry of Culture of the Russian Federation, to acquaint foreign viewers with a variety of contemporary Russian content.
Olga Lyubimova, Russia's minister of culture, said, "The Beijing International Film Festival is a great place to strengthen the relationships with our partners, as well as to delight the audience with new projects."
"The main purpose of the Russian Film Festival, besides reintroducing new Russian cinema to Chinese audience is to navigate the interests and preferences of local viewers, as well as to initiate a cultural and business dialogue between representatives of the industry," said ROSKINO's CEO Evgenia Markova. She added that 2021 marks the 20th anniversary of the Treaty of Good-Neighborliness and Friendly Cooperation Between the People's Republic of China and the Russian Federation.
"Our countries have a lot in common — viewers in China traditionally love Russian military dramas, and representatives of the industry have created several projects in co-production in recent years," Markova added. According to her, China is among the top five biggest markets for Russian films.
BJIFF organizers have said the "Focus on Russia" section will become "a precious bridge" for the movie industry and audiences in both countries.
BJIFF will also see Ivan Tverdovsky's "Conference" and Andrey Zaytsev's "A Siege Diary" compete for the festival's main Tiantan Award. Meanwhile, two other films – "The Whaler Boy," the first full feature film from Philipp Yuryev and which won last year's Venice Days program at the Venice International Film Festival, and "Chupacabra" by Grigory Kolomiytsev – will be screened in the out-of-competition Forward Future section.