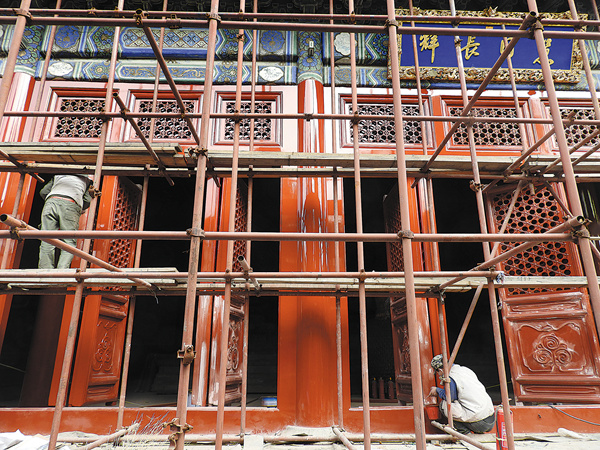 Last month, the renovation site was reopened to the public for the first time, more than three years after the front gate of the temple was locked.
To mark the occasion, Wang announced that the first phase of the renovation, which focused on the central part, has been completed, while the second phase of work, which deals with the western part, will possibly be finished by the end of this year.
"After the renovation, the historical appearance as it would have been when it was a royal temple will be restored," Wang says. "We'll also have much larger spaces to exhibit our collections."
According to Wang, a principle of "minimum intervention" was adopted in the ongoing renovation. When cleaning beams where colors of decorative paintings had faded, renovators would usually not add colors or repaint, to keep its aged look. And in the case of a decayed pillar, it did not necessarily mean the entire column would need to be replaced. The original wooden pieces were carefully separated and new material was used to replace only the rotten parts.
According to Zhang Mingda, a veteran conservator of ancient architecture at the Beijing Real Estate Group and a supervisor of renovation of the temple, the style of the original craftsmanship and the materials used have been rigidly followed to maintain its integrity.