China shall explore more possibilities in the development of Chinese science fiction, insiders and experts told China.org.cn during a sci-fi summit held in Chongqing, Oct. 22-23.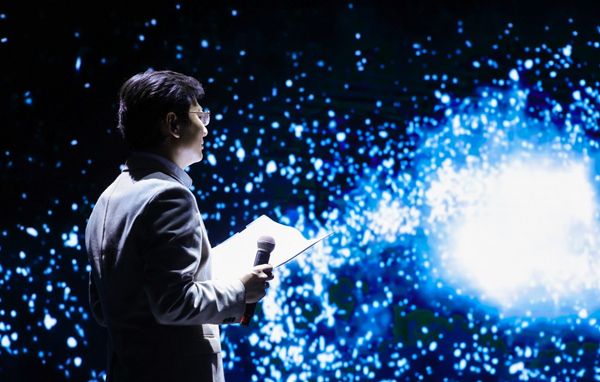 Innovative approaches to present sci-fi
The 12th Chinese Nebula Awards gala held on Oct. 23 included a performance of "The Cloud of Poem," a radio drama adapted from a short sci-fi story by China's famous sci-fi writer, Liu Cixin. Wang Mengbi, spokesperson from audio show platform MissEvan, said the eight-episode radio drama will tell a poetic sci-fi story while exploring how to present Chinese culture in a more innovative way.
Later, China's top sci-fi writers Han Song, He Xi, Chen Qiufan, and Jiang Bo, read their stories inspired by Guojiao 1573, a Chinese baijiu produced by Luzhou Laojiao, one of the four best-known liquor brands in China.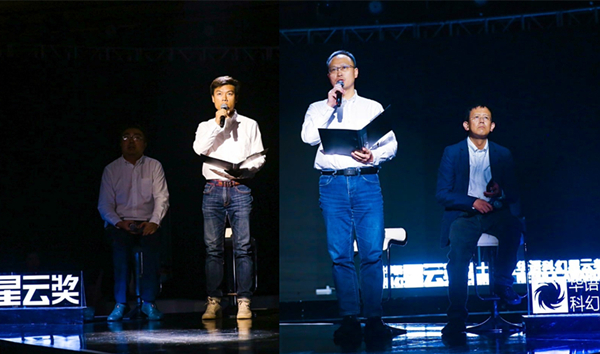 As the event sponsor, Luzhou Laojiao will work with the sci-fi culture company Eternal Vision Science Fiction & Media Co., Hainan (EV/SFM) to launch a new sci-fi themed liquor brand later this year. Gan Weikang, president of EV/SFM, said he has been trying to realize more effective business models for the Chinese sci-fi industry with his peers for years, and will continue his crusade in the years to come.
Ji Shaoting, head of Future Affairs Administration, a company that deals with sci-fi businesses and promotes sci-fi culture, described how their Diu Diu podcast has been listened to 10 million times since its launch more than a year ago. The podcast is an example of how in China, the development of sci-fi is no longer limited to movies and books.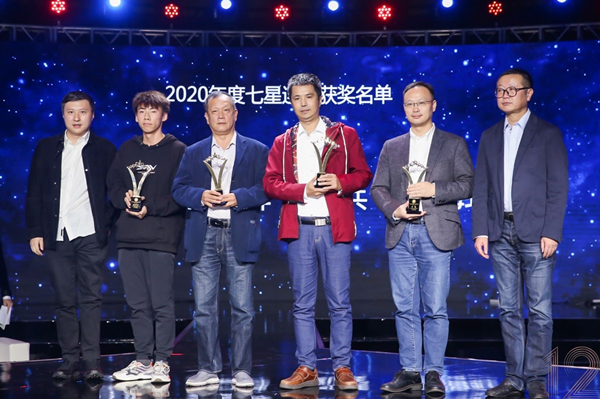 Sci-fi and video games
At the just-concluded 12th Chinese Nebula Awards, Yao Xiaoguang, vice president of Tencent and president of Tencent's video game developing arm TiMi Studio Group, presented awards to winners alongside Liu Cixin. "I'm looking forward to the future when science fiction and games can meet and have new chemistry," Yao said.
Internet giant Tencent has started to turn its eye to sci-fi, and is currently working with Chinese sci-fi writers to create games. "We are inspired by sci-fi, and there are many sci-fi elements in our games," said Guo Zhi, a game producer from Tencent TiMi J3 Studio.
He added that he hopes that unique Chinese sci-fi-inspired video games, as a cultural vehicle, can be enjoyed around the world in the future.
Wu Yan, a sci-fi scholar, writer, and professor at the Southern University of Science and Technology, noted the total market value of the Chinese sci-fi industry in 2020 was 55.1 billion yuan, among which 48 billion yuan came from video games, according to incomplete statistics compiled by his team for an annual sci-fi industry report.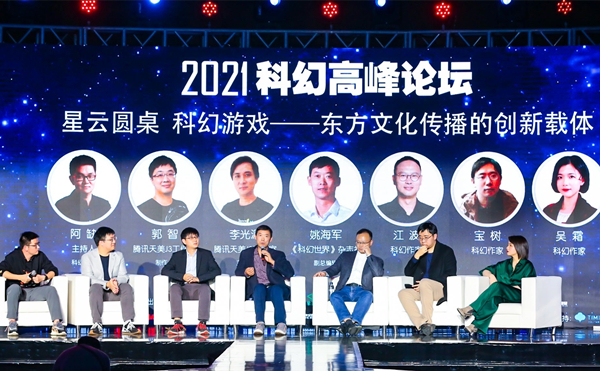 Jiang Bo, a renowned sci-fi writer, added that games will also help promote the advancement of technologies, such as virtual reality (VR) and augmented reality (AR).
Heading to a brighter future
Dong Renwei, 79, a sci-fi mogul and one of the founders of the Chinese Nebula Awards, who has been interested in children's sci-fi literature for many years, inaugurated the world's first children sci-fi award this year.
"Children's sci-fi is becoming the focus of literary creation and incubation," said Dong, adding that he hopes children's sci-fi can contribute to the cultivation of Chinese children's creativity and imagination. He also has plans to build China's first public sci-fi museum.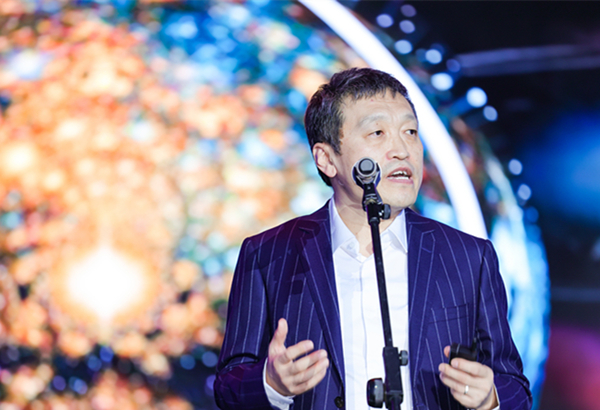 During the 12th Chinese Nebula Awards and related activities, many attendees raised the prospect of a metaverse, but many traditional projects were also announced, including "Folding Universe" by Hugo Award-winner Hao Jingfang and the online movie series "Underground Deep Palace" based on writer Xiao Xinghan's novella. Recently, the blockbuster sequel to "The Wandering Earth" has started filming.
"Science fiction goes beyond national and ethnic boundaries and is the type of literature that can most resonate with readers from different countries and cultural backgrounds. Now there are quite a lot of Chinese sci-fi works translated into foreign languages and spread overseas. The world understands Chinese sci-fi much more than ever before," Liu Cixin said.