A new film based on a famous novel with a fresh perspective on the antique sector will be released in early December, leading the year-end film season.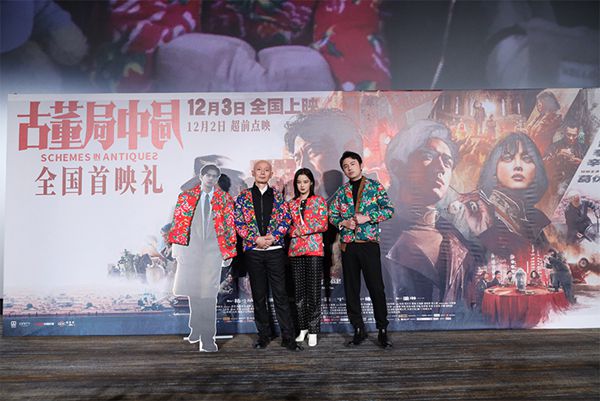 Boasted as China's "Indiana Jones" with a 1990s era vibe, "Schemes in Antiques" is based on the same name novel by Chinese novelist Ma Boyong. The story focuses on a lost ancient Buddha's head statue from the Tang Dynasty returned from Japan. A descendent of an antique business family has to fight against a business rival and antique dealers and forgers to get this priceless treasure.
"I try to forget myself as the original author but to watch the film as a normal audience member. It is a creative adaptation but smartly grasps the novel's core. Generally speaking, it is beautiful, and I was barely distracted during the two-hour journey," novelist Ma, who serves as literature consult for the film, praised the film after the premiere on Sunday. The original book explores themes such as antique appraisal, collection, forgeries, scams, and conspiracies.
In one scene, producer Liang Lin said they used more than 10,000 props, including nearly 30 authentic antiques, while the Buddha's head had been crafted for 7 months by mixing handicraft and 3D printing methods.
The fast-paced, eye-opening film is directed by Derek Kwok and stars Lei Jiayin, Xin Zhilei, Li Xian, and Ge You. It received positive feedback after the premiere. Furthermore, it shows off many creative never-be-seen-before legends and tricks in the antique market, combined with solid performances from the actors.
"This is a great film thanks to all the people who worked together to craft and polish the script, performances, cinematography, arts, costumes, and props," the executive producer Han Sanping noted.
"Schemes In Antiques" will be released nationwide on Dec. 3. The film also signals the opening of the year-end and new-year season, which will host an array of commercial and festive blockbusters. China's 2021 box office revenue has surpassed 44 billion yuan so far. Still, it was unbalanced with ups and downs, including the long periods dominated by phenomenal top movies like "The Battle at Lake Changjin" and other periods when the market was lukewarm and even colder.