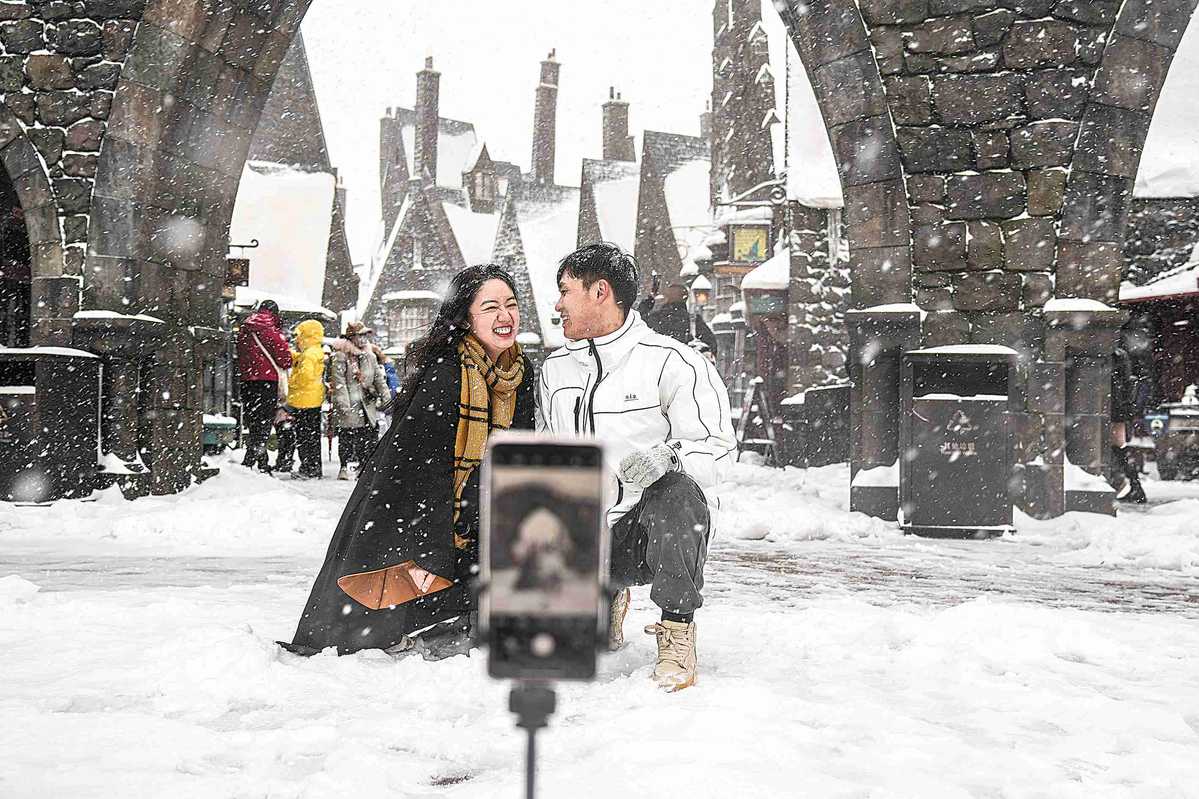 As the year-end holiday season approaches, international and domestic theme parks and resorts have geared up to compete for more visitors in hopes of mitigating the impact of cold weather this year.
Resort operators in North and East China have added winter attractions and events including festival decorations, moved shows indoors and run promotions for their fluffy themed toys.
Universal Beijing Resort, which opened for the first time in September, unveiled its first winter visitor experience from Dec 3 to Jan 8, offering winter snacks, hot drinks and more than 100 kinds of themed products.
Immersive entertainment shows are part of its winter holiday experience. They feature chances to meet characters from winter-themed movies, the resort said.
The resort, which has about half of its rides outdoors, has added more heating facilities for visitors waiting in line. Hot water and other beverages are also available to keep visitors warm. On freezing cold days, outdoor shows and programs are transferred indoors, said Doug Akers, vice-president of park operations at the resort.
Resort officials said they are increasing maintenance for rides to guarantee safety during the winter. The resort has applied extra heating devices to reduce the impact of cold conditions on roller coasters.
Such precautions have helped bring in more visitors during the offseason. "The park was full of tourists on the day I visited, despite the low temperatures," said Li Xin, 34, who visited Universal on Nov 5.
Li bought a winter and spring leisure resort pass, which allows multiple entrances for more than six months. It was her fifth visit to the first international theme park in the Chinese capital.
"I went there to get more photos with the giant Christmas trees and other holiday decorations," she said.
Meanwhile, Shanghai Disney Resort launched its winter season with what the company described as enchanting traditions and surprises.
Officials said that from Nov 25 to Jan 3, the resort is transformed into a frozen fairyland featuring holiday entertainment and seasonal decor as part of the resort's fifth birthday celebration. Included are sculptures using the theme of the hit movie Frozen and a cheery new social wall for selfies.
The growing and diversifying domestic travel market in China is not saturated and still has room to accommodate new parks, with more varieties in terms of size, themes and content, said Jiang Yiyi, a professor of leisure sports at Beijing Sports University.
"The entry and expansion of international amusement parks and theme resort players have reinforced the development and quality of the domestic tourism industry, contributing to the emergence of local theme park brands, the upgrading of operations, services and facilities in this sector and more training for entertainment talents," she said.
Lin Huanjie, dean of the China Theme Park Research Institute, said the focus of theme parks in China has now shifted to providing immersive experiences rather than just leisure travel. The differentiation among resorts has been important in increasing attendance during the COVID-19 pandemic.
According to the 2021 China Theme Park Appraisal Report produced by the China Theme Park Research Institute, Shanghai Disney Resort ranked first in terms of appraisals based on the park's size, attractions and development momentum. Next were domestic brands including three parks in Guangdong province-Chimelong Ocean Kingdom in Zhuhai, Window of the World and Splendid China in Shenzhen-and Happy Valley in Beijing. Universal was not evaluated since it opened recently.
The report evaluated 64 large parks, each representing an investment of over 1.5 billion yuan ($235.2 million). By the end of 2019, there were 339 theme parks in China. Of them, 25 percent operated at a loss, 22 percent broke even and 53 percent made a profit, the report said.
Even though COVID-19 has had an effect on attendance, theme parks in first- and second-tier cities have recovered rapidly and earned a greater proportion of their revenues from local visitors, the report said.
AECOM, an infrastructure consulting firm based in the United States, said that in the Asia-Pacific region, the top 20 theme parks saw visitor numbers drop a total of 58 percent in 2020, but China added nearly 20 theme parks that year. Pipeline projects are mostly concentrated in the more economically developed areas of South and East China.
International brands have continued to expand their presence in the market. Universal Beijing Resort is planning its second phase construction, covering 2.2 square kilometers, with five more hotels planned. The resort, which includes the Universal Studios Beijing theme park, Universal CityWalk Beijing and two hotels, is expected to welcome more than 10 million tourists a year, and bring in annual revenue of 10 billion yuan. Shanghai Disney also plans an expansion, with an area based on the movie Zootopia under construction.
AECOM said chain operators, which represent 42 percent of the total number of parks in China, continue to increase their portfolio of properties and grow their attendance and revenue in China.
New theme park projects will not target only first- and second-tier cities, but also third- and fourth-tier cities-cities populated by more than 1 million people and considered large by international standards.
Chain operators are expected to gain market share as existing chains constantly strive to develop new parks.
For example, Merlin Entertainments, the large, United Kingdom-based attractions company, plans to open Legoland resorts in Shanghai, Shenzhen and Meishan, Sichuan province. Those resorts will target children from 2 to 12 years old and their families.
MBK Partners, a large private equity fund in Asia, announced in October it would acquire Haichang Ocean Park's assets for $1 billion. The Ocean Park's facilities in Wuhan, Hubei province; Chengdu, Sichuan province; Tianjin; and Qingdao, Shandong province, will be transferred to MBK Partners with 100 percent equity.
Even though international theme parks have doubled down on their investments in the market, domestic theme parks have gained more momentum.
Local chains control the operations of 53 domestic theme parks, according to AECOM.
Chen Zuyao, vice-president of Fantawild, an amusement park based in Shenzhen, said telling a good Chinese story and a localization strategy are vital to really impress local tourists.
Wang Jing, her 9-year-old son and her husband, visited Happy Valley three times during the Golden Week holiday in early October.
Happy Valley, which sits on the edge of the eastern Fourth Ring Road in Beijing, has seen crowds increase even after the opening of Universal.
"For a family trip with a young child, Happy Valley is more affordable and also is a lot of fun, especially for multiple returnees like us," she said.
"But we are also looking forward to the trip to Universal Beijing Resort, where we can talk with Transformers and ride with Minions."