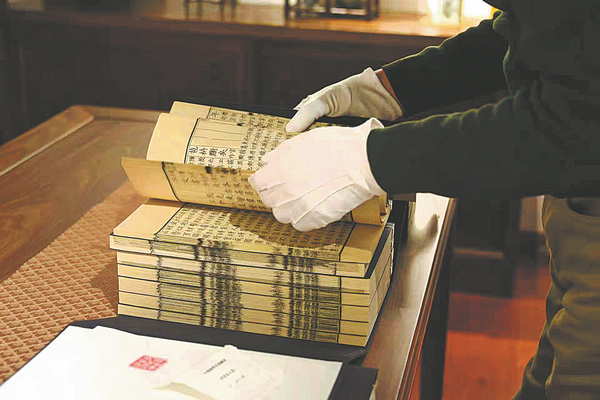 For the hundreds of thousands of ancient Chinese books, some of which are the last remaining copies of their kind, there is almost no opportunity for ordinary people to see them with their own eyes, let alone touch or read them. They have to be kept in state libraries or private institutions, conserved as relics of the nation's cultural heritage.
It is important to develop technologies to preserve these books and repair those that have been partially damaged by worms or moisture and much is, indeed, being done in this respect.
Nevertheless, it has long been the dream of many scholars to have these ancient classics replicated with the same look and feel, so that their original elegant style, the thread bindings, beautiful handwriting and the seals of those who once kept them, as well as the sentiments of ancient scholars written between the lines, can be presented to readers.
Some publishing houses have made the effort. But replicated ancient books have not been published in series and their quality can vary.
It was not until The Hundreds of Ancient Chinese Classic Books Remade was published by Huabaozhai (China's Treasure) Studio in 2018 that the books duplicated became better in quality than the originals, and many of the best editions of some well-known ancient books could be read in their original format.
There are usually several editions of the same classic ancient book, and the annotations by different scholars make a difference in their quality. So for that series, the selection of the best edition of each of the books was a concern, as it would reflect the overall quality of the whole set. A team was organized by experts to select from hundreds of thousands of ancient books kept in thousands of libraries.
Even after publication of the whole set, changes are constantly being made in terms of the edition of a particular book.