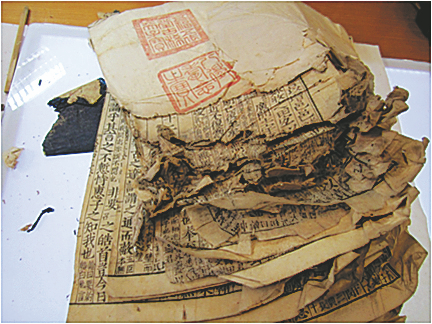 New chapter

Following her experienced tutor Zhu, Cui feels lucky to be allowed access to the literary treasure trove so soon after starting work at the National Library of China. For book restorers in the past, it would probably be unimaginable.
"An old-time master teaching book restoration wouldn't allow their apprentices to participate in major work until they had practiced a range of skills and done minor jobs for at least a decade," Zhu says.
"That time-consuming process was a good way to pass down the techniques, as authentic and completely as possible, from one generation to another," he continues. "But we're getting old and China severely lacks ancient book restorers. We couldn't afford to wait for so long."
Therefore, Zhu recruited fresh faces, like Cui, into his team. The earliest days were tough for the novice, but Zhu says the Tianlu Linlang project has proved that young restorers, who have a better educational background than their predecessors, can grow more quickly after honing their skills during the most important missions.
Cui and other young restorers from the National Library of China were not the only ones to take up the task. Under the framework of the National Center for Preservation and Conservation of Ancient Books, 12 restorers from key institutions nationwide, including Nanjing Library, Shanghai Library, and Shandong Library, were selected for the Tianlu Linlang project. Some graduate school students from the Chinese Academy of Social Sciences, majoring in ancient books, also took classes at the project's restoration site.
The entire working process was recorded in detail in videos for historical record.
"The restoration can greatly boost the perception of intangible cultural heritage nationwide, thanks to the participation of young people," Zhu says.
Restoration concerns more than tradition. In labs, modern scientific analysis of the abundant varieties of ancient paper in the volumes of Tianlu Linlang also helps to build a database that will efficiently help follow-up searches for the right material required for upcoming conservation projects.