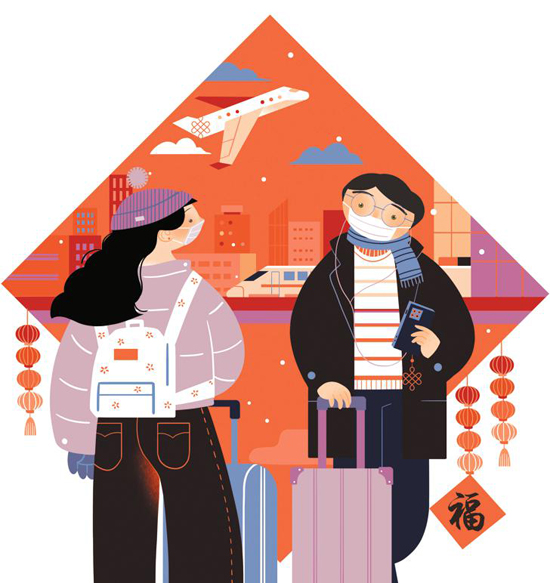 This year's Spring Festival travel rush began on Jan 17, and will continue till Feb 25. In the first three days of the travel rush, or chunyun, about 74.86 million passenger trips were made across the country, an increase of nearly 41.5 percent year-on-year but about 60 percent lower than in 2019, with the passenger flow being at the medium-to-low level.
Road, rail, air and water transport accounted for about 130 million person trips during the Spring Festival holiday from Jan 31 to Feb 6-an increase of 31.7 percent year-on-year. In total, about 1.18 billion trips are likely to be made during chunyun this year, up 35.6 percent year-on-year but 20.3 percent lower than in 2020, according to the transportation department.
Although the passenger flow is likely to be lighter this year, the distribution of passengers and cargo, and the transport structure have become more complex and adjustable, and service quality has greatly improved.
Also, this year Spring Festival has coincided with the Beijing 2022 Winter Olympic Games and the "two sessions", so ensuring smooth passenger flow during chunyun is critical to maintaining a stable, healthy and peaceful socioeconomic environment.
In the face of major Party and State events, and the still-to-be-effectively-contained COVID-19 pandemic, it is a big challenge to provide safe, secure and smooth transport services during the 40-day travel rush.
The transport department should therefore focus on achieving its four development goals (comprehensive transportation, safe transportation, smart transportation and green transportation), and strive to create "safe, harmonious, green and smart Spring Festival travel rush transportation".
First, the authorities have to take measures to prevent infection outbreaks, especially because of the high transmissibility of the Omicron variant of the novel coronavirus.
In fact, the authorities have made emergency plans to minimize traffic safety risks such as ice- and snow-related transport accidents in northern China, and prevent dangerous driving. But it is also necessary that all parties cooperate with the epidemic prevention and control officials at all levels, and that all departments coordinate their anti-pandemic policies during the rest of chunyun to prevent imported COVID-19 cases.
In addition, the travel risk warning system has been linked with the major emergency management mechanism, in order to ensure a safe and splendid Winter Games, smooth and sound "two sessions", and an accident- and hassle-free peak travel season.
Second, the authorities have to optimize the modern, comprehensive three-dimensional transportation network, by coordinating the flow of traffic and passengers. Since the pandemic is yet to be contained in many parts of the world, and given the sporadic outbreaks in China, many uncertain factors could still affect transportation demand during the remaining days of chunyun. So the authorities need to ensure the smooth supply of essentials and other commodities, and take measures to stabilize prices.
Also, the transportation departments at all levels should make careful arrangements, coordinate their plans for passengers and freight services, optimize scheduling, and strengthen connectivity among different modes of transportation, particularly on important passenger routes and major tourist attractions, during the remaining days of the travel rush.
In this regard, the authorities hope the green channels and express trains will streamline the flow of passenger and freight traffic, and better meet the travel needs of diverse groups, especially those returning to cities and towns to rejoin work.
Third, it is important to further improve transportation services, and pay attention to specialized services to meet the diverse needs of passengers and freight operators, in order to prevent accidents.
Service quality is an important factor that makes a transportation network efficient. So government departments such as those in charge of quality inspection and transport administration at all levels should strengthen the supervision of different transport services. With the help of smart transport service platforms, transport operators should promote online ticketing services, especially customized travel services, and improve transport information services.
And last, during the rest of the travel rush season, the authorities should continue to promote green transportation, and take energy-saving and emission-reduction measures, in order to meet China's climate goals of realizing carbon emission peak before 2030 and achieve carbon neutrality before 2060. To do so, governments at all levels should more vigorously publicize green travel through railways and new energy vehicles, and promote large-capacity green transport modes. They should also improve their services by, for example, building more charging stations and parking lots for new energy vehicles.