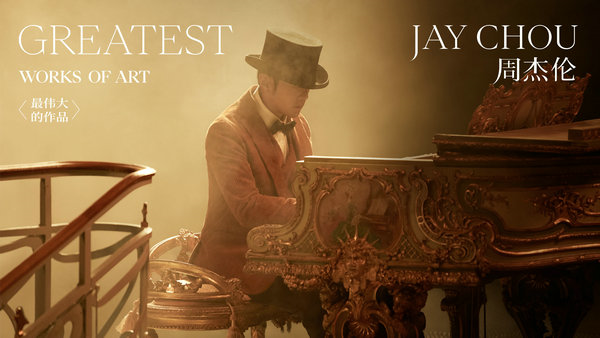 A well-known Mandopop singer, Jay Chou, shared his new music video with fans on social media on July 6, which became a smash hit and packed a punch for his long-awaited album which is to be released on July 15.
This song, titled Greatest Works of Art, was directed by Chou himself, who also appears in the video performing and showing off piano skills, as well as interacting with world-renowned artists and their masterpieces. With the vintage costumes and setting, every scene in the video is a feast of art.
Let's take a look at these outstanding artists and their paintings featured in the video.
1. Rene Magritte
Rene Magritte (1898-1967) was a Belgian surrealist painter. His works are mixed with various elements and full of symbols, which have influenced later pop art, minimal art and conceptual art.
Magritte is considered to be the most philosophical painter in Surrealism. He liked to use a lot of simplified icons and cold tones to create fantastic and mysterious images, leaving viewers plenty of room for imagination. His most classic work is the portrait of himself from behind. The iconic bowler hat and black coat become remarkable all over the world.
2. Salvador Dali
As one of the three most representative painters in Spain along with Picasso and Matisse, Salvador Dali (1904-1989) is an artist with extraordinary talent and imagination.
His work amazingly blends bizarre and dreamlike images with superb drawing skills, some of which are influenced by Renaissance masters, to create absurd realism paintings. The work Pantaglu's Fun Dream is a typical and dreamy representation of Dali's work.
The warped beard is also an icon representative of this legendary and crazy artist. On this signed manuscript by Dali, you can see the appearance of this bearded man.
3. Chang Yu
The third person appearing in the video is the famous French-Chinese painter Chang Yu (1900-1966), who went to France in 1920 to study.
Among the first generation of Chinese oil painters who went to France, Chang was the only one to enter the center of Western art trends, and whose paintings had appeared at the most exclusive salons and exhibitions in Paris more than once. He was friends with the master Giacometti; and Picasso drew his portrait. "Gentle and noble" are most suitable words to describe this artist.
Chang's works combine both traditional Chinese style and western style. Themed on elegant women and flowers, his works garner tons of appreciation from viewers domestic and abroad.
4. Claude Monet
The next big name to debut in the video was Claude Monet (1840-1926), an impressionist master in France, who lived in his own garden in Givigny in his later years and depicted its natural scenes such as water, sky, light and plants with his unique brush strokes and vibrant colors.
The most famous icon in his painting is the water lily, which he had drawn for more than 20 years during the final stages of his life.
5. Amedeo Modigliani
Amedeo Modigliani was an Italian artist, painter and sculptor. Influenced by ancient and Renaissance art, Neo-Impressionism in the late 19th century, as well as contemporary African art, cubism and other art genres, he created portraits featuring his striking style and beautiful arcs, becoming one of the representative artists of the expressionist school.
With his brush, Modigliani presented freedom, aesthetics and that beautiful era in his paintings. His sketch work of a drawing of a sitting woman seems quite similar to the work that appears in the video. Figures in both works are plump and elegant, presented by soft lines, simple backgrounds and a quiet atmosphere.
6. Xu Zhimo
In the music video, when Chang Yu appears gracefully at the salon in Paris, Xu Zhimo (1981-1931), famous Chinese literati, was also living in Paris. He wrote prose during this period, in which Chang's paintings are greatly praised. The lyrics from the music video such as Kangqiao and Feilengcui, both refer to Xu Zhimo.
All great art works not only bring audiences artistic aesthetics, but also comfort people's hearts. May art strengthen people's souls and light up our life!