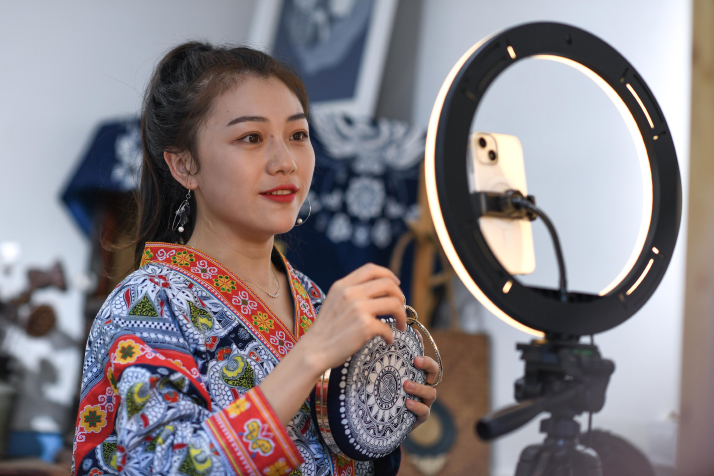 It's early morning in a park in China. People, mostly seniors, wearing loose, almost pajama-like, outfits with a mandarin collar are honing their Taijiquan skills. More commonly known as tai chi, this is a traditional Chinese martial art practiced for defense training, health benefits and meditation. The characteristically relaxed and circular movements have their roots in the mid-17th century in Wenxian County, Henan Province.
In 2020, Taijiquan was added to UNESCO's Representative List of the Intangible Cultural Heritage of Humanity during the 15th Session of the Intergovernmental Committee for Safeguarding Intangible Cultural Heritage. On its website, UNESCO described how the practice works "in harmony with breath regulation and the cultivation of a righteous and neutral mind," and is "practiced throughout the country by people of all ages and ethnic groups."
During the opening ceremony of the Beijing 2008 Summer Olympics, this cultural icon was a major part of the grand performance. With hundreds of millions of fans worldwide, it has also become the latest addition to China's 42 intangible cultural heritage items inscribed on UNESCO's list, the most among all countries.
So far, the State Council has released five lists that cover 1,557 national intangible cultural heritage items, including Taijiquan. Handicrafts, foods, operas and all other forms of artistry receive protection as well as promotion among the wider public courtesy of numerous policies, campaigns and programs. The swift technological development over the past decade, too, has benefited the combined promo efforts.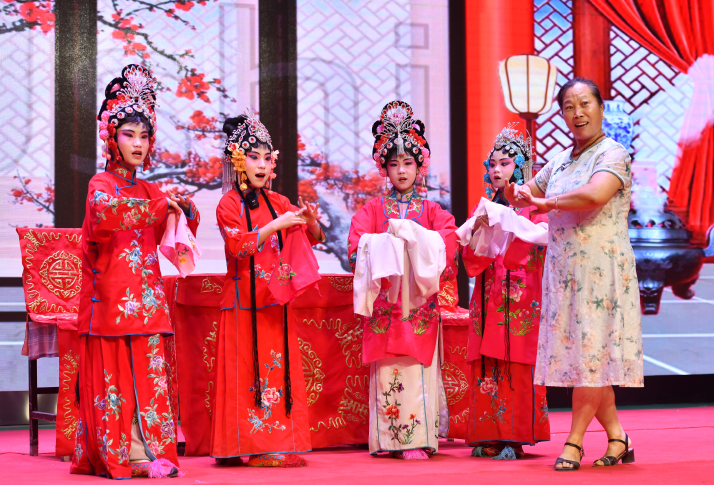 The legacy lives on
Currently, more than 90,000 Chinese people have been officially acknowledged as intangible cultural heritage inheritors, including 3,060 for national heritage, according to the country's Ministry of Culture and Tourism.
Hu Zuolin, a clay sculptor, is one of them. He can create a 1:1 portrait head in clay from pictures or living models within two hours, meticulously molding both the subject's shape and expression. His deft hands have earned him the nickname "Clay Master Hu."
Born in Huangpi, Hubei Province, his father once repaired a statue of a Bodhisattva in a temple. Mimicking his father's every move, the young Hu in the 1970s already started "playing with mud"—in his words. After years of studying under several famous sculpture professors, Hu then set up his own workshop. He used to sit in front of the mirror and create figurines of himself to refine his skills. One of his regular exercises was to craft a teapot copy of the exact same size and scale without a ruler, with an error margin of less than 2 mm.
In 2006, clay sculpture was included in the national heritage list, gaining more and more public attention. Hu was named municipal-level clay sculpture inheritor in 2014, and received more than 30 apprentices.
"Tradition must be upheld while innovation must be carried out to avoid becoming outdated, but if the latter is overdone, we will lose the tradition, which is unacceptable. Balance is crucial," Hu said.
Hu's work impressed many visitors as he produced a sculpture on site in just half an hour at the Seventh China Intangible Cultural Heritage Expo in Jinan, Shandong Province, from August 25 to 29.
Themed Connect Modern Life, Shine With Glamour, the biennial fair put the spotlight on the country's achievements in protecting its intangible legacy since 2012. Forums, art shows and performances were available both online and offline.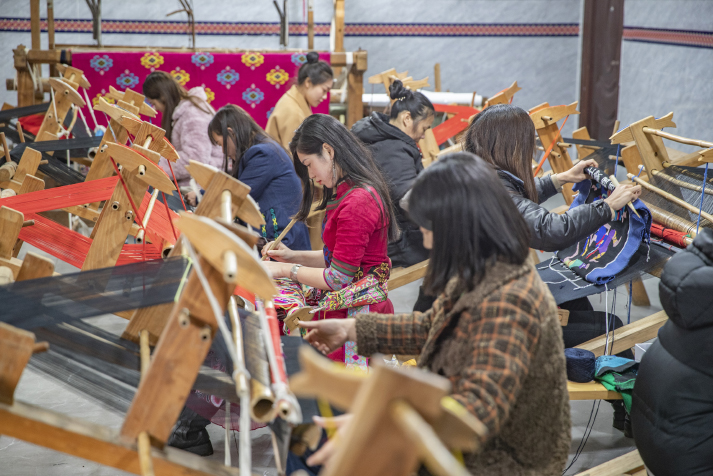 Workshops work
Bian Chengfei, another inheritor, also displayed her work at the expo. As an embroidery artist from Feixian County in Shandong, the 37-year-old traveled all over the villages of Feixian to learn the traditional art from indigenous seniors in the hope of continuing the old stitching methods.
"These time-honored stitching methods can never be replaced by machines," Bian said. One of her signature works is a children's hat in the shape of a tiger believed to protect the wearer from bad spirits. "Small as it may be, this hat requires more than 20,000 hand stitches, keeping the craftspeople occupied for more than 10 days," she said.
Aside from passing on the legacy, Bian also takes advantage of the heritage's popularity and helps fellow villagers increase their income. Today, she runs a workshop with over 1,500 employees, most of whom are women whose relatives have gone off to work in big cities and people with disabilities. The job can bring them an annual income of 20,000 yuan (roughly $3,000).
The pillows, purses and hats, many of which have been patented, are also proving popular on the international market.
Workshops like Bian's are giving households an opportunity to increase their income by teaching people new skills and enabling them to work from home. Since 2018, the State Council Leading Group Office on Poverty Alleviation and Development and the Ministry of Culture and Tourism have carried out a promotion program in a bid to revive the heritage while alleviating poverty. Agencies like the China Federation of Literary and Art Circles and governments of different levels also provide additional guidelines and financial support. Among the 2,500 workshops nationwide, more than 1,400 have been established in poverty-stricken areas since 2012.
Additionally, heritage product creation has generated complete industrial chains. For example, many residents of Bailang Township in Arxan City, Inner Mongolia Autonomous Region, are involved in the production of bark paintings. Workshops aside, locals and government officials alike are establishing companies ranging from product designing, manufacturing and processing to actual sales.
Bailang is rich in forest resources. But every year, heavy winds blow down trees there, creating fire hazards. Also, the scattered bark affects the growth of surface grasses. The township's older generations fashioned a type of painting made from white birch bark, pine bark and moss. The amazingly lifelike images feature people, flowers and birds, all depicted in traditional Chinese style. Most of the coloring is singed, meaning it won't fade, and environmentally friendly.
Turning trash into treasure, villagers decided to take their art to the next level and developed more products like office supplies, clothing and jewelry—all customizable.
Looking youthful
As an important part of fine Chinese traditional culture, intangible heritages have been introduced in schools nationwide. Considered a fun educational family activity, many parents also like to take their children to museums, cultural districts and studios to get a better feel for China's multifaceted culture.
"In recent years, we've seen traditional crafts become popular online, explained and demonstrated through courses and short videos. They are very popular among young people. Ancient inheritances are being integrated into contemporary life one step at a time," Yin Jiayu, Director of the Yunnan Provincial Intangible Cultural Heritage Protection Center, said.
Echoing Yin, Wang Qin, Deputy Director of the Shandong Provincial Cultural Center, believes people should explore new ways of promotion through innovation. For example, this year, Shandong launched a shopping festival specifically for intangible cultural heritage and invited hundreds of influencers to participate, attracting many young fans.
Digital methods, too, can help these legacies live on and broaden their fan base. Back in the non-tech days, many items could only be known and inherited by a small circle of people, but the development of technology has enabled more people to understand and learn about traditions and arts from the past.
Digital collections of artworks integrated with cultural heritage elements are sold online. During this year's Dragon Boat Festival in June, celebrated to strengthen the family bond and establish a harmonious relationship between mankind and nature, Yichang City in Hubei Province released a set of digital artworks featuring the festival's key elements such as dragons, boats and cartoonlike zongzi, a pyramid-shaped glutinous rice dumpling wrapped in reed leaves. They all sold out in no time.
The Dragon Boat Festival also happens to be the first Chinese one to feature on UNESCO's Representative List of the Intangible Cultural Heritage of Humanity, and Yichang is one of the main cities requesting the inclusion.