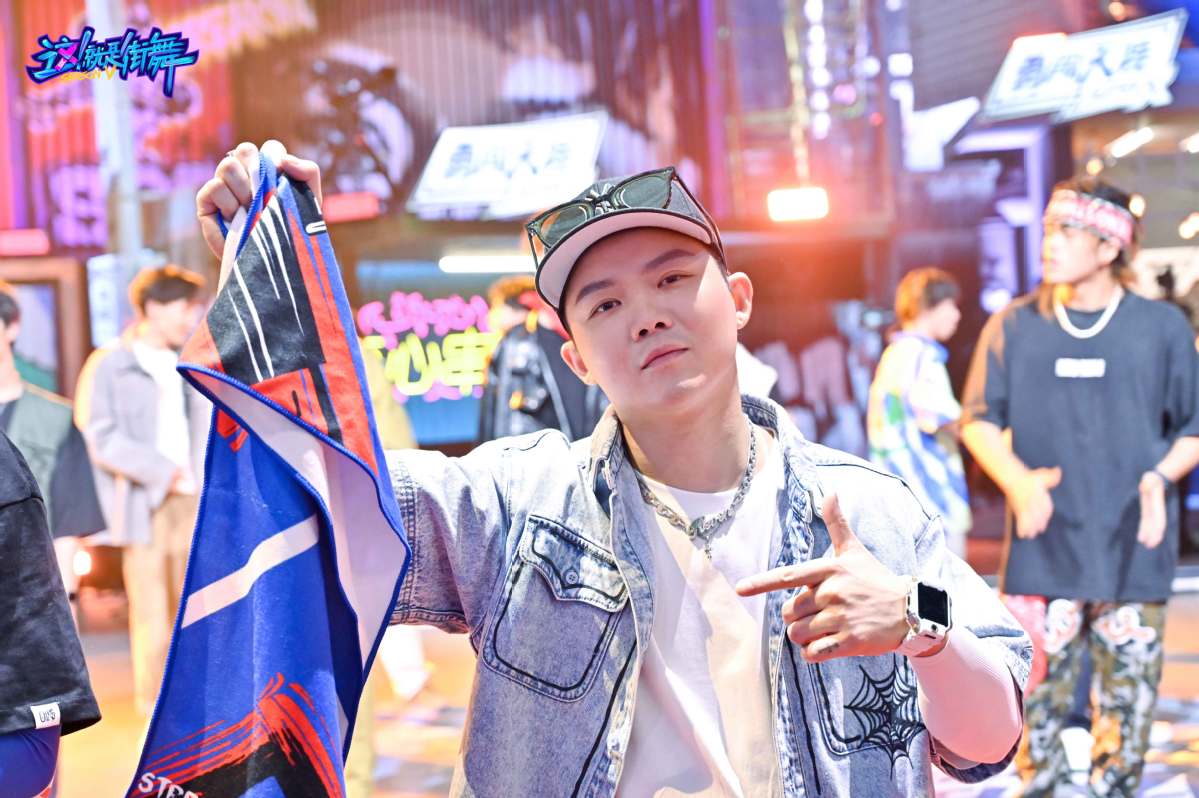 Fans impressed
Long impressed fans with his moves during the latest season of the popular variety show Street Dance of China, which premiered on the Youku streaming site on Aug 13 and will run weekly through next month. His family members also watched him perform on the show.
Launched in 2018, Street Dance of China has become one of the most popular variety shows, not only at home but also in Southeast Asia. Since the third season aired in 2020, it has been broadcast with subtitles in more than 10 countries and regions online or on television.
The show's latest season — the fifth — has attracted widespread attention with the appearance of singer-actors Wang Yibo and Han Geng, singer Liu Yuxin and Korean American actor Nathan Lee Seung Hyun.
"I've met many young people like myself who love street dance. We work and perform together to create new movements and test new ideas, which is very inspiring and rewarding," Long said, adding that he was touched by the warmth of old friends who contacted him after watching the show.
"Some of these friends gave up street dance years ago because the culture was considered a minority taste and bad behavior. However, they now want to return to the scene," Long said.
He has taught street dancing since turning 19, and one of his youngest students, who is 6, has been learning from Long for two years.
"Parents now have a different attitude to street dance than my parents' generation. They are very young and open-minded, and this will help such dancing to be known and accepted by a larger audience," said Long, who is hoping to be on the Chinese break dancing team for the 2024 Summer Olympics in Paris.
Solid techniques
In 2020, dancer Yang Kai, 34, won the third season of Street Dance of China, impressing audiences with his solid techniques and his portrayal of Ne Zha, a Chinese mythological figure. He was the first B-boy dancer to compete in the final stages of the variety show.
Asked why he wanted to join the show, Yang said: "I was just blown away by its energy and competitive nature. Many people have no idea about break dancing, and I wanted to do something to show them how exciting it is."
Like Long, Yang felt proud and excited about the IOC's decision to include break dancing in the Youth Olympic Games in 2018 and for the 2024 Paris Olympics.
Last year, when the 14th National Games were held in Xi'an, capital of Shaanxi, Yang led the province's break dancing team. He said the ultimate goal is to send more talented dancers to the 2024 Olympics.
Born in Chengdu, capital of Sichuan province, Yang fell in love with break dancing in 2002, when he watched a neighbor performing a handstand — a break dancing technique known as a "freeze".
"It was so cool. I practiced the move myself, which is very difficult. It kindled my love for break dancing," said Yang, who practiced every day with his friends at a small park near his home. He added that it was a relaxing and happy time when they practiced together.
"Our parents were against the idea of street dance, because the clothes we wore were usually loose and oversized," Yang said. "We had lots of furious and intense arguments. However, we couldn't convince our parents, but we couldn't be dissuaded against break dance. It only made me more determined to practice harder."
But Yang gained his parents' trust and confidence when he started to win awards. When he opened his own dance studio, his parents felt assured that he could make a living from dancing.
"I will turn 36 in 2024, but I will devote myself to training young dancers in Sichuan for the 2024 Paris Olympics," said Yang, adding that when he was a child, he watched the Olympic Games with his parents on TV. They love table tennis, and are big fans of former Olympic champion Deng Yaping.
"I cannot believe that break dancers can now compete for China at the Olympics, just like the legendary Deng," Yang added.
Break dancing first became popular in China in the 1980s and '90s, when movies themed on street dance were screened nationwide. Some of the nation's first street dancers became as well known as pop stars, including the late dancer-choreographer Tao Jin, known for his performance in the break dancing movie Rock Kids (1988), directed by Tian Zhuangzhuang.
Wu Jiukun, who was born and raised in Xinyu, Jiangxi province, was among the nation's first break dancers.
In 1984, Wu, then a primary school student in Xinyu, watched the movie Breakin', directed by Joel Silberg, which tells the story of a struggling young jazz dancer who meets with two break dancers. Wu loved the movie so much that he watched it 67 times at a local cinema.
For Wu, who was thin and small as a child, imitating the dancers' moves in the movie gave him confidence. However, his parents were opposed to break dancing, as it was considered "unhealthy" and associated with a "bad boy" image, so Wu had to practice secretly after school.
In 1988, when he was 18, he became a celebrity in his hometown after winning a street dance competition, and in the early 1990s, he opened his own dance club.
"What I want to do now is pass down my techniques and inspire young people to dance," he said. "I am glad to see parents encouraging their children to learn street dance, as it's considered a good way to improve body strength, balance, and also to gain confidence," Wu said.
Big business
Xia Rui, director of the China Hip-Hop Union Committee, which was founded by the Chinese Dancers Association in 2013, said street dance has become increasingly popular. Break dancing competitions are big business in China, with a range of events attracting tens of thousands of dancers nationwide every year.
To date, a total of 31 provinces and regions have launched branches affiliated to the committee, and there are some 3 million street dancers in China.
After being introduced to hip hop culture as a freshman at Communication University of China in Beijing in 2002, Xia immediately fell for the dramatic expression of street dancing.
"At that time, few people knew about street dancing. It was a Western culture, popular among university students," he said. "Now, the scene is vibrant and developing fast, which I never imagined when I was a student."
Xia said teaching materials about hip hop dance were published by the China Federation of Literary and Art Circles Publishing House in 2015.
Schools nationwide have added street dance to their programs. For example, in 2018, when break dancing was announced as an Olympic activity, the China Hip-Hop Union Committee introduced free street dance classes to more than 600 schools in 164 cities.
Xia added that although hip hop dance has been imported, Chinese dancers have combined it with their own culture, including tai chi, martial arts and local operas.
For the Spring Festival Gala aired by Beijing Television in 2017, Xiao Jie, a street dancer and choreographer from Chengdu, collaborated with Peking Opera performer Qiu Jirong in a crossover performance combining the iconic character the Monkey King with street dancing.
In 2018, Yellow River, a street dance co-choreographed by Xia, won the prestigious Lotus Award, the nation's highest dance honor, in the contemporary dance category.