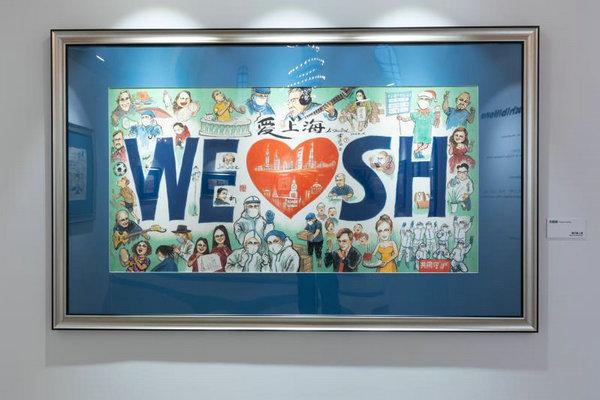 Russian poet and artist Anastasia Podareva is glad to see her self-portrait included as part of the ongoing art exhibition titled Foreigners But Not Outsiders, which documents how foreigners lived or contributed to community during the COVID-19 outbreak in Shanghai in the spring.

The painting depicts Podareva holding a color palette in one hand and a painting brush in the other while surrounded by piles of books and ink.
This scene, she says, shows what she was doing every day at home during the outbreak.
"All we need is a strong mind and brave heart," says Podareva, adding that she was deeply moved by the solidarity and determination shown by the residents of Shanghai in face of the outbreak.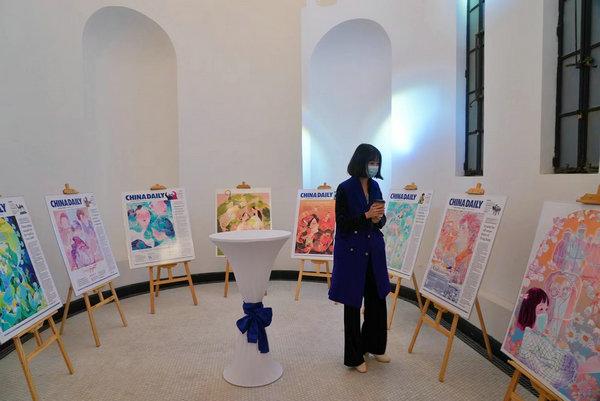 The exhibition also features dozens of portraits of foreigners volunteering, donating pandemic prevention materials and participating in efforts to resume work and production in the city.
Created by Shanghai artist Li Shoubai and organized by the Shanghai People's Association for Friendship with Foreign Countries, the exhibition, which opened on Saturday, aims to be a stage for people-to-people exchanges and to encourage people to contribute to the improvement of the friendship between China and other countries.
"I was so touched by the good deeds done by people around the world, so I used the leftover colors at home and completed about 50 paintings for them," says Li. "I believe people doing good deeds will be repaid."
At the exhibition, China Daily's Times' Palette Studio is also showcasing a collection of newspaper illustrations themed on China's cooperation with other nations to fight against the pandemic.
The China-Russia Friendship Salon was held on the same day of the exhibition's opening ceremony, and it saw performances from Chinese pianist Kong Xiangdong, Russian tenor and opera singer Nicholas Shamov and Shanghai International Children's Friendship Chorus.
During this event, Podareva also collaborated with Li to create the painting, Russian Girl Living in Shanghai Shikumen-style House.
Podareva, who goes by the Chinese name Tang Xilan, says the woman featured in this painting is herself, while the cat sitting beside her is Li's favorite pet.
Podareva points out that this painting expresses her impression of Shanghai, which she views as "a city of romance".
Driven by her passion for learning Chinese literature, Podareva came to China after graduating from high school in 2013. She first studied Chinese in Changchun, Jilin province, which has climate that is similar to Russia's.
She later moved to Hangzhou, Zhejiang province, due to her love for its scenery, which, she says is similar to what had been described in ancient Chinese literature, before studying art theory and literature at Zhejiang Sci-Tech University in Hangzhou.
A few years later, she moved to Shanghai where she works as a poet, artist, translator and content producer.
Describing herself as someone obsessed with Chinese culture and poetry, Podareva has written over 200 pieces of poetry in Russian, English and Chinese and published three collections of personal works.
She has also found similarities between Chinese and Russian literature, especially in poems.
"Chinese ancient poems can be sung just like their Russian counterparts," she says.
"Compared with Russian literature, Chinese classical works have more delicate details," she adds.
In the future, she hopes to do more to help increase art exchanges between the two countries.
She says she wants to take the best of Chinese art to Russia while bringing the best of Russian art to Chinese people.