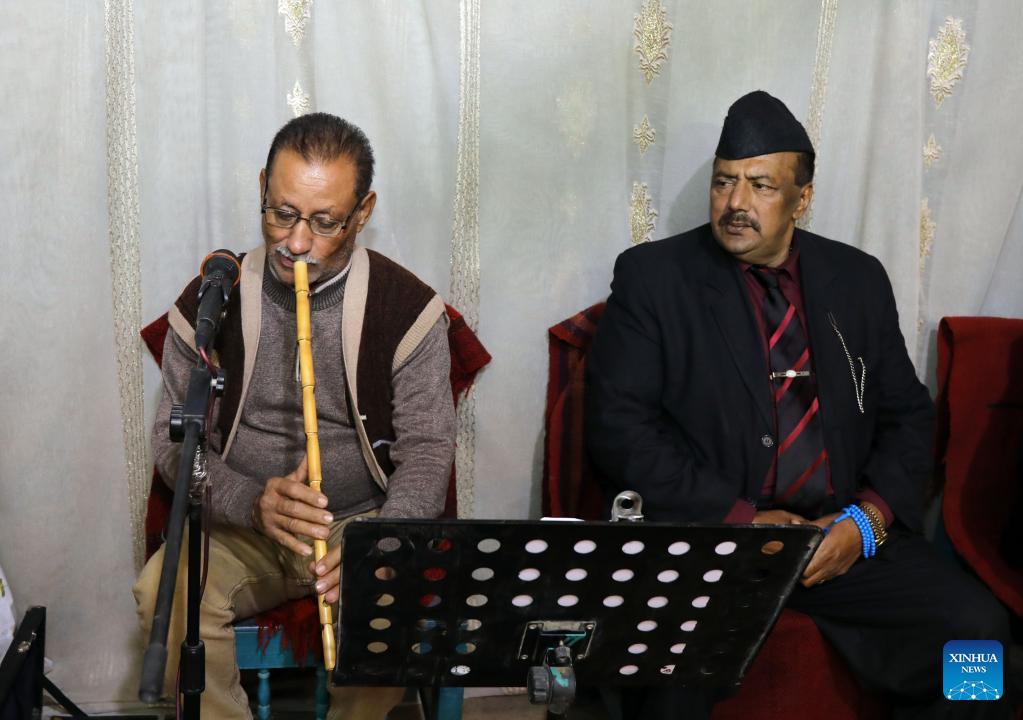 In an old building near the Tigris River running through Baghdad, a weekly-staged music ensemble of Iraqi maqam offers the audience a nostalgic journey into the past everyday life of the Iraqi capital.

Perhaps in the robust cultural scene of modern-day Iraq, it was uncommon to see young people root for this traditional form of music, but the Friday live concerts held by the al-Baghdadi Museum broke this usual rule.
A lead singer appeared on stage accompanied by a five-member orchestra, named Chalghi, playing the oud, fiddle, dumbek, and a small tambourine called daff.
Swaying to the ornate songs that flew from the singer's skillful improvisation interplayed with the music, audiences of young and old alike appeared to be deeply captivated by the performance.
"We have an increasingly heavy attendance especially young people here. The sweetness of the traditional melodies makes them feel nostalgic and remember the good times in Baghdad," Basim al-Enizi, head of tourism affairs in the al-Baghdad Museum, told Xinhua.
"The Iraqi maqam is a great cultural product passed down by nations, and it may be the result of the mixing of eastern civilizations in Iraq, which produced what is known today as the Iraqi maqam," al-Enizi added.
The Iraqi maqam, a genre of Arabic maqam music, boasts a rich repertoire of poems sung in classical Arabic or the Iraqi dialect of al-Zuhayri, and passed through generations orally.
According to UNESCO, the maqam in Iraq, in structure and instrumentation, is closely related to a family of traditional musical forms known in Iran, Türkiye, Azerbaijan, Uzbekistan, and other regional areas.
As soon as Samer al-Asmar the maqam singer finished his show, a blast of claps and shouts of admiration rose, while al-Asmar, donning a traditional Baghdadi hat, ascended the stage after a night of creative interaction with the audience.
Speaking to Xinhua, al-Asmar said what makes Iraqi maqam "distinguished from others is that it is ramified and flexible."
"We are proud of our music's originality, strength, and influence because what had a strong foundation remains through time," al-Asmar noted.
The modern maqam or system of melodic modes that are characteristic of Iraqi classical music can be traced as far back as the Abbasid era, but some researchers see that it backs to the beginning of the Ottoman era.
Whatever it is, the maqam includes a wide range of songs accompanied by traditional musical instruments developed over hundreds of years by Iraqis, who have created a lot of musical diversity, making it a massive archive of the history of Iraqi music.
To recognize this distinguished classical art that has remained largely intact against time and western impact in the region, UNESCO inscribed the Iraqi maqam on the Representative List of the Intangible Cultural Heritage of Humanity in 2008.
It is widely believed that the art of maqam has survived over the past centuries due to its use in some religious activities such as the call to prayer and the recitation of the Quran, as well as in private gatherings, coffee shops, and theaters, and even in homes on social occasions.
However, the maqam is not particularly popular among young people due to its weak presence on Iraqi TV channels and coffeehouses radios amidst a massive spread of modern songs with fast rhythms.
Nevertheless, young people can increasingly be seen at the available maqam concerts attracted by the lovely traditional melodies that make them feel proud of their ancient heritage and feel nostalgic to bring back memories of Baghdad, the city of a thousand and one nights.
Hazim al-Lami, 29, told Xinhua after the concert that maqam music and songs make him feel excited and remember Baghdad's good old times.
"It is very nice, the maqam makes me feel like I am in another world, but our people love fast melodies and dancing. My friends used to say that I live in the past, but I insist that this is our origin and our beautiful heritage that our ancestors worked hard to pass to us," al-Lami said.