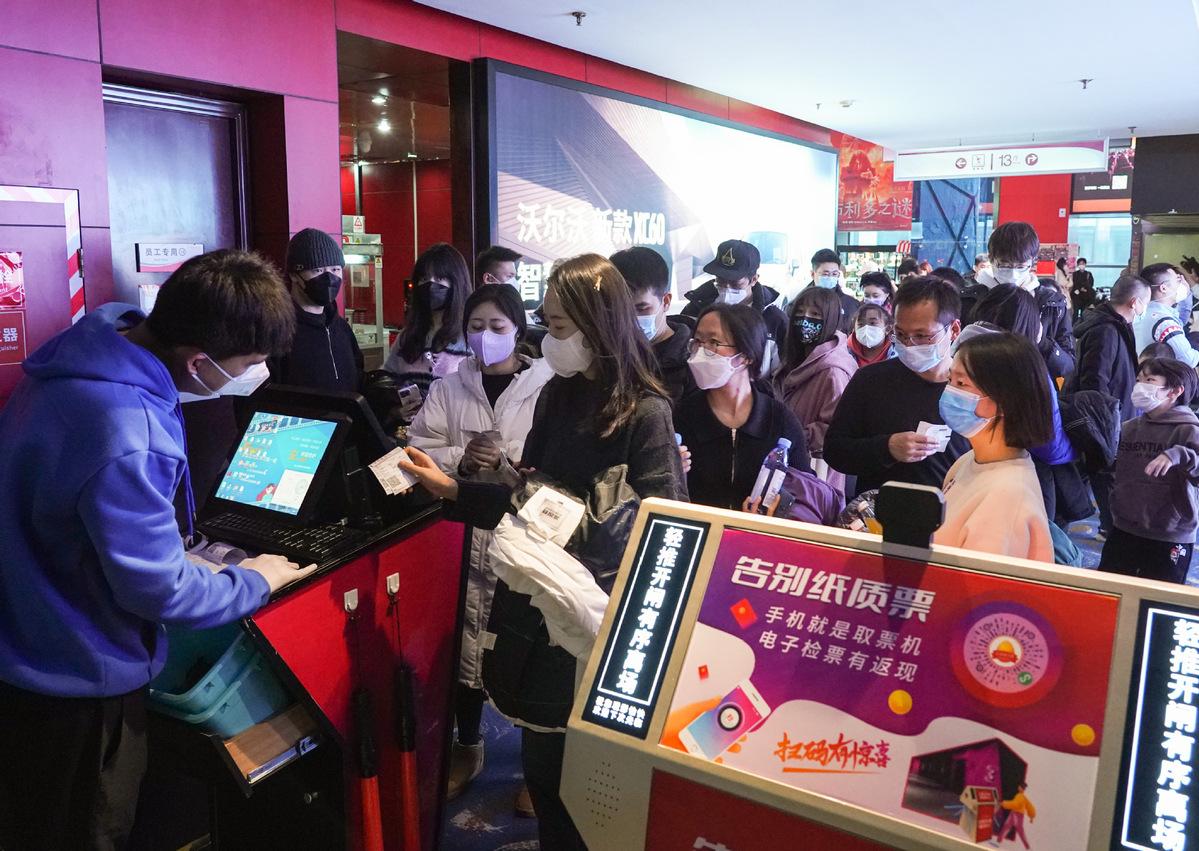 Moviegoers check in at a cinema in Beijing on Jan 12, 2023. [Photo/China Daily]
At the beginning of the first Spring Festival holiday since China adjusted its pandemic prevention policy, the once sluggish movie market is expected to make a strong recovery with a cluster of highly anticipated blockbusters, some insiders are saying.
As of 9 pm Friday, the weeklong holiday had already raked in combined ticket revenue of 544 million yuan ($80.2 million) from presales and advance screenings, a common market strategy to get people talking, according to Beacon, the live tracker of film information.
Among the seven new movies contending for market revenue during the festival, which is shaping up as one of China's most fiercely contended box office seasons in recent decades, iconic director Zhang Yimou's historical thriller "Full River Red," inspired by the Southern Song Dynasty (1127-1279) military general Yue Fei's most influential poem, is currently topping the presale box office charts.
"The Wandering Earth II," the sequel to China's all-time highest-grossing sci-fi epic, is in second place, followed by "Hidden Blade," an espionage suspense movie that is set in a turbulent Shanghai during the War of Resistance against Japanese Aggression (1931-45).
Each of these films has seen its presale surpass 100 million yuan,more than twice as much as "Five Hundred Miles," a fantasy comedy starring actress Zhang Xiaofei, who is best known for the 2021 Spring Festival box office champion "Hi, Mom." "Five Hundred Miles" holds fourth place in the presale charts.
Facing off with these rivals and opening on Jan 22, the first day of the Year of Rabbit, are two animated features: "Boonie Bears: Guardian Code," the ninth installment of the long-running franchise, and "Deep Sea," the long-awaited work of director Tian Xiaopeng.
Tian garnered huge acclaim for his directorial debut "Monkey King: Hero is Back," a 2015 sleeper hit that is widely considered a milestone that ushered in a new era for the Chinese animation industry. Recently, "Deep Sea" was nominated to be screened at the 73rd Berlin International Film Festival's Generation Kplus, a competitive program that screens state-of-the-art international cinema.
In addition to the six new movies that open Sunday, "Ping Pong: The Triumph" will be released on Tuesday, and is expected to draw sports-themed movie fans with its retelling of the underdog victory of China's national table tennis team in 1995.
Most industry insiders contacted by China Daily said they are delighted to see audiences returning to cinemas in great numbers and hope the Lunar New Year holiday will become a turning point that revives the once-struggling-to-survive industry.
Interestingly, the average presale ticket price in China's approximately 10,000 cinemas is 54.4 yuan, compared with 58 yuan in the same period last year. This is the first such price decline in seven years, said Chen Jin, an analyst with Beacon.
Together with the average length of the festival's new titles coming in at 130 minutes, the longest ever, Chen predicted the cheaper ticket price and larger selection will draw more theatergoers, setting up the possibility that this Spring Festival will gross more than last year's.
Lu Jianing, head of Nanning Minzu Cinema in the Guangxi Zhuang autonomous region, said the new movies cover a more diverse range of genres than last year's, showing the rich creativity Chinese filmmakers have maintained despite the shrunken budgets and output during the harsh pandemic period.
With two Marvel superhero standouts - "Black Panther: Wakanda Forever" and "Ant-Man and the Wasp: Quantumania" - to be released on Chinese mainland next month, the first return of Marvel in nearly four years, the Chinese film industry will make a strong recovery, encouraging more investors to finance quality films in the future, Lu said.