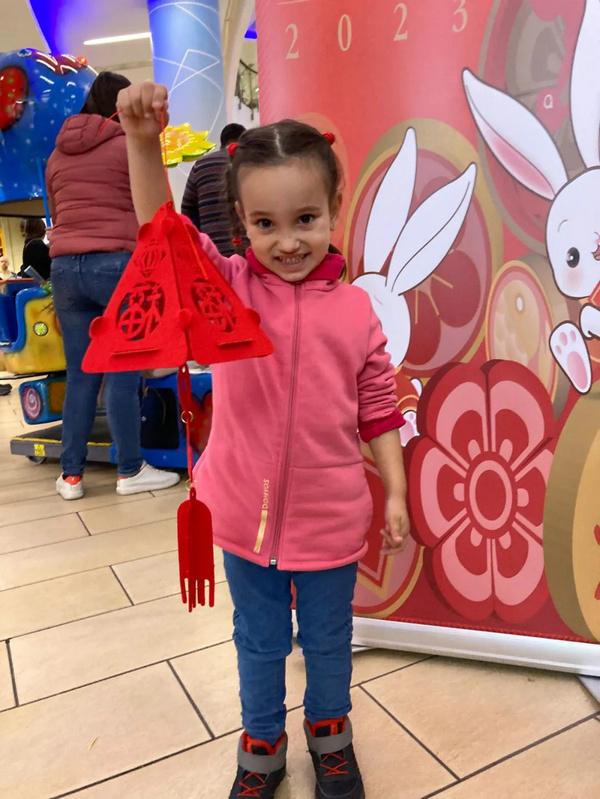 Celebrations of the Chinese Lunar New Year, or the Spring Festival, were held in Malta's largest shopping mall in Sliema, a commercial centre in eastern Malta on Saturday.

With the lion and dragon dance performance, brought by the Malta School of Wushu-Longgui, kicking off the celebrations, hundreds of local residents and tourists were attracted by the dance performance, the martial arts performance, and experienced activities such as Chinese calligraphy and painting, lantern folding and traditional Chinese medicine services.
The event was co-organized by the China Cultural Centre in Malta and The Point shopping mall, where giant electronic screens in the shopping mall also displayed posters and videos showing the Year of the Rabbit.
The "Chinese Lantern Workshop" set up by the China Cultural Center was crowded with children, who learned to fold exquisite Chinese lanterns and painted rabbits with Chinese brushes. Participants were thrilled to receive rabbit mascots and New Year cards in the lucky draw.
At the booth set up by the Confucius Institute at the University of Malta, Ji Nengwen, the Chinese director of the institute, wrote the Chinese character "fu" (meaning happiness, blessing, and good fortune) with a brush to convey New Year blessings.
Casper, a young Dane, was deeply attracted by the Chinese calligraphy. He, accompanied by his Maltese girlfriend, told Xinhua that he liked China very much and planned to visit China this summer, with east China's Shanghai as his first stop.
During the event, doctors of the Chinese medical team from the Mediterranean Regional Centre for Traditional Chinese Medicine (MRCTCM) presented basic traditional Chinese medicine (TCM) and culture and provided free medical services to people onsite.
Maltese resident Alfred Farrugia, 72, told Xinhua that four sessions of TCM treatment freed him from back pain, which had tortured him for a long time. And he wanted to recommend the treatment to his friends, noting its effectiveness and the affordable cost.
Students from the Malta Chinese School dressed in traditional costumes sent blessings while the gourmet stalls, set up by the Chinese Community Association in Malta, featured different kinds of traditional Chinese snacks, attracting most for the first time to taste them.
Participants also feature locals from other parts of the country who, accompanied by families and friends, are eager to experience and share the joy of the Chinese Lunar New Year.
Yuan Yuan, director of China Cultural Centre in Malta said that the highly popular event demonstrated that more and more Maltese people liked the Spring Festival and events as such were expected to bring the two peoples even closer.
Chen Juheng, chairman of the Chinese Community Association in Malta, said that the celebrations highlighted the integration of Chinese culture in Malta, and hoped for more traditional Chinese festivals for the locals.