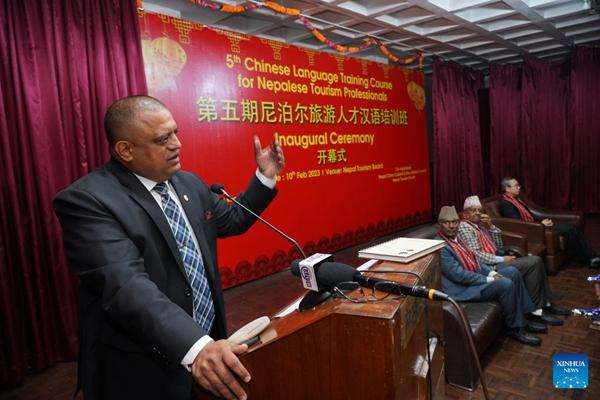 Dhananjay Regmi, CEO of Nepal Tourism Board, addresses the inaugural ceremony of the 5th Chinese language training course for Nepalese tourism professionals in Kathmandu, Nepal, Feb. 10, 2023. [Photo/Xinhua]
The 5th Chinese language training course for Nepalese tourism professionals started on Friday after a three-year hiatus over the COVID-19 pandemic.
Addressing the inaugural ceremony, Chinese Ambassador Chen Song noted that people-to-people and cultural exchanges have become an important part of China-Nepal cooperation under the Belt and Road Initiative, and China had become the second largest source of tourists for Nepal before the pandemic.
More and more Nepalis are starting to learn Chinese, while tourism cooperation has not only motivated the peoples to get to know each other and develop a close bond of friendship, but also advanced economic development and people's livelihood in Nepal, Chen said.
As China has resumed outbound travel, the return of Chinese tourists will give impetus to the global tourism economy, the ambassador added, voicing readiness to work with the Nepali side to make tourism cooperation the engine and booster of bilateral relationship through strengthened exchanges and mutual learning in the areas of tourism infrastructure, product supply and service level.
Those present at the inaugural ceremony included Sudan Kirati, Nepal's minister for culture, tourism and civil aviation, and tourism police officers and other new learners as well as some past learners.
Dhananjay Regmi, CEO of Nepal Tourism Board, viewed the training course as "a great milestone in the development of Nepal's tourism and for the promotion of Nepal in China."
"With this, altogether 200 learners will have benefited with the Chinese language and culture," he said at the inaugural ceremony.
"We thought that the number of tourists in Nepal from China will increase, and that's why we encouraged the private sector to invest more on the Chinese restaurants and hotels," he added. "And now we have more than 400 restaurants and many new hotels just to serve the Chinese students and Chinese visitors in Nepal."
A total of 160 tourism professionals had been trained in 2016-2019 under the six-month program organized by the Chinese embassy, noted Harish Chandra Shah, president of Nepal China Cultural and Educational Council.
Some people have been calling for such a training course in places outside Kathmandu, Shah said.
Under a 2016 joint press statement, the Chinese side agreed to provide Chinese language training in Nepal for 200 Nepalese tourism professionals in the coming five years to support the recovery of tourism in the Himalayan country.
The training course is co-organized by Nepal China Cultural and Educational Council and Nepal Tourism Board.