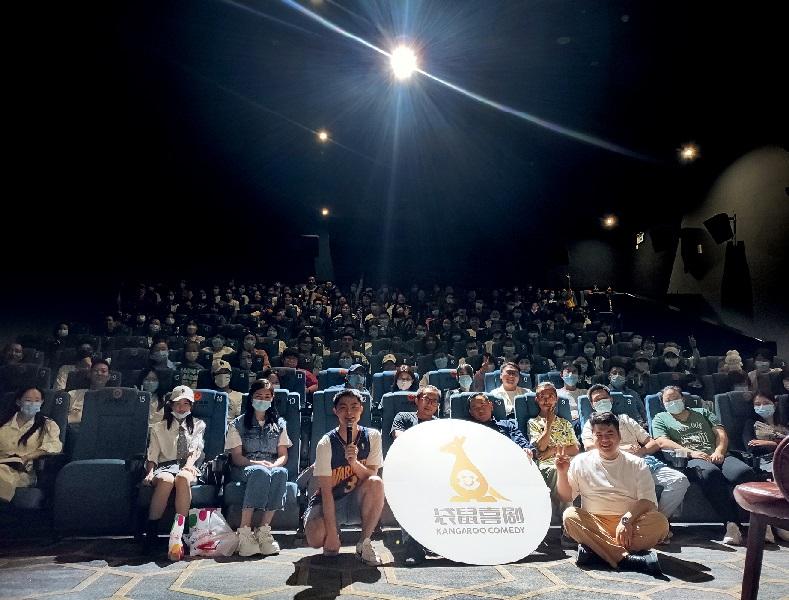 Performers take photos with the audience after each performance.
"Influenced by some TV variety shows, talk shows have become quite popular in China during the past few years, and a growing number of audiences have begun to watch offline performances," said Zhou Shenglong, founder of Kangaroo Comedy. Some of his audience are regulars, but there is an increasing number of first time viewers, and some even do not even remember the name of the talk show they came to see. According to Zhou, the new audience enables him to see the huge potential of China's talk show market.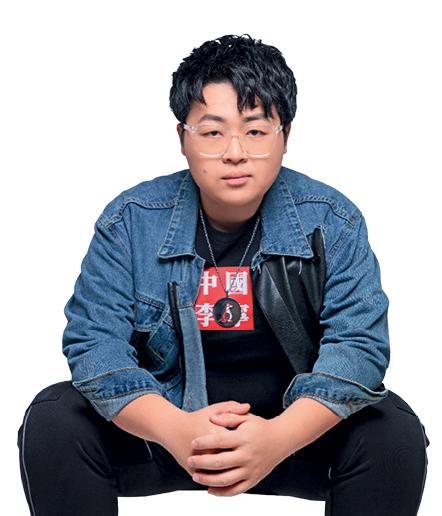 Zhou Shenglong is the founder of Kangaroo Comedy.
Chinese Style
The TV variety shows mentioned by Zhou refer to some talk shows that have been quite popular in China during the last few years, such as Let's Talk and Roast. At the end of 2022, the fifth season of Rock and Roast ended with high audience ratings, and topped the variety show list.
"As a popular variety show that has been broadcasted for five consecutive years, this show has greatly increased public awareness of talk shows," Zhou said, adding that in addition to the industry leaders like the one that produces Rock and Roast, there are currently more than a dozen medium-sized companies like Kangaroo Comedy in Beijing alone. Zhou said that through the TV variety shows that are produced by leading companies, the market potential of this industry is increasing.
Talk shows originated in the U.K., flourished in the U.S., and then found their way into China. Zhou said that he became fascinated with talk shows when watching Jim Carrey's comedy and famous actors such as George Carlin had a great influence on him. Although it has been introduced to China for decades, the art form has only become popular and accepted by the public in recent years.
Many foreigners believe that Chinese crosstalk and talk shows are the same thing. "It's a misconception," comedy screenwriter and talk show performer Duo Zixuan said. Chinese crosstalk is a unique art form in China that incorporates rich cultural connotations. The similarity of the two art forms is that they are both an art of life that portray the details of common people of society, and through humor and banter express the wisdom of life. But having said that, crosstalk and talk shows are not the same. Born and raised in Tianjin, one of the most prosperous cities in China's opera culture and crosstalk art, Duo once worked as a folk art performer and comedy screenwriter. Now focusing on holding talk shows, he is called a talented performer by many peers.
It is an undeniable fact that after talk shows entered China, they also underwent a certain degree of localization. Unlike Western talk shows, which are keen on political issues and sensitive topics, the topics of Chinese-style talk shows are closely connected to everyday life and current affairs, and are more likely to resonate widely with the audience. Niaoniao (stage name) won the runner-up of 2022 Rock and Roast. As an introverted player, many of her jokes about social phobia have touched a resonating chord with many audiences.
In the eyes of the performer with a stage name of Liudao, humor is the root of talk shows, "While being funny, if you can also share some ideas, it is amazing," Liudao said. According to a survey, 80.3 percent of viewers believe they love talk shows because they are very interested in the topics discussed on the show, and he believes that contents focusing on the insignificant individual in society have a strong appeal to Chinese audiences.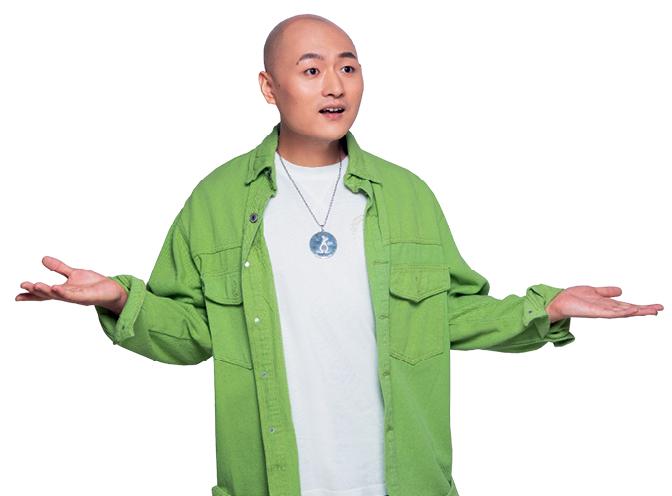 Duo Zixuan works as a comedy writer and talk show comedian.
Devotion and Resonation
Liudao is a part-time talk show comedian who specializes in IT and works as a technician. Sometimes after performing on the weekends, he returns to his work place to do overtime. "As a result of working on shifts, I have more flexible hours, and when my work is not very busy, I come to the theater almost every night," said Liaodao. Like Zhou, Liudao also likes George Carlin, but what really brought him into the industry was some of China's earliest TV talk shows, such as Tonight 80's Talk Show and an experience of watching an offline talk show.
In a tourism-themed talk show contest held in 2021, Liudao won first place in audience voting. Despite his interest in talk shows, though he never wanted to be a full-time performer and is satisfied doing what he loves in addition to his regular job. He lives in a suburban district of Beijing, and every time he takes the long drive to the city center to perform, he mixes the travel-worn feelings from the journey into his performance that resonate strongly with workers who suffer from long commutes.
Unlike Liudao, Zhou has devoted all his energy into making a career out of holding talk shows over the years. Zhou chose the unique stage name for himself of "416," because he believes in the 10,000-Hour Rule, and 10,000 hours divided by 24 hours is about 416 days. Now as the owner of a comedy company, he still performs on stage whenever he has time, "I need to keep improving and keep up with the industry," he said.
There was a stage in his life when Zhou felt he should follow the advice of his parents and find a stable job, during which time he even obtained a teaching certificate. But later, he finally chose the comedy industry he loved. He was engaged in making funny short videos at an Internet company in 2019, but then finally decided to quit that job and start doing talk shows full-time, bringing together many like-minded friends.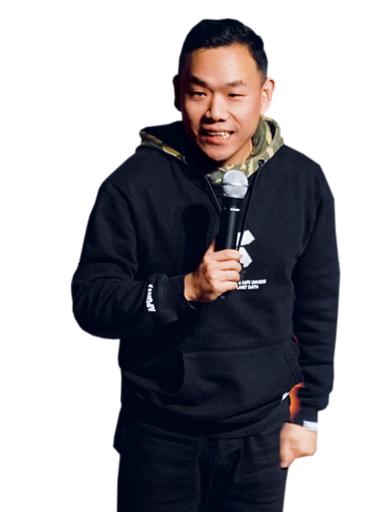 Liudao is a part-time talkshow comedian who specializes in IT and works as a technician.
Promoting Traditional Values
Duo Zixuan is one of those friends. Zhou commented that he "loves traditional culture, the content is positive, down-to-earth, and not tacky." Duo strongly supports traditional Chinese values and always tries to promote them in his performance, such as benevolence, righteousness, etiquette, wisdom, and faith. This "talented player" in the eyes of others labels himself as a "comedian with attitude." In his view, regardless of whether it is a talk show or other form of comedy art, the ultimate goal is to express a point of view. "Laughter is just the exterior packaging of a talk show, performers must have a critical spirit. If they are only to please, how can they have the ability to make cracks?"
Duo's father once sold his house to lend money to a friend to help pull him through a difficult time. Duo used this true story in his performance and it created good comedy effects. Some viewers said that this is indeed the way many Chinese treat friends. Much of the contents of his talk shows are based on the lives of the people around him. Through these small figures in a time of growing commercialism, he hopes to promote beautiful traditional values.
"Although my performance is very Chinese, many foreigners can understand it," said Duo, who has received positive feedback from many foreign friends, because in his words, "human behavior is commonly shared by people of every country."
Currently there are only about 10,000 people engaged in the talk show industry in China. Zhou believes that the industry has just entered the initial development stage in the country, and "the market is far from saturated."