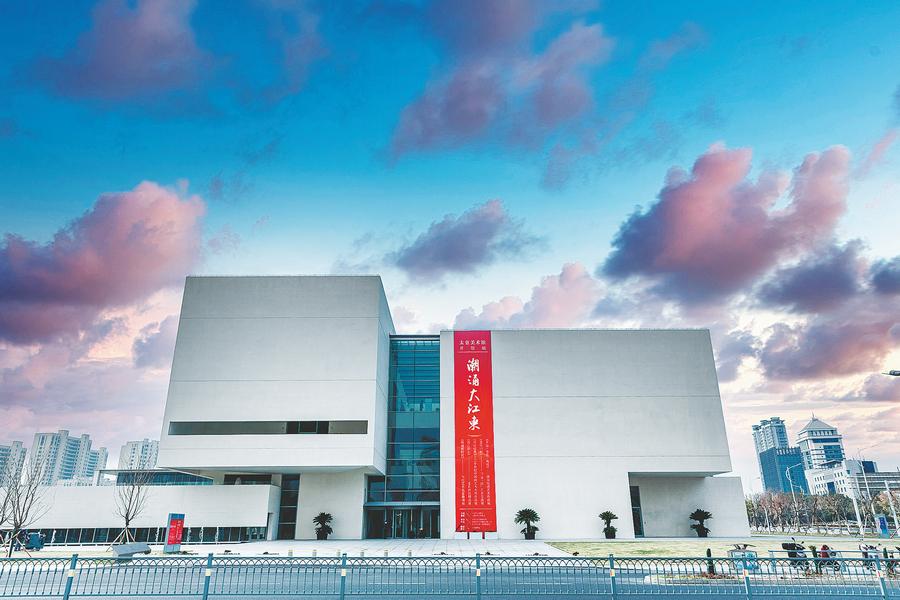 A prosperous city with a history dating back more than 4,500 years and also a creative hub for many well-known Chinese ink masters, Taicang in Jiangsu province embraced its first art museum at the beginning of this year.

Its inauguration show, Tides Surging in the East of Yangtze, offers a glimpse into the 400-year development of ink paintings since the Qing Dynasty (1644-1911) when a school dedicated to the discipline in Loudong (meaning the east bank of the Loujiang River) was established in Taicang.
The show, occupying the three-story garden-like museum, displays hundreds of ink paintings of various styles by masters at different periods in Chinese art history. It has four parts: Exhibitions of Masterpieces of the Loudong Painting School; Classics of the Century — Exhibition by Twentieth-Century Chinese Art Masters: New Era, New Spirit; Invitational Exhibition of Contemporary Artists; and German Painting Art Exhibition.
"Taicang Art Museum is a county-level city art museum, and it is rare in China for such a small museum to present such a comprehensive show of Chinese paintings, from ancient ink paintings to modern ink, in such a large exhibition space," says Wu Hongliang, academic curator of the show. He is also director of the Beijing Fine Art Academy.
"It will take viewers half a day to go through these rich contents and audiences will finally have a deep impression of the city's cultural abundance."
The section of masterpieces of the Loudong painting school displays 45 works by representative masters of the school loaned from Tianjin Museum. The school was established about 400 years ago in Taicang, the starting point for Ming Dynasty (1368-1644) navigator Zheng He's seven voyages to the Western Seas. It is represented by four established artists all surnamed Wang; Wang Shimin, Wang Hui, Wang Jian and Wang Yuanqi. These four together with Wu Li and Yun Shouping are the "Six Masters of the Qing Dynasty".
Wang Shimin represented the first generation of Loudong style. The scholar-painter was good at imitating masters' artwork. Copying masters' pieces is a common practice in Chinese ink painting and is also considered as an important part of an artist's training and development. It involves carefully studying and replicating the techniques, brushstrokes and style of a master's work. The Loudong school represented by Wang Shimin was an artistic "peak", says Wu, the curator.
In fact, the goal of copying is not simply to produce an exact replica of the original. Rather, it is an opportunity for the artist to develop their skills and creativity by exploring different ways of interpreting and expressing the subject matter. Wang Shimin honed his skill, developed his unique style and reached the summit of his ability in late life. His iconic works were done in his 70s and even 80s, and were collected by the Palace Museum, also known as the Forbidden City.
The Loudong school represented by the four masters influenced generations of ink painters thereafter but was criticized by some modern ink artists in the first half of the 20th century, such as Xu Beihong, who was known for his painting of horses.
Wu says masters of the 20th century grew up in a time when Chinese people were eager to change the rules of society. Thus artists longed to create a different world in art. Many applied new techniques combined with those introduced from Western art such as oil painting.
"The Loudong school, featuring landscape paintings, was regarded as being too detached from real life in the 20th century. When we talk about artists, we should put them in the context of the history of when the art was created," adds Wu.
In the section of Classics of the Century, more than 100 pieces painted by prominent ink masters of the 20th century are on show, including household names like Qi Baishi, Fu Baoshi, Xu Beihong, Lin Fengmian, Wu Guanzhong and Li Keran.
Many of these masters changed their subjects from traditional ones such as landscapes, flowers, birds and insects to related aspects of daily life. Examples include: a boy pushing buffaloes, fishermen on a river, sunsets and sunrises, horses and shrimp.
Wu says some masters had a background of studying overseas, thus many techniques from Western art were mixed with traditional ink painting, a way to "create a new world in art".
"From the Loudong school to the masters of the 20th century, viewers can see clearly the development of Chinese painting," Wu says.
All the pieces on show in this section are from the collection of China Arts and Entertainment Group, which has actively bought and collected iconic pieces from ink masters since the 1950s to hold shows overseas and take part in cultural exchanges.
According to Li Jinsheng, president of the China Arts and Entertainment Group, they have collected more than 50,000 artworks covering various art forms. Taicang Art Museum is a cultural collaboration between China Arts and Entertainment Group and the local government to boost cultural abundance and enrich people's spiritual world.
"An art museum is a key platform to provide cultural activities to locals. Besides, we are planning art hotels and festivals for villages in Taicang to build a chain of cultural institutions," says Li.
Not far away from Taicang Art Museum stand the city's theater, library and museum, all of which were opened to the public in recent years.
Located at the mouth of the Yangtze River and known as the "golden coastline" of the lower reaches of the Yangtze River, Taicang is about a one-hour drive from Suzhou, a city renowned for its gardens and art.
Jin Huihui, director of the Taicang Art Museum, says its establishment can better satisfy people's growing demand for cultural activities in small cities. During the Spring Festival holiday in late January, more than 2,000 visitors poured into the art museum every day, says Jin.
Apart from the Loudong school and masterpieces from the 20th century, the museum's opening show also displays 80 artworks made by contemporary Chinese artists and 50 paintings by five German painters.
"Many visitors said it's a rare chance to see such a comprehensive show of Chinese art and also art from Germany in a small city," Jin says.
The show will last until April 15.