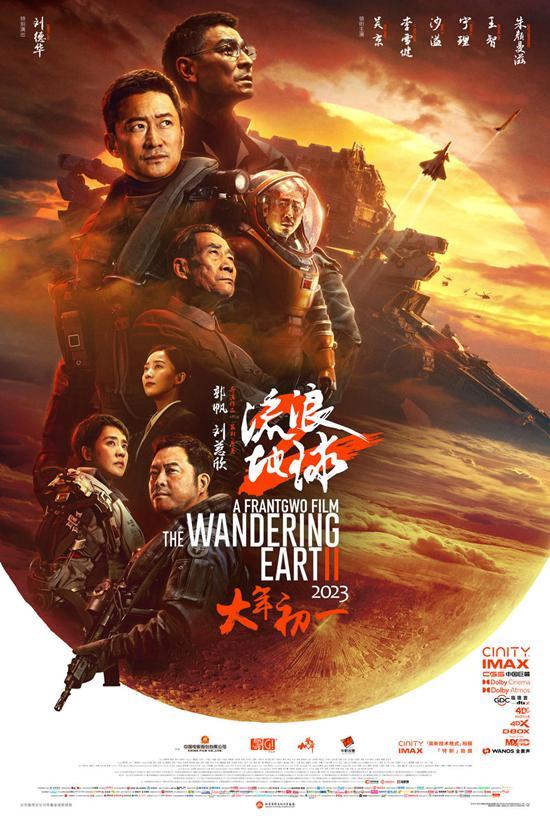 A poster for "The Wandering Earth 2." [Image courtesy of China Film Group Corporation]
The premiere of China's latest sci-fi blockbuster, "The Wandering Earth 2," attracted hundreds of Egyptian filmmakers, sci-fi fans and movie lovers in Egypt's Giza Province on Saturday.
Setting in the near future where the sun is about to burn out in less than 100 years, the visually-stunning movie tells an epic and heartfelt story of all humanity working together to build thousands of mountain-like thrusters to propel the Earth out of our solar system and travel to another habitable solar system.
The movie has been a great commercial success in China and has so far grossed more than 4 billion yuan (579 million U.S. dollars) in the Chinese mainland.
Speaking at the premier, Zhang Tao, charge d'affaires of the Chinese embassy in Egypt, said the movie, full of imagination, is the fruit of the growing Chinese movie industry and also reflects the Chinese people's romantic imagination and enthusiasm for space exploration.
Meanwhile, guests from the Egyptian movie industry also spoke highly of the movie and praised it as a world-class sci-fi blockbuster in terms of plot design and visual effects production.
"I really like the creativity and ideas in the film. I am deeply impressed that researchers and diplomats from all over the world have come together to work together for the future of our planet," 13-year-old Egyptian girl Shukran Hussain told Xinhua.
Deeply attracted by the scientific and technological sense of this film, Aya Hamdy, a senior student from Cairo University, said that "I was fascinated by the scenes and special effects in the movie."
The premiere was co-hosted by China Cultural Center in Cairo and Shanghai Huahua Culture Media Co., Ltd.
According to the schedule, "The Wandering Earth 2" will be officially released to the public in Egyptian theaters on March 15.