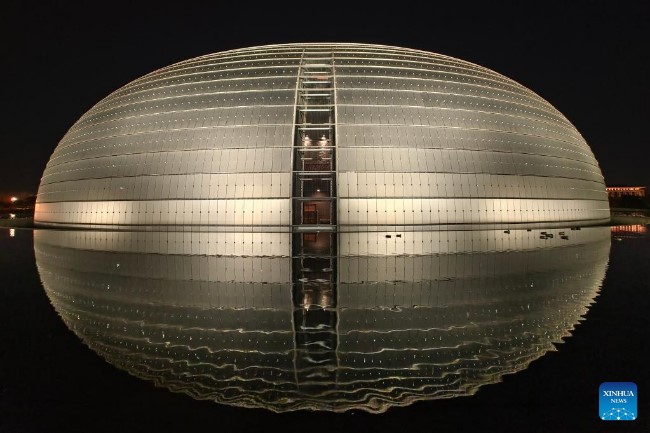 Photo taken with a mobile phone shows the National Centre for the Performing Arts in Beijing, capital of China, Jan. 27, 2022. [Xinhua/Meng Tao]
Renowned cellist Jan Vogler captivated audiences with his performance of Johann Sebastian Bach's Six Cello Suites BWV 1007-1012 at Beijing's National Centre for the Performing Arts (NCPA) concert hall on March 12. The show, hailed as a marathon concert lasting for three hours, marked the theater's reopening to foreign artists after three years of the pandemic.
The Six Cello Suites, composed by the legendary Baroque musician Bach, are an exemplary piece of unaccompanied music and are regarded as a touchstone for a cellist's skills and cultivation. The suites are considered a true test of a performer's talent and stamina and offer an extremely rare musical experience for the audience.
The performance marked a significant symbol of foreign artists returning to China following the pandemic. As a national performing arts platform, the NCPA has pledged to invite more international culture and art to Beijing, continuing to promote and deepen exchanges.
Following the appearance of Jan Vogler, more internationally well-known artists are set to appear at the NCPA in the future.