Superhero film "Shazam! Fury of the Gods," which is packed with intense action scenes and playful teenage fun, hit Chinese cinemas on Friday.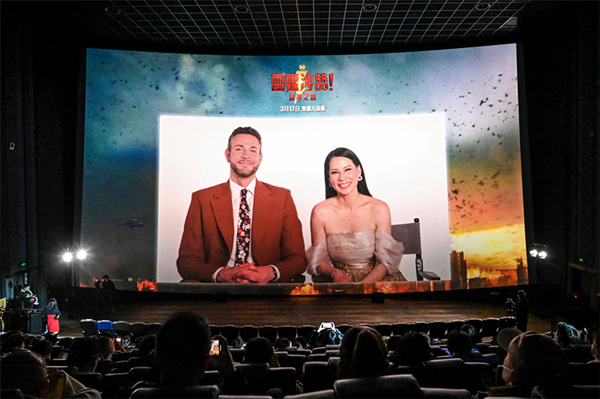 Actor Zachary Levi and actress Lucy Liu appear on an IMAX screen via video link at the China premiere of "Shazam! Fury of the Gods," held in Beijing, March 15, 2023. [Photo courtesy of WarnerMedia in China]
The highly anticipated sequel to "Shazam!" (2019) is directed by David F. Sandberg and stars Zachary Levi as Billy Batson and his superhero alter ego, Shazam, as well as his foster siblings, who also have superhero alter egos. Together the heroes fight the vengeful "Daughters of Atlas" goddesses, played by the legendary Helen Mirren, Chinese-American veteran actress Lucy Liu, and newcomer Rachel Zegler. Wonder Woman, played by Gal Gadot, also makes a surprising cameo appearance.
This film brings even more excitement, adventure and comedy with all-new realms, larger threats, monsters and mythical creatures. The young heroes, who are actually kids and teenagers, can transform into their alter egos by shouting the word "Shazam!"
"It's so much fun, and it's about family, adventure, spookiness, heart and humor, and it also has goddesses in it," actor Zachary Levi told Chinese audiences via a video link at the premiere held in a Beijing cinema on Wednesday. "In this movie, we have the super team doing lots of different things trying to save people. We get these great new villains. We get all of the super kids, and they all get a lot more to do. And there are some love stories going on there and a lot more of new cool creatures and monsters."
Levi expressed his excitement about the thrilling action scenes in the film, particularly the fight with Lucy Liu's character, who rides a dragon and shoots lightning bolts at him. He described the experience as a "bucket list thing" and a "dream come true."
Liu appeared on screen via video link alongside Levi. She also shared unforgettable moments regarding her participation in the film. "For me, it was actually off the set, working with Zack, working with Helen Mirren and Rachel. We had wonderful family energy. And these are friends that we will have for life."
She said she took the role because she was excited to be a part of a sister trio of goddesses. "When I was younger, we didn't have all of these incredible superhero movies. We just had the comic books. To feel like I was part of something that I grew up with was not just nostalgic, but very exciting and really a dream come true," explained Liu.
The first "Shazam!" movie grossed 294 million yuan ($43.8 million) in China and $366 million worldwide, according to tracking agency Box Office Mojo. "Shazam! Fury of the Gods" is an epic upgrade from the previous one and is a long-missed popcorn action flick in a market that is still recovering. The new movie opened in China, North America, and many other markets on March 17.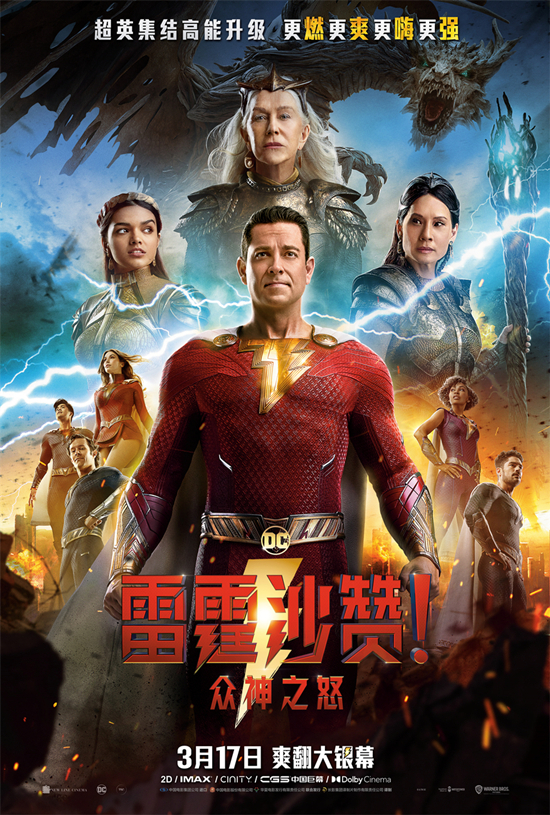 A Chinese poster for "Shazam! Fury of the Gods." [Image courtesy of WarnerMedia in China]
Director Sandberg returned to the helm excited to take the story and characters to the next level. He said, "One of the exciting things for me in this movie was exploring more about how they live as teenagers and work as superheroes together — and, as you might expect, it's not always successful. Like Shazam, they are all still young at heart, some more than others, going through everything kids do."
The shifting family dynamic was not the only new twist that intrigued Sandberg. "It was also very exciting to bring in these Greek gods, to see where Shazam actually got his powers from and learn that there are some dangerous adversaries who are not happy that he has them at all. It creates great potential for a huge battle between gods and superheroes," he added.
"What I loved about the first 'Shazam!' film, and why I very happily signed up to be in this one, was the idea of the outcasts at school," said Helen Mirren. "The kids who are teased and bullied are the ones who become the superheroes, who can fly, who can do wonderful things and try to make the planet a better place. It's a reflection of our imaginations at that age, and combining that with mythology seemed like a lot of fun. I think sometimes we forget that thousands of years ago, people believed in these gods and goddesses controlling their lives. We call it myth, but they did believe it, and they were humans like we are."