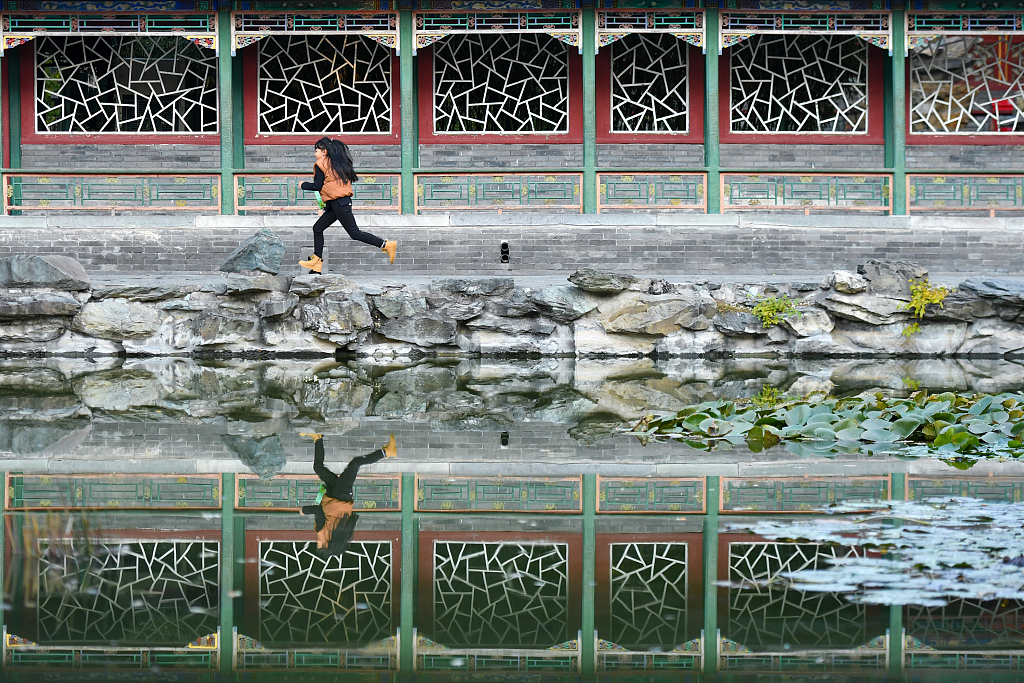 A girl plays at Prince Kung's Palace Museum, Nov. 5, 2022. [Photo/VCG]

"The Dedicated Work of Master Craftsman; The Grinding and Polishing of Eternal Time," an exhibition celebrating Chinese traditional architectural model-making, opened at Jiale Hall of Prince Kung's Palace Museum on March 20.
The exhibition showcases more than 20 traditional architectural models, with surveying and mapping data contributed by celebrated architect couple Lin Huiyin and Liang Sicheng, among others.
The exhibition hall is organized into three themed sections.
The "Mind of Master Craftsman" section displays architectural models of Nanchan Temple's main hall, the Zhaozhou Bridge, and the Guanyin Pavilion of Dule Temple. In the 1930s and 1940s, members of the Society for the Study of Chinese Architecture, including Liang Sicheng and Liu Dunzhen, conducted field trips to map these historical sites. Then, skilled craftsmen transformed the surveying and mapping data into precise models.
The "Rhythm of Reflections" section highlights the distinctive features of Beijing. It presents models of "Xi'an Gate," the western entrance to the imperial city during the Ming (1368-1644) and Qing (1636-1912) dynasties, as well as the exquisite "Zhihua Temple" from the Ming period. Additionally, 60 oil paintings of ancient buildings in Beijing and its suburbs, created by a Russian artist, are on display.
The "Enjoyment of Structure" section focuses on beam frames and brackets, including those in the Great Hall of Foguang Temple, the Palace Museum and Shanhua Temple. This section demonstrates the structural ingenuity of Chinese architecture.
Visitors to the exhibition can learn about each model's history, details and restoration techniques through informative displays. The models not only record and bear witness to ancient Chinese architecture, but also reflect the research, understanding and expression of them, according to Sun Dongning, director of the comprehensive development department at Prince Kung's Palace Museum.