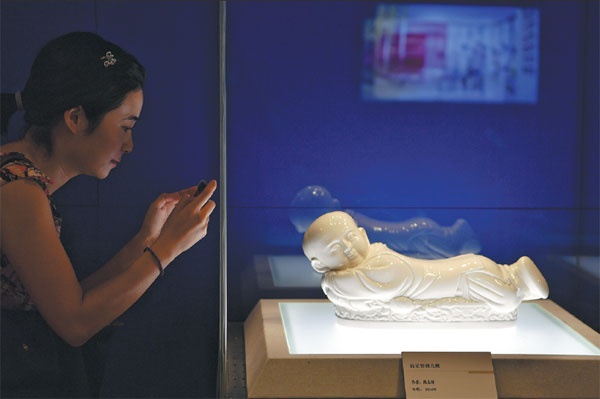 A copy of the Ding ceramic pillow by the late artist Chen Wenzeng. [Photo by Jiang Dong/China Daily]

Pillows have developed radically over the ages, from wooden and porcelain versions to the most comfortable goosehair pillows available in modern-day supermarkets. In China, porcelain pillows are among the best preserved from the annals of history.
In ancient China, people wore intricate headwear, and pillows were usually placed under the neck instead of the head. Hard pillows not only provided a cooling effect but also helped to maintain their hairstyle and prevent it from getting disheveled.
The most well-preserved types of pillow in Chinese history are made from porcelain. These first appeared during the Sui Dynasty (581-618).
The earliest porcelain pillow discovered to date is a box-shaped model unearthed from the tomb of an official named Zhang Sheng in Anyang, Henan in the sixth century.
Porcelain pillows gained popularity and were used for more diverse functions during the Tang Dynasty (618-907). They were used to cushion patients' wrists when Chinese doctors checked their pulses before giving diagnoses, and to support the arms of those writing with brushes to help give them a steadier hand. Additionally, travelers started carrying small porcelain pillows as sleeping aids.
The Song Dynasty (960-1279) saw Chinese ceramics and porcelain pillows flourish. The pillows grew larger in size and production scale, while new manufacturing techniques, designs, and decorations emerged.
A white porcelain pillow in the shape of an infant from the Northern Song Dynasty is considered one of the representative works of this period. It is entirely covered with white glaze, giving it a slightly yellow coloring and a smooth texture.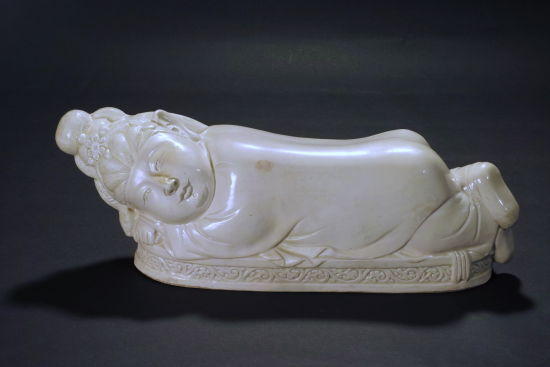 In China, porcelain pillows are among the best preserved from the annals of history. [Photo/CGTN]
Combining a sense of softness and strength, it is shaped in the form of a child lying prostrate on an elongated bed, with his arms crossed in a hugging motion and two small feet stacked on top of each other. This is considered a masterpiece in the history of Chinese ceramics, and is now stored at the Palace Museum in Beijing.
The Yuan Dynasty (1279-1368) saw restrictions on the free development of the commodity economy, which led to the decline of folk handicrafts, including porcelain pillows.
However those shaped in mimicry of architectural elements or stage props incorporating themes from popular dramas, operas and poetry of the period were still considered fashionable.
The crafting of these pillows was particularly detailed, especially the blue-and-white porcelain pillows from Jingdezhen in Jiangxi which featured intricate carvings.
During the Ming (1368-1644) and Qing (1644-1911) dynasties, porcelain pillows started to fade from view as softer pillows became more popular.
Although porcelain pillows were still being produced in North China during the 1950s and 1960s, they have disappeared from people's daily lives in recent decades.
That being said, for many centuries they condensed the folk customs and interests of various eras, showcasing the highest level of craftsmanship of the times.