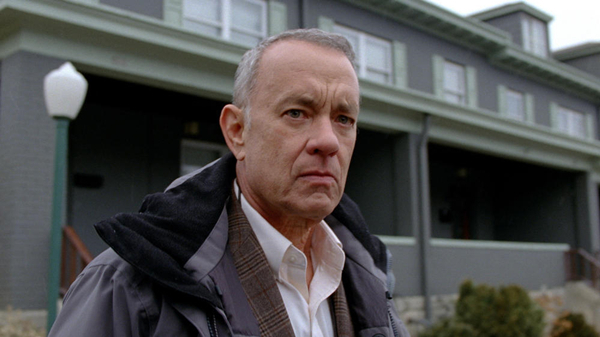 Otto Anderson, played by Tom Hanks, in the new film "A Man Called Otto." [Photo courtesy of Sony Pictures Entertainment]

"The comedic elements of the story resonate with all of us because they are so funny and so human," director Marc Forster said of the film's appeal. "We all get angry sometimes, and we can see that in Otto. How many people get road rage? That's not so far from Otto himself."
"A Man Called Otto" tells the heartwarming story of a man named Otto Anderson, played by Tom Hanks, who has been set in his ways since birth, believing that there is only one right way to do everything. Based on the #1 New York Times bestseller "A Man Called Ove" by Fredrik Backman, the film is directed by Marc Forster and shot in Pittsburgh, United States, and tells a story of love, loss, and life.
"There's so much about this story that resonated with me," says Rita Wilson, who produced the film alongside Hanks, Gary Goetzman, and Fredrik Wikström Nicastro. She added that Otto's character combines comedy and dramatic elements that she was excited to see Tom Hanks bring to the screen.
"Tom Hanks is a brilliant actor. He's an icon," Forster says of the lead actor. "He's extraordinary. Every role he plays, you believe in him, because he has this incredible heart, so you can relate to him. He comes from a comedy background and is a very good physical comedian; his movements and timing is brilliant – but at the same time, he's extraordinary as a dramatic actor. In this role, he merges these two skill sets, and that makes Otto unique. You feel him, you laugh at him, you laugh with him, and you cry for what he is going through."
The story revolves around Otto Anderson, a grump who no longer sees a purpose in his life following the loss of his wife. Otto is ready to end it all, but his plans are interrupted when a lively young family moves in next door and he meets his match in the quick-witted Marisol. She challenges him to see life differently, leading to an unlikely friendship that turns his world around.
The film's comedic sensibilities combined with some of life's big questions bring real emotion, or as Wilson describes: "The story is so universal. It deals with so much of what people are going through. What is our purpose? Why are we here? What do we want out of this life? How can we change our perceptions about the people around us?"
"He's been set in his ways since he was four hours old," describes veteran and award-winning actor Tom Hanks, who vividly brings the character to life. "His world is a binary one. The world operates one way and one way only, and that's according to the rules – and anybody can read the rules, and anybody can follow them."
Moreover, the film highlights the significance of neighbors and community. The idea of forging a community where you find it with the people who are literally closest to you – your neighbors – seems to be an idea that resonates with Hanks. Interestingly, the last time he shot a movie in Pittsburgh was to portray America's most beloved neighbor, Fred Rogers, in "A Beautiful Day in the Neighborhood."
"The thing that fills the void in our lives is each other – ourselves – our neighbors," says Hanks. "Even if you don't like each other, even if you have great cultural differences, religion or heritage or politics, sooner or later, they're going to need your help, and you're going to need theirs. If you don't know how to bleed your radiators, who are you going to turn to? When tornadoes hit, what's the first thing that happens? Neighbors come out with chainsaws and U-Hauls. 'A Man Called Otto' puts that idea forward – it is a movie about community and a movie about family."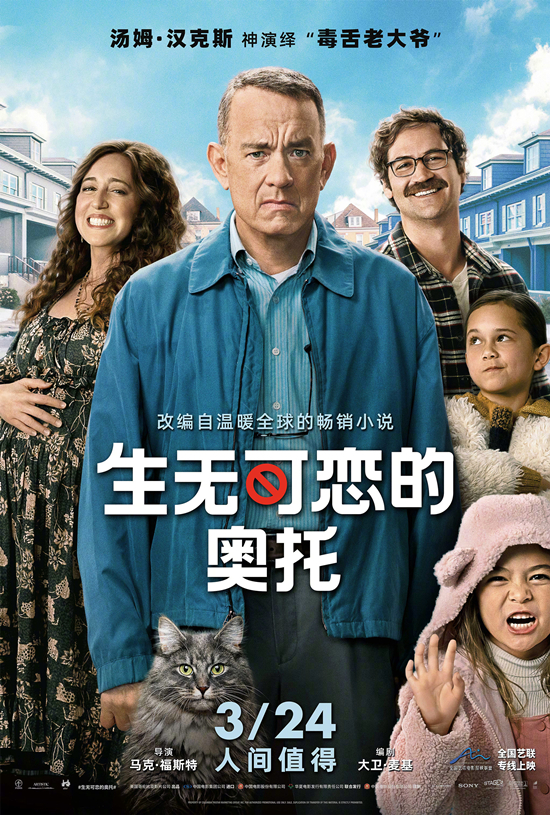 A poster for "A Man Called Otto." [Image courtesy of Sony Pictures Entertainment]
"All over the world, people are becoming very divided and polarized. We're just not connecting with our neighbors, our communities. So I think this story about human connection has never been more relevant," says producer Fredrik Wikström Nicastro.
In the film, the new family across the street is Marisol (played by Mexican star Mariana Treviño), her husband, Tommy (Manuel Garcia-Rulfo), and their two children, Abbie and Luna (and another one on the way). No matter how cantankerous Otto becomes, they keep coming back. "They are not afraid of Otto," says Hanks. "They have an appreciation for what he brings to the neighborhood and understand that, at the end of the day, he's a fair guy. I think Otto won the lottery when it comes down to Marisol moving in across the street because Marisol is curious. She's gregarious. She's open-minded. And she is forthright in her affection, even for a guy like Otto."
"Otto's relationship with Marisol is the heart of the film," says Forster. "Marisol is just a wonderful, lovely character. There's this comedic conflict right away between them because they're both very strong characters who don't take no for an answer – they're a mirror to each other. And because they're a mirror to each other, they warm each other up. She really is the key to his heart."
Rita Wilson says she was drawn to the project because, "The theme of finding hope, finding community with the unlikeliest of people, and learning to accept others that may be different than us, made an impact on me. Added to that are a number of serious themes, yet, as in life, even in the most difficult times, we can still laugh. These elements of light breaking through the dark give us hope. And, we can all use a little hope."
Since its release last December, "A Man Called Otto" has been screened in numerous markets worldwide. As of March 19, the film had grossed over $108 million. Its latest release will be in China on March 24, through the Nationwide Alliance of Arthouse Cinemas.