A new biopic pays tribute to Chen Wangdao, Chinese translator of "The Communist Manifesto," the historic document that pointed the way for China's revolutionary heroes.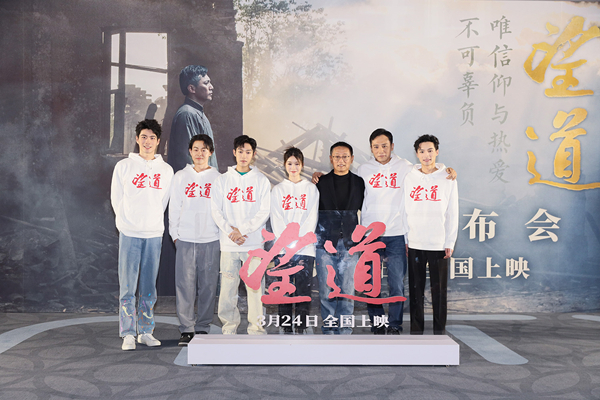 Cast and crew of "Wangdao" pose for a group photo at the film's premiere in Beijing, March 21, 2023. [Photo courtesy of MicroEnt]
At the premiere of "Wangdao" held in Beijing on Tuesday, the cast and crew were emotional. The film's director Hou Yong said: "Because most of the characters in the film have real prototypes, I feel especially touched when I think of those real stories and sacrifices in history."
The movie primarily follows the life of Chen Wangdao. However, "Wangdao" is not just Chen's given name, as the literal meaning in Chinese expresses "looking out for and guarding the way." It portrays a group of passionate people from a century ago with delicate care, and the charm and brilliance of these characters left the actors that played them in admiration and feeling deeply touched.
Veteran actor Liu Ye, who plays Chen, said at the premiere: "Actually, 'Wangdao' was not Chen Wangdao's real name. He chose the name himself, representing his steadfastness in faith. I think this is also the theme that our film wants to convey. Chen Wangdao's friends, students and colleagues were all like him, struggling for their ideals. They were all 'Wangdao' people."
Chen Wangdao (1891-1977), originally named Chen Canyi, was a renowned thinker, social activist, educator and linguist. He was born and raised in Fenshuitang village in Yiwu city, Zhejiang province. Chen went to school in Jinhua and then left for Japan in 1915 to study literature, philosophy and law at Waseda University, Toyo University and Chuo University. In May 1919, he returned to China and taught Chinese at Zhejiang Provincial No. 1 Normal School (today's Hangzhou Normal University). Chen returned to his hometown in 1920 where he completed the first full Chinese translation of "The Communist Manifesto" based on Japanese and English versions. In late April 1920, he published his translation, which, like a spark from the West, ignited a "red" fire enlightening the following 30 years of Chinese history.
Chen was also one of the founders of the Communist Party of China. He attended the first Political Consultative Conference of People's Republic of China in 1949, and was appointed president of Fudan University in 1952 by Chairman Mao Zedong.
In the movie, Janice Man plays Chen's wife, Cai Muhui, who represents the pioneering women of that era. She was independent, resolute and insisted on following her career. Cai Muhui and Chen Wangdao were not only a couple, but also comrades in arms supporting each other on the revolutionary path. Man said she felt she learned a lot from this character.
At the premiere, the cast and crew also revealed many interesting behind-the-scenes stories. For example, there is a well-known story about Chen Wangdao. While working on his translation, he dipped his zongzi - a kind of rice dumpling - into some ink and ate it without realizing his mistake. The movie "Wangdao" vividly presents this scene to the audience. In order to achieve the most realistic effect, Liu Ye ate 23 zongzi that day, even volunteering to eat real ink.
"At the beginning, we used food coloring and honey to make the ink, but it didn't work. I told the director to switch to real ink. I felt like I had tasted the true taste of Chen Wangdao's truth," Liu said. "After filming this movie, I can say that there's real ink in my stomach!" In Chinese, the phrase "ink in one's stomach" is a metaphor describing having acquired a lot of knowledge through reading and writing.
Hu Jun, who plays the revolutionary Chinese pioneer Chen Duxiu, and Xi Meijuan, who plays Chen Wangdao's mother, sent video messages to the premiere, expressing their hope that the film could show audiences how righteous people 100 years ago guarded their faith and ideals.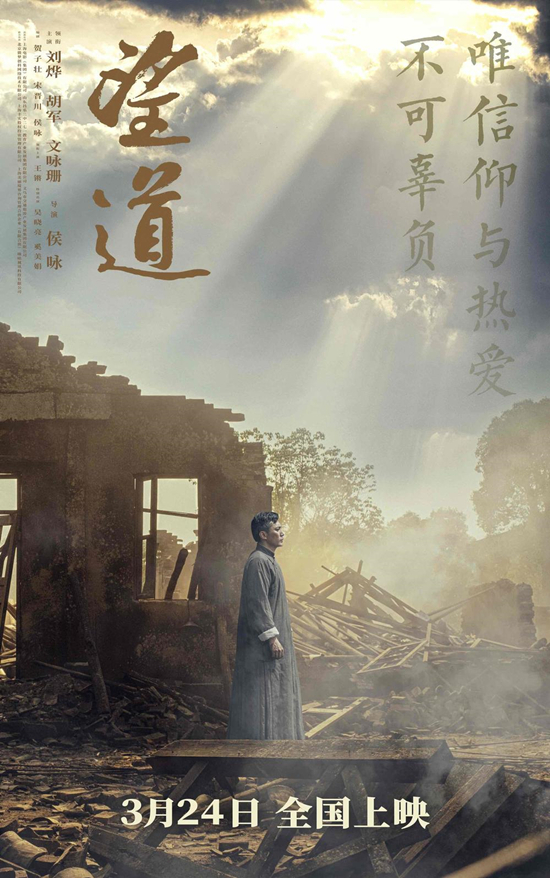 A poster for the film "Wangdao." [Image courtesy of Shanghai Film Group]
The filmmakers devoted a lot of effort to respecting historical facts and making artistic creations on this basis. Director Hou Yong shared many details of how the crew recreated the period, such as by constructing the school building in Zhejiang where Chen worked to its original scale, as well as using Chen's actual old home in Yiwu, even considering the design of the moss and spiderwebs in the yard. Hou said: "The accumulation of various real details in the film enhances the atmosphere and sense of the era in the scenes and helps the actors gain a sense of reality and shape their characters. Historical dramas are not only memories but also a kind of sentiment about the past."
Wang Jian'er, the film's producer and chairman of Shanghai Film Group, spoke about the ingenuity and sincerity of "Wangdao," and how they gathered the best filmmakers and workers to create a meaningful film. He added that he believes the pace of the Chinese film market's recovery is accelerating and voiced his faith in China's film industry. "We are setting off this spring season with the release of 'Wangdao,' and will meet you on the journey," he said. "Outside the movies, we always believe and hold on to the idea that 'when you believe something in your heart, you can go far in your journey.'"
"Wangdao" was released nationwide in China on March 24.