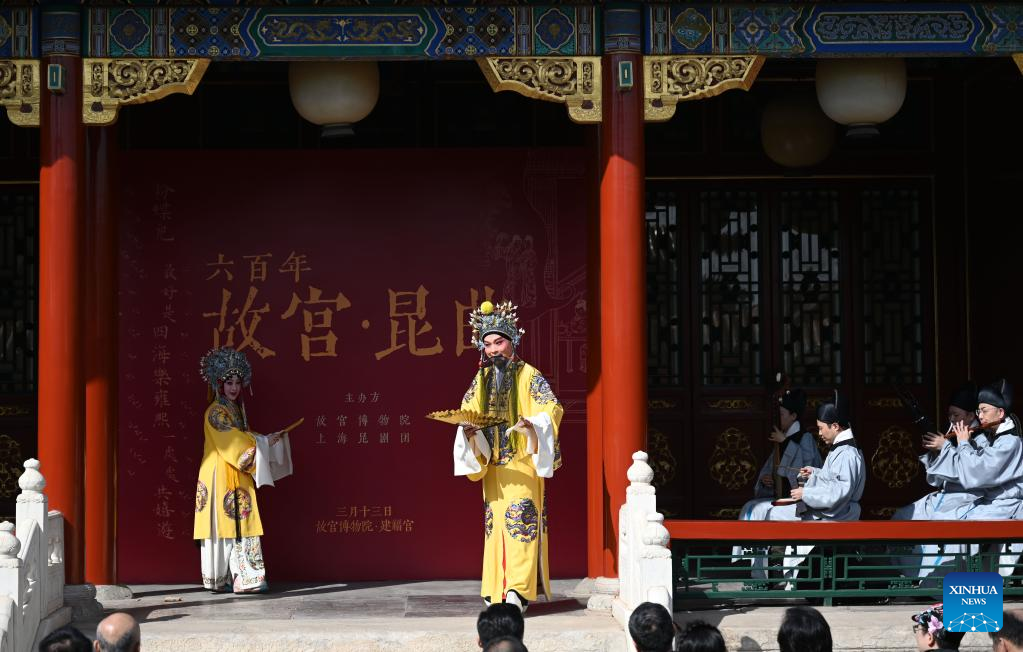 Kunqu opera performers Li An (2nd L) and Yu Bin enact in an excerpt of the traditional repertoire Palace of the Eternal Youth at the Palace Museum in Beijing, capital of China, March 13, 2023. The Palace Museum and Shanghai Kunqu Opera Troupe signed a strategic cooperation agreement here Tuesday to restage Chinese classic operas. [Xinhua/Jin Liangkuai]
Mild, exquisite, sentimental and melodious, Kunqu Opera has distinctive features, which make it one of the most popular traditional Chinese operas.

In 2008, it was inscribed on UNESCO's representative list of intangible cultural heritage of humanity.
Kunqu became widely popular during the Ming Dynasty (1368-1644).
Tang Xianzu was one of the most established playwrights of ancient China, whose Four Dreams of Linchuan, a collection of four major dramas, including the most renowned The Peony Pavilion, have been adapted into classic Kunqu Opera productions.
The performances usually feature a young male lead, a female lead, an old man and various comic roles, all dressed in traditional costumes.
With different colors, fabrics and embroidery, the costumes enable the audience to distinguish a character's gender and social status at first glance.
Accessories, such as helmets, crowns, hats and shoes, also play a role in portraying the characters.
Usually, performers take at least two hours to apply their makeup and costumes. The main makeup colors for young female roles and young male roles are red, black and white.
The classical elegance and simplicity of Kunqu Opera is also highlighted by the stage set — one table and two chairs, leaving enough space for the audiences to use their imagination.
The singing emphasizes control of the voice and changes in rhythm, and the songs are accompanied by a bamboo flute, a small drum, wooden clappers, gongs and cymbals.
Of the 400 arias regularly sung in opera performances in the mid-20th century, only a few dozen continue to be performed.
As well as in theaters, the ancient art form has been staged outdoors, in places like the classical gardens of Suzhou, Jiangsu province, where the art form was first born.
Nowadays, Kunqu Opera performances also employ modern technology, such as multimedia effects.