The latest film adaptation of the "Dungeons & Dragons" franchise has received rave reviews from film critics and has delighted game players. Based on the popular tabletop role-playing game, this new adaptation could be a rare triumph among game adaptations.
Directors, cast, and crew meet the Chinese press via video link on March 23, 2023. [Photo courtesy of Paramount Pictures]
Based on the tabletop role-playing game "Dungeons & Dragons," "Dungeons & Dragons: Honor Among Thieves" offers a fresh take on the classic game, earning praise from Jacob Hall of Slashfilm who called it "a breath of fresh air."
The film had its China premiere at a specially decorated pub in Beijing on Thursday. Directors John Francis Daley and Jonathan M. Goldstein, producer Jeremy Latcham, and cast members Chris Pine, Michelle Rodriguez, Regé-Jean Page, Justice Smith, Sophia Lillis, and Hugh Grant appeared for a Q&A session with the press and audience.
The fantasy heist action-comedy film is an exciting adventure filled with fun, thrills, magic, and comedy. The lead actor, Chris Pine, called the film "really incredible. It's wild, fun, and funny. The spectacle is gigantic, and it's a communal experience. We've seen this film with a bunch of crowds and had the kind of experience you have in a giant movie theater. We were with friends and people we don't know; it's like a rock concert."
When asked how the director balanced the film's thrilling and humorous elements, Jonathan M. Goldstein, who is also the screenwriter, responded: "It's about finding that tonal middle ground, where you can have laughs without undermining the story and so that people never stop caring about the characters and the action and adventure. John Daley and I also worked on a movie called 'Spider-Man: Homecoming,' which was a similar kind of balance where you always have to find that mix. And I think we've achieved it here."
Regarding the film's exciting action scenes, John Francis Daley said that he was a huge fan of Chinese martial arts films growing up. "What was so unique about them in the 'Dungeons & Dragons' film was the fact that they covered the action in wide shots. You can actually appreciate the artistry and choreography that goes into it. So, for me, it was something that we made a mandate to cover the action in a way that people could actually see it. It required a lot more from our actors in that way. Regé-Jean Page had to undergo multiple weeks of training, but I believe it was ultimately worth it, and we're very proud of how it turned out."
Michelle Rodriguez, who plays Holga the Barbarian, also has many action scenes in the film. She shared that she would love to work with Jackie Chan or Jet Li, as they are her favorite Asian action stars. "I would lean more towards Jackie Chan just because I like how lighthearted his movies are and how he likes to make comedy."
To prepare for this highly challenging role, Rodriguez described how she exercised five times a week and gained 15 pounds of muscle to make her character believable. Her regimen included rigorous workouts, consuming ample amounts of protein, and adhering to a strict schedule. According to Rodriguez, she has never been as dedicated and disciplined as she was during this period.
Producer Jeremy Latcham also shared insights into the film's key magical elements, namely the dragons, especially Themberchaud, a fat red dragon who dwells in the Underdark, a massive underground cavern. "We have a lot of dragons in the film, and they're all really special and designed to be seen on the big screen, like in IMAX. The most massive dragon is Themberchaud, which is the scariest of our dragons. You'll find that he's a bit of a glutton and very intimidating. It's really fun to watch our characters try to get away from him."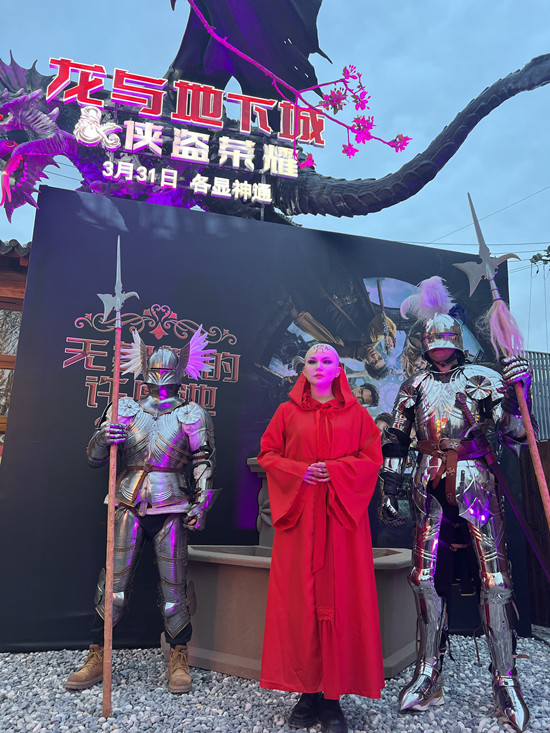 Cosplay actors dressed in costumes from the movie "Dungeons & Dragons: Honor Among Thieves" pose for a photo at a themed pub in Beijing during the film's premiere on March 23, 2023. [Photo courtesy of Paramount Pictures]
In 1974, Gary Gygax and Dave Arneson developed "Dungeons & Dragons," a tabletop game that became a commercial success and marked the beginning of modern role-playing games. Despite several failed attempts to bring the magic of the game to the screen, such as Courtney Solomon's 2000 film "Dungeons & Dragons," Goldstein and Daley made a bold attempt to revive it. Their latest effort has already received positive reviews and is expected to surpass its predecessors. According to Rotten Tomatoes, a review aggregator website, 90% of the 90 critics' reviews for the movie are positive so far. The website's consensus describes "Dungeons & Dragons: Honor Among Thieves" as an infectiously good-spirited comedy with a solid emotional core, offering fun fantasy and adventure even to those who are unfamiliar with the game's terminology.
The film will open in China and many markets worldwide on March 31.