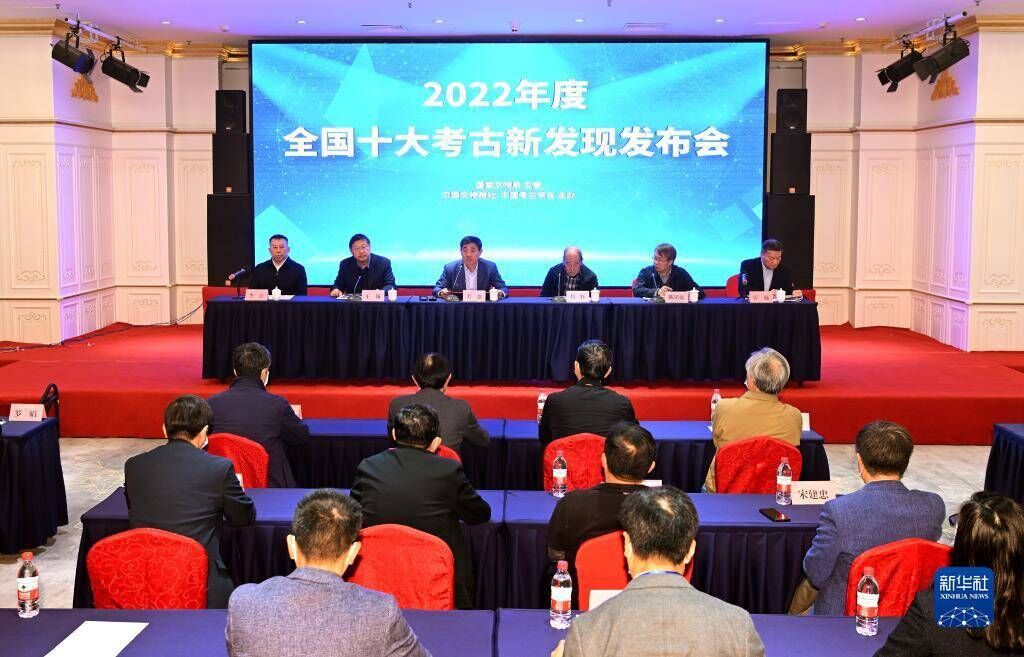 The press conference on the top 10 archaeological discoveries in China in 2022 held in Beijing, March 28, 2023. [Photo by Li He/Xinhua]

The final evaluation conference of the 2022 national top 10 archaeological discoveries was organized by the Weekly of China's Cultural Relics and the Society for Chinese Archaeology and held in Beijing from March 27-28. During the conference, the top 10 national archaeological discoveries from a list of 32 candidate projects were revealed.
Announced by Guan Qiang, deputy director of the National Cultural Heritage Administration, the top 10 discoveries are Xuetang Liangzi site in Shiyan, Hubei province; Zhaojia Xuyao site in Linzi, Shandong province; Bicun site in Xingxian county, Shanxi province; the multi-grid city layout at the Erlitou relics site in Yanshi, Henan province; the Shang Mausoleum and its surrounding remains at the Yin Ruins in Anyang, Henan province; Xitou site in Xunyi, Shaanxi province; Dasong Mountain cemetery in Guizhou province; the Gucheng temple site in Hunchun, Jilin province; the Zhouqiao Bridge and the nearby Bianhe River relics site in Kaifeng, Henan province; and Shuomen ancient port site in Wenzhou, Zhejiang province.
According to Guan, the top 10 discoveries are outstanding representatives of archaeological fieldwork in the past year, depicting China's million years of human history, 10,000 years of cultural history, and over 5,000 years of civilization history. What's more, the archaeological work, which has been promoted vigorously in China, is conducive to protecting and passing on the fine traditional Chinese culture, Guan added.
The 21 judges taking part in the evaluation conference came from several of the country's leading institutions, including the Institute of Archaeology of Chinese Academy of Social Sciences, the National Center for Archaeology of the National Cultural Heritage Administration, and Peking University.