The enhanced 3D version of James Cameron's juggernaut "Titanic" will be re-released in Chinese theaters in early April, while his latest record-breaking 3D film "Avatar: The Way of Water" will land on China's major streaming platforms.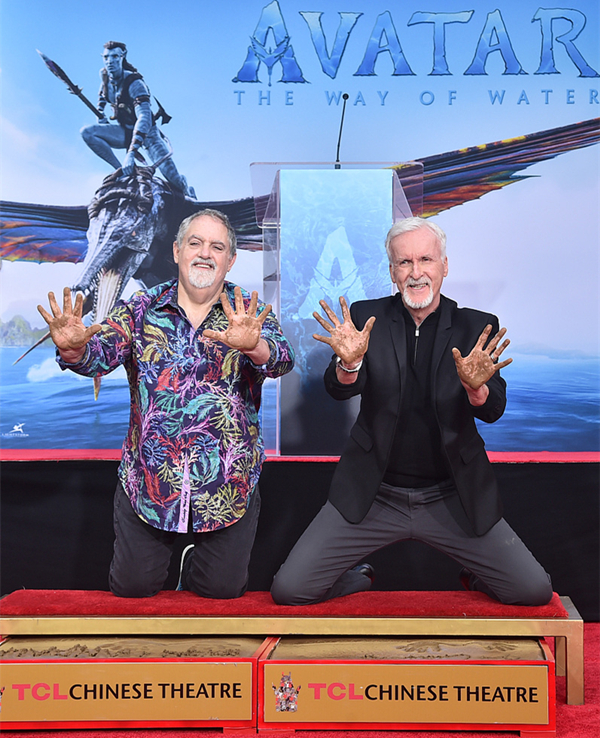 Jon Landau and James Cameron attend a ceremony to honor their contributions to the film industry at the TCL Chinese Theatre in Hollywood, California, on Jan. 12, 2023. [Photo/VCG]
"When we made 'Titanic,' we made it for the big screen," Cameron told Chinese audiences via video link at a special advanced screening held in Beijing on Monday, recommending people return to the big screen to revisit the film to see it "the way it was meant to be seen."
"The timeless love story is coming back to the big screen on April 3, remastered in stunning 4K, digital 3D, looking and sounding better than ever before," Cameron said, adding that "one of the very best ways to experience 'Titanic' is on a Cinity screen."
Cinity is a China-developed system that integrates various advanced technologies and collaborated closely with Cameron for the release of "Avatar: The Way of Water" and the re-releases of "Avatar" and "Titanic."
"Titanic" has become a cultural phenomenon in China, grossing 360 million yuan upon its original release in 1998, a remarkable achievement considering the relatively small size of the Chinese film market at that time. The 3D re-release of it in 2012 was an unprecedented box office hit in the nation for a re-release, eventually earning a staggering 975 million yuan, which helped push it over a global total of $2 billion.
To celebrate its 25th anniversary, the film was re-released again in North America and many other markets around Valentine's Day this year. Its China release date has finally been set for the Tomb-sweeping Day film season in early April.
"My goal in making this film was to show not only the dramatic death of this infamous ship, but her brief and glorious life as well, to capture the beauty, exuberance, optimism, and hope of Titanic, her passengers and crew, and in the process of baring the dark side of humanity underlying this tragedy, celebrate the limitless potential of the human spirit, for 'Titanic' is not just a cautionary tale — a myth, a parable, a metaphor for the ills of mankind; it is also a story of faith, courage, sacrifice, and, above all else, love," said Cameron.
Producer Jon Landau notes that he and Cameron started talking about "Titanic" in 3D many years ago. "Once we both began to get intrigued with 3D, we almost immediately started to talk about one day revisiting 'Titanic,'" recalled the producer. "We were thinking about a new generation who never got the chance to experience the film on the big screen."
"3D not only enhances spectacular environments and action, it also enhances human interactions," Cameron pointed out. "The most intimate moments are more powerful because you feel like you're there with the character's passion or fear or hope. I think this is something that Hollywood has largely overlooked. 3D is often perceived as the thin layer of icing over action or animated films. But 3D also has the ability to pack an emotional wallop."
Landau added, "3D is actually perfect for the many scenes in 'Titanic' that are not about action. My hope is that the conversion of 'Titanic' will help filmmakers realize that 3D is as appropriate for dramatic films as color is. From the chance to feel like you're at the dinner table with Kate and Leo to flying with them on the bow, people will be surprised by how they are enveloped into the story in an even greater way."
Starring two exceptional actors, Leonardo DiCaprio and Kate Winslet, in the prime of their youth, "Titanic" boasts an impressive list of accomplishments. It has long become a global phenomenon, with both actors eventually winning best acting Oscars in the years following the film's release. In North America, it held the No. 1 spot at the box office for an unprecedented 15 consecutive weekends and became the first film ever to gross $1 billion worldwide; to this day, it remains the fourth highest-grossing movie of all time, with total takings of $2.26 billion. At the Academy Awards, "Titanic" made history, receiving a record-breaking 14 nominations and winning 11 Oscars — one of only three films to achieve this feat — including Best Picture, Best Director for Cameron, and Best Original Song for Celine Dion's chart-topping ballad, "My Heart Will Go On." The film's continued relevance and enduring popularity make it a favorite among audiences and worthy of repeated viewings.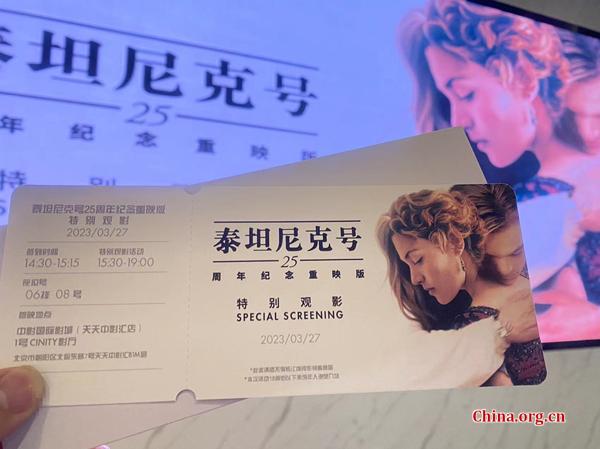 An audience member holds a ticket to the special advanced screening of the "Titanic" 25th anniversary re-release in China at a Beijing theater on March 27, 2023. [Photo/China.org.cn]
It's interesting to note that "Titanic" is competing with Cameron's latest film, "Avatar: The Way of Water," for the third spot on the worldwide all-time box office chart. "The Way of Water" has grossed over $2.3 billion, currently taking the third place, but the re-release of "Titanic" in China has added an element of suspense as to whether the nostalgia-inducing classic will once again overtake it. Cameron has earned the nickname "Movie God Cameron" in China, as he currently holds three of the top four spots for highest-grossing films worldwide, with the original "Avatar" sitting at number one with a total gross of $2.92 billion.
"The Way of Water," which won an Oscar for best visual effects on March 12, has completed its theatrical run in China, grossing nearly 1.7 billion yuan ($246.67 million), making it the highest-grossing imported film for 2022 in China, the largest overseas market for the film. Starting Tuesday, March 28, "The Way of Water" has become available on major Chinese video streaming sites such as Tencent Video, Youku, and iQiyi. According to Walt Disney Studios' China office, nearly 3 million Chinese people have subscribed to the film's online release, making it a highly anticipated event.
Cameron is currently working on the third installment of the "Avatar" franchise, which is set for release on Dec. 20, 2024.