A unique film blending horror and comedy is set for release in China during the Tomb-sweeping Day film season.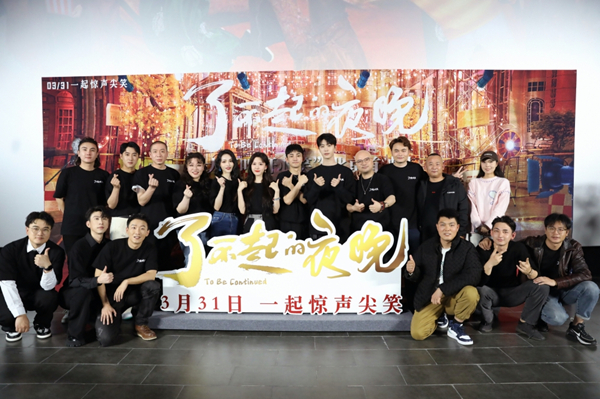 Cast and crew of "To Be Continued" pose for a group photo at its premiere in Beijing, March 26, 2023. [Photo courtesy of Maxtimes Culture]
"To Be Continued," directed by rising horror film director Ma Kai, follows a team of three from a short video company as they embark on a thrilling adventure full of suspense and twists while interacting with the cast and crew on a horror film set.
Ma is known for his critically acclaimed pseudo-documentary thriller "The Possessed," while producer Yi Xiaoxing is a comedy veteran. The collaboration between the two filmmakers has resulted in a unique spark and chemistry evident in the film. The movie stars a talented cast of leading actors, including young idol Fan Chengcheng and comedians Jiang Long, Jiang Yi, and Wang Zixuan.
Although Hong Kong has produced several horror comedies, it is rare and innovative for a horror-comedy movie to originate in the Chinese mainland. Nevertheless, director Ma Kai has skillfully handled both the thrilling and humorous plotlines.
"I really like horror movies and comedies," said Ma Kai at the premiere in Beijing on Sunday. "I'm curious to see what kind of sparks the combination of these two strong genres will produce. I began writing the script as a personal assignment at the end of 2012, incorporating my own experiences and observations from film sets at Hengdian World Studios. I never imagined it could be made into a movie. As for its final presentation on the big screen, it surprised me too."
Executive producer Yi Xiaoxing commented on the mixed-genre film: "When I first saw the script, I was drawn to its mature thriller framework and inherent sense of humor. I also saw Ma Kai's sincere attitude toward filmmaking and was eager to explore the boundaries of comedy with him. We focused on relationships between characters, enriching their growth trajectory and creating natural comedic conflicts between their intertwined actions in the film."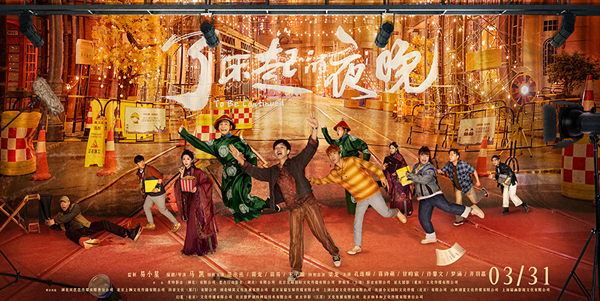 A poster for "To Be Continued." [Image courtesy of Maxtimes Culture]
"To Be Continued" is set to be released in Chinese theaters on March 31, just ahead of Tomb-sweeping Day, which falls on April 5.