The film "The Best is Yet to Come" opened in theaters on the Chinese mainland on March 24. During a screening on Tuesday, director Wang Jing said the film aims to oppose discrimination against hepatitis B virus (HBV) carriers and calls for greater public awareness and understanding of the disease.
Inspired by real events from 2003, the film depicts journalist intern Han Dong's reporting and efforts to call for fair treatment of HBV carriers in job seeking and education. His work won wide public attention and helped lead to the introduction of government policies, which changed the lives of 100 million HBV carriers.
China issued notices and guidelines in 2007 and 2010 to cancel mandatory HBV testing as a requirement for employment and education. This marked a significant change in situations of HBV carriers, said Cheng Zhuo, a leader of an HBV patient organization.
However, social prejudice against HBV carriers has persisted, largely due to misunderstandings of the disease as well as a lack of knowledge about how the virus is transmitted, said Zhuang Hui, an epidemiology expert and academician of the Chinese Academy of Engineering.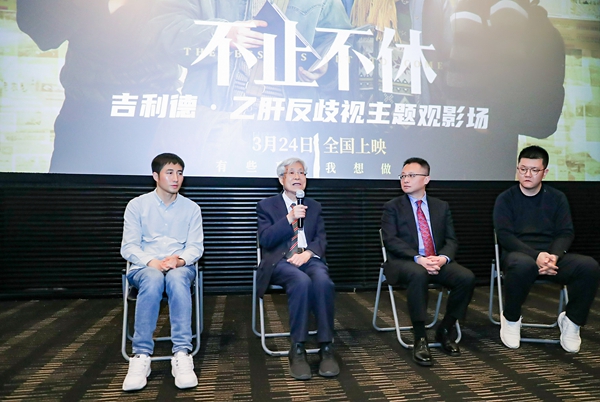 Zhuang Hui (L2), an epidemiology expert and academician of the Chinese Academy of Engineering, speaks about hepatitis during a screening in a movie theater in Beijing on March 28, 2023. [Photo provided to China.org.cn]
The three major ways of transmission for HBV are mother-to-child transmission, transmission through blood, and transmission through sexual contact, which means that everyday activities that do not involve exposure to blood would not result in transmission of the virus, Zhuang explained. He called for people's better understanding of the disease to reduce discrimination, and encouraged hepatitis B infected patients to receive treatment.
China has made great efforts to curb hepatitis in the past two decades, reducing the prevalence of HBV from 9.75% in 1992 to 6.1% in 2022, equivalent to 40 million fewer patients. The World Health Organization (WHO) has initiated a plan to eliminate viral hepatitis as a public health threat by 2030, and reduce new hepatitis infections by 90% and deaths by 65% between 2016 and 2030.
Still, there is a long way to go to achieve these two goals proposed by the WHO, as only 22% of HBV carriers are diagnosed and 15% being treated in China, Zhuang said. He suggested more screenings of hepatitis so as to diagnose and treat the disease as early as possible.
"I hope that through the movie, more people could understand more about hepatitis and care for HBV carriers, in a bid to create a friendlier social environment," said Jin Fangqian, vice president and China general manager of Gilead Sciences, a pharmaceutical company that supported the film. Gilead Sciences strives to build a better and healthier world by advancing R&D, introducing innovative medical treatments, as well as fulfilling social responsibilities, Jin said.
The company has introduced 11 medical products for treating hepatitis, HIV, and cancer since it began operation in China in 2017. Gilead's medicines have helped hundreds of thousands of patients with hepatitis in China, Jin said.